A Taste of Brazil with a Splash of Beer
Cooking with Beer
by
Sean Z. Paxton
| Aug 2014 | Issue #91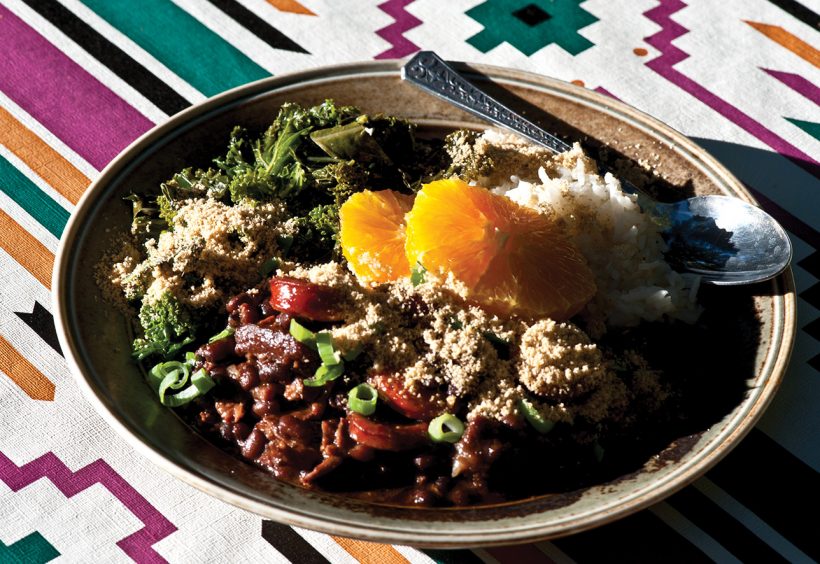 Photo by Sean Z. Paxton
I recently came back from my second trip to Brazil. From a culinary perspective it is a fascinating country. Each region has foods that use ingredients found in abundance locally. Additionally, there are influences from Portugal, Germany and indigenous tribes. Because of its location near the equator, the amount of sun and length of its seasons make Brazil rich in fruits, vegetables, herbs and spices. Filtering through everything I tasted, I wanted to share these recipes. The ingredients are fairly easy to acquire and the resulting dishes pair wonderfully with many types of beer.
Brazilian Feijoada
Originally from Portugal, Feijoada has transformed with the addition of ingredients from the Brazilian countryside. Usually this dish is made with black beans, but again, depending on where you are in Brazil, some chefs in the south use kidney beans, while others prefer white beans. Regardless of which type is used, the base stew is amazing and similar to a French Cassoulet where beans are stewed with sausage, duck confit and other vegetables. Usually Feijoada is served on Saturdays and Sundays. It's a dish that takes time to make, and relies on uncommon parts of pork and/or beef.
Traditionally a peasant dish, it takes advantage of cheaper cuts of meats from the pig: ears, trotters, shanks, tongues and hocks. These cuts benefit from the long cooking and release wonderful gelatinous flavors into the broth. Then the beans, meat and a few vegetables were placed in clay pots and cooked low and slow over a wood fire. To serve, bowls of fragrant garlic rice, sautéed greens, slices of peeled orange, local hot sauces and farofa—a toasted manioc or cassava flour—appear alongside the stew, creating a mélange of flavors and textures to savor. Capable of feeding a crowd, Feijoada can be frozen and taken out later for an easy meal.
Serves: 10–12 people
Bean Ingredient:
2 lb. beans, black, kidney or white, soaked overnight
Bean Directions:
Bean selection is important in a dish such as Feijoada. Fresh and dried are not synonymous. Some beans might be a year old, others five or six. This radically affects cooking times and the overall flavor of the dish. When buying beans, I suggest looking for heirloom varieties that sell very quickly, such as Rancho Gordo, out of Napa, Calif.
Rinse beans under cold water, place into a container and let soak for at least 8–12 hours.
Meat Stock Ingredients:
1 tbsp olive oil
3 each carrots, peeled and sliced
2 each large yellow onions, peeled and sliced
2 each celery stalks, sliced
1 tbsp kosher salt
1 each ham hock, smoked, cut into 5 pieces (by a butcher on a band saw)
1 each pig trotter, cut in half lengthwise
2 lb. bones, preferably pork or beef
2 1/2 lb. meat, pork (shoulder or butt) or beef (brisket or chuck), cubed
1 lb. bacon, slab or unsliced belly, smoked
10 each garlic cloves, peeled
4 each bay leaves, preferably fresh
24 oz beer, preferably a Stout, Smoked Porter, Rauchbier, or Bock
2 tbsp soy sauce or tamari
Meat Stock Directions:
Creating a rich and decadent stock is key to this dish's deep character and backbone. Start by placing a large pot or Dutch oven over medium heat. Add oil and sauté the carrots, onions, and celery. Sprinkle with salt to help release any liquid from the vegetables and stir frequently, until they are dark brown and completely caramelized, about 12–14 minutes. Add the ham hock, trotter, bones, cubed meat, bacon chunks, garlic and bay leaves and deglaze the pot with beer.
Stir to remove any food from the bottom of the pot, add the soy sauce and top with about 1 1/2 gallons of water. Turn heat to low and slowly bring the stock to a boil. Then, adjust the heat to create a low simmer and let the stock's flavors infuse for the next 3–4 hours. Turn off the heat and strain the stock through a colander into another pot or container. Once the stock is strained, transfer the meat and vegetables to a large bowl and allow to cool.
When it's cool enough to handle, pick out all the meat and place it into another bowl; discarding all the bones, vegetables and any other inedible parts. Refrigerate the meat once it is completely cool. Clean the pot to stew the beans. This step may be done a day or two in advance.
Bean Stew Ingredients:
2 lb. sausage, such as Portuguese linguiça or Spanish style chorizo, sliced
1 each pig trotter, cut in half lengthwise
4 each garlic cloves, peeled and sliced
3 each bay leaves, preferably fresh
2 each kombu or seaweed (optional)
3 tbsp olive oil
2 each large yellow onions, peeled and chopped
4 each garlic cloves, peeled and sliced
2 each bay leaves
1 each tomato, a heirloom variety or beefsteak, cored and chopped
1/2 tsp hot sauce
Salt and pepper to taste
3 each oranges, peeled and sliced; to be served with the final dish
1 lb. farofa, available from Brazilian grocers or online
Selection of hot sauces
Bean Stew Directions:
Add the soaked and rinsed beans to a large pot and top with the sliced sausages, trotter, garlic, bay leaves and kombu (if using). Add enough meat stock to fully cover the legumes by 2–3 inches. Place over low heat and bring to a simmer. Let the beans cook low and slow for 2–2 1/2 hours. They are done when they are tender, but still hold their shape. Add more meat stock if needed.
As the beans are cooking, add the oil to large skillet or sauté pan placed over medium heat and sauté the onion for 12–14 minutes, until caramelized and just starting to turn golden brown. Add the garlic and bay leaves, cooking for another few minutes. Add the tomato and hot sauce and season with salt, cooking for 6–7 minutes more. The onion tomato mixture should be thick, without sticking to the bottom of the pot.
Add the remaining meat stock and reduce until the sauce has a gravy-like consistency. Stir the onion tomato sauce into the cooked beans, along with the reserved meat. Let the Feijoada cook for 10 minutes, then taste and adjust seasoning if needed. Check for salt and a tiny touch of heat from the hot sauce, to round out all the flavors.
The Feijoada can be served now, but if time allows, cool it and refrigerate it overnight to allow all the flavors to meld together. Garnish with the brown sausage reserved from cooking the greens (recipe follows).
For the farofa, lightly toast the flour in a dry pan over medium heat for 5 minutes until nutty and slightly darker. Place into a bowl. Use a spoon to sprinkle over the different side dishes.
Garlic Rice
While relatively simple, this recipe is loaded with garlic flavor, as it uses the alcohol and some of the essence of the beer to intensify the aroma.
Serves: 10–12 guests
Ingredients:
2 tbsp olive oil
1/2 cup garlic, peeled and sliced
1 tbsp kosher salt
3 cup long grain rice
12 oz beer, such as a Gose, Wit, Kölsch, or Pilsner
4 1/4 cup water
Directions:
In a medium sized pot with a lid, add the oil, garlic and salt. Place the pot over medium heat and slowly sauté garlic until it starts to brown around the edges, about 5 minutes, stirring frequently. Add the rice and coat the grains in the garlic oil, toasting for 3–4 minutes. Add in the beer of choice, then the water and bring to a simmer. Cover the pot and adjust heat to low. Cook the rice for 20–22 minutes, until all the liquid is absorbed. Turn off the heat and let the rice rest for 10 minutes, covered. Using a fork, flake the rice to separate the individual grains. Serve immediately.
Sautéed Greens
I enjoy a mix of collard greens and kale, for added texture, flavor, and nutrition. I render out some of the fat from the linguiça, browning the sausage slices at the same time and giving more flavor to the greens. Skip this step if you are doing a vegetarian or vegan version.
Serves: 10–12 guests
Ingredients:
2 tbsp olive oil
1 lb. sausage, such as Portuguese linguiça or Spanish style chorizo, sliced
1/3 cup garlic, peeled and sliced
2 bunch collard greens, washed, sliced and stem removed
3 bunch kale, green or lacinato, washed, sliced and stems removed
1–2 tbsp kosher salt, to taste
Directions:
Place a large pot, with a lid, over medium heat. Add the oil and brown off the sausage for about 10 minutes, stirring to cook both sides. Once the sausage has rendered out some of its fat, remove it with a slotted spoon, reserving it to garnish the Feijoada. Add the garlic to the oil and sauté until the edges start to turn golden brown. Add the prepared collards a few handfuls at a time. Stir the greens into the garlic infused oil and lightly sprinkle with salt, to help them wilt. Once they are lightly cooked, begin adding the kale a few handfuls at a time. Use the lid and a few tablespoons of water to help speed up the cooking. Once all the greens are wilted in the pot, taste and add salt if needed. Serve.
---
Session-able Caipirinha
The Caipirinha is often considered the national cocktail of Brazil. Made with Cachaça, a sugar cane-based spirit, and limes muddled in raw sugar, it's served over ice—great on a hot, humid day. I was inspired to make a version of this delightful drink with a Session IPA instead of the spirit. When blended with muddled lime, the citrus assault from the hops creates a very refreshing beer cocktail.
Makes: 4 beer cocktails
Ingredients:
2 each limes
4 tbsp sugar, preferably organic, unrefined, or sugar in the raw
24 oz Session IPA, Pale Ale, IPA, or DIPA
Directions:
Cut the limes into eighths. Place 3–4 pieces into each of the four rocks glasses. Add a tablespoon of sugar to each glass and using a muddler, smash and grind the sugar into the limes, releasing their juice and citrus oils. Add a splash of a citrus-forward Session IPA, Pale Ale, IPA, or Double IPA and stir slightly. Finally, add a scoop of crushed ice and top off each glass with the remaining beer, about 6 ounces total per glass. Serve immediately. ■
Previous:
Brew Club Brew
Next:
The Birch in Norfolk, Virginia