A Little Perspective
BYOB
by
Drew Beechum
| Mar 2015 |
Issue #98
Illustration by Ellen Crenshaw
After last year's legislative tribulations it would be tempting to grumble about the senseless nature of homebrewing laws. Instead, let's step back to the days before homebrewing was legalized and realize how much worse it could be.
In 1977 the crazy mix of hippies and do-it-yourselfers in the San Francisco and Los Angeles homebrewing communities formed an uneasy alliance. Led by Lee Coe, founder of the Draught Board, they pushed California to legalize homebrewing in August 1978. Next up, getting the Feds to do the same.
Remember, this is before most Americans not named Fritz Maytag or Jack McAuliffe had thought of taking beer seriously. Homebrew was sort of a hush-hush jokey thing that cheap drunks did in their basements. Senator Alan Cranston (CA) looked past that and took up the cause.
Simultaneously, Representative Barber Conable (NY) was sponsoring legislation in the House. But his bill had requirements: a limit on annual production (same as today's) and a maximum of 30 gallons on hand. Worse, homebrewers had to register with the Bureau of Alcohol, Tobacco, Firearms and Explosives (ATF).
The law authorized random ATF inspections to ensure folks were brewing and not hiding moonshining operations. Homebrewers hated the restrictions. Even the ATF disliked Conable's plan.
Thankfully, compromise prevailed and homebrewing was included in H.R.1337: An Act to amend the Internal Revenue Code of 1954 with respect to excise tax on certain trucks, buses, tractors, et cetera, home production of beer and wine, refunds of the taxes on gasoline and special fuels to aerial applicators, and partial rollovers of lump sum distributions.
Catchy! President Carter signed it into law on October 10th, 1978 marking the start of a 35-year marathon to nationwide legalization.
LEGAL EAGLE AMERICAN BOCK
In an effort to instill seasonality, early 20th century American brewers were encouraged to brew Bock-style beers—darker, heartier versions of their regular product. Unfortunately, that led to the myth that Bock was made from cleaning out the tanks in spring. Ah, beer legends! Here's an updated "cheater" version.
For 5.5 Gallons at 1.056 OG, 15.6 IBU, 14.9 SRM, 5.7% ABV
Malt/Grain
7.5 lb. Domestic Pilsner malt
3.0 lb. Flaked corn
1.0 lb. Crystal 60L
0.25 lb. Carafa II debittered
Mash
Strike at 152°F for 60 minutes
Hops
0.25 oz Magnum (pellets) 14%AA 60 minutes
0.50 oz Willamette (pellets) 5.5%AA 5 minutes
Yeast
Wyeast 2272 North American Lager or Wyeast 2112 California Lager™ (for ale brewers)
Notes
Ferment for two weeks at 50°F for lager yeast (or 60°F for California Lager™). Raise to 65°F for one day and then crash to 50°F. Finally, drop the temperature 1–2 degrees per day until you reach 34°F and wait another week before packaging. ■
Previous:
Tally-Ho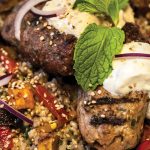 Next:
Turkish Köfte with Stout or IPA