The J. Clyde in Birmingham, Alabama
Barkeep
by
Austin L. Ray
| Mar 2015 | Issue #98
Photo by Brent Boyd
Tucked down a narrow, cobbled street, The J. Clyde's diamond-paned windows, stone walls and beamed ceiling give it the vibe of an English pub. Patrons crowd around a large, reclaimed bar or relax on the shaded back patio with beer from one of its 60 taps. But until Jerry Hartley founded The J. Clyde in 2007, "the beer scene was very bleak" in Birmingham, Ala. The Yellowhammer State limited beer container sizes to 16 ounces and capped ABV at 6 percent. Something had to be done.
Unable to find many of the beers he'd enjoyed while living in Germany, Hartley joined grassroots organization Free the Hops in 2005 and started planning his pub.
"We've been the focal point for craft beer in Birmingham," Hartley says. "We're maybe the biggest financial supporter of Free the Hops, but we've also served as a messaging and meeting venue for the movement in Alabama. We proved how local folks were starving for good craft beer."
In the time since The J. Clyde opened, beer makers like Good People Brewing, Avondale Brewing, Cahaba Brewing and Trim Tab Brewing have all opened in Alabama's Magic City. Located in Birmingham's Southside neighborhood, the tavern boasts taps from all four, not to mention selections from Huntsville's Straight to Ale and Brew Stooges, Fairhope Brewing Company and Gadsden's Back Forty Beer Company.
When bartender Amanda Laney started at The J. Clyde in 2008, she had "absolutely no knowledge about beer." Seven years later, a lot has changed, and Laney couldn't be happier with her new beer life. "My favorite part is the environment," she says. "We all strive to work as a team, to provide the best possible experience for everyone involved. It's upbeat, fun and a constant learning experience."
That experience has been important to patron Danner Kline as well. Kline founded Free the Hops and has been visiting The J. Clyde a couple of times a week for the eight years it's been in business. He raves that this humble watering hole's influence cannot be overstated. "It was literally the first true craft beer bar to open in Alabama," Kline says. "[Our beer scene] is unrecognizable compared to when the Clyde first opened, and they've absolutely played a big role in the advancement of beer culture here." ■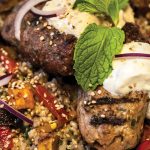 Previous:
Turkish Köfte with Stout or IPA
Next:
Trevor Brown of The Lone Pint Brewery