Brouwer's Cafe in Seattle, Washington
Barkeep
by
Austin L. Ray
| Apr 2015 | Issue #99
Photo by +Russ Photography
Matthew Vandenberghe's fascination with Belgian beer began when he was 17. He loved the variety, but the devotion of its makers was even more impressive.
"They took pride in their legacy and observed it with respect," he remembers learning. "It was customary to have a beer in the afternoon, with lunch, or any other time without excuse. Beer was always accompanied with hearty food in a comfortable setting, and with good friends and conversation."
Inspired, he'd grow up to found Seattle specialty beer store Bottleworks in 1999, eventually turning his dream of opening a bar into reality with Brouwer's Cafe in 2005. The pub, which has 64 beers on draft and more than 300 in bottles (not to mention over 60 varieties of Scotch), often devotes most of its taps to special events, like Bigwood, a celebration of barrel-aged beers from Stouts to sours, and Hardliver Barleywine Fest, featuring more than 45 Barleywines from across the world.
A semicircular interior balcony overlooks the cozy main level, where warm, dark wood complements stone walls and cement floors. Regular Robert Soloman loves the cafe's "spacious, old-world feel." Todd Bernier, another regular, loves the memories. One stands out in particular. "I asked my wife to marry me there in December 2013," he says. "I couldn't think of a more appropriate place for us."
Brouwer's was also one of Nat Pellman's favorite watering holes, so of course he was honored when they asked him to join the team. Over time he worked his way up to general manager, and loves the clientele, which spans "from the über beer geek to the first time craft drinker," along with lots of international transplants and travelers.
"Buying beer for this place is no small task," he admits. "We are constantly tasting new breweries and styles to educate our palates and keep us abreast of all that's coming up in the craft beer world."
It's a responsibility Vandenberghe takes very seriously. "Seattle has always been at the forefront of America's craft beer revolution, and set the tone for what kind of legacy we will contribute," Vandenberghe says. "In a very short amount of time America's craft beer movement, and specifically the Pacific Northwest, has flourished into a world-class haven for beer lovers." For Seattleites, that haven is Brouwer's. ■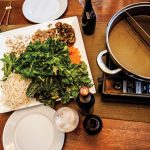 Previous:
Chinese Hot Pot with Beer Broth
Next:
Jim Matt of Rhinegeist Brewery