Where to Drink in Fort Collins, Colorado
Destinations
by
Kristen Pope
| Jan 2016 | Issue #108
Illustrations by Sam Brewster
Fort Collins, Colo., is more than just a Front Range college town—it's also often referred to as the "Napa Valley of Beer." And this city of just over 150,000 is part of the "Denver Beer Triangle," which includes Denver—home to the Great American Beer Festival—and Boulder, where the Brewers Association makes its headquarters.
Founded as a military post in 1864, Fort Collins went for more than a decade without its first legal saloon, which appeared in 1875. But in 1896, the town became dry and stayed that way until 1935, when 3.2 percent beer was allowed. However, stronger ales were not permitted until 1969.
In the coming decades, brewers made up for lost time, and Anheuser-Busch opened up a Fort Collins brewery in 1988. The following year, Odell Brewing Company—the first microbrewery in the town and second in the state—opened its doors, handcrafting small batches of what would become known as 90 Shilling and Easy Street Wheat. CooperSmith's also opened in 1989 and has crafted 150 recipes to date. Many other breweries would soon follow.
The year Odell and CooperSmith's opened, 1989, was also the year that New Belgium co-founder Jeff Lebesch was riding his "Fat Tire" mountain bike on a European odyssey. He returned to Fort Collins with brewing on his mind and opened New Belgium Brewing in 1991, debuting the brand's flagship Fat Tire Amber Ale soon thereafter. Environmental sustainability is a huge part of New Belgium's mission, and the brewery offers popular tours complete with live story-telling, art and, of course, beer sampling. Each summer and into early fall, its lawn also fills up with locals eager to enjoy a bike-in movie.
But those big names aren't the only breweries that call Fort Collins home. In 1992, H.C. Berger Brewery opened its doors. A decade later, officials shut it down for nonpayment of back taxes, but it re-emerged in 2003 under new ownership with a new name: Fort Collins Brewery. C.B. & Potts Restaurant expanded from a pub into the world of production brewing in 1996.
More recently, Equinox Brewing Company opened in 2010 with a beer garden and weekly firkin tappings in addition to the 18 rotating taps and two British-style beer engines. Founded in 2009, the Saison-focused brewery Funkwerks opened its taproom in late 2010 and is best known for its classic Saison, Tropic King Imperial Saison, Deceit Belgian-Style Golden Strong, and Raspberry Provincial Belgian-Style Fruit Sour.
Beer culture runs deeps in this town, home to Colorado State University, where beer aficionados join beer walkabouts, hop on beer bike tours, or snag a seat on a "craft brews cruise." Each year, the town holds the Colorado Brewers' Festival in late June as part of Fort Collins Beer Week, an event that brings 20,000 people to Old Town to sample creations from over 50 breweries, enjoy live music, sample food truck fare and increase their overall brewing knowledge.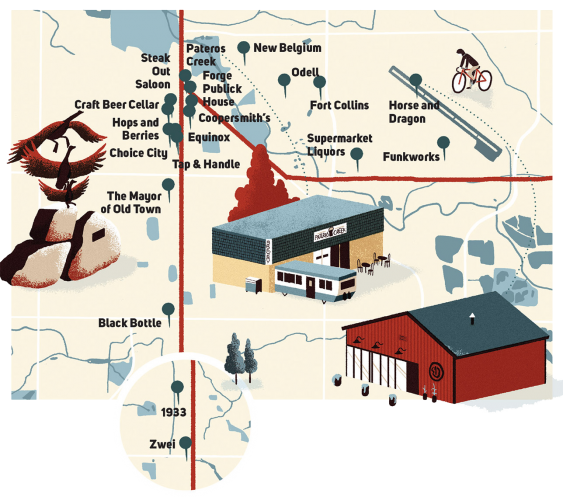 Old Town is home to a cluster of beer-focused establishments. Tap & Handle, a craft beer bar with a farm-to-table menu, offers seasonal fare like lamb sliders and green chili and 74 taps—plus plenty more bottled selections. Around the corner, the sandwich shop and beer garden Choice City Butcher & Deli is the perfect place to eat a Colorado buffalo Reuben or even a "Surfer Burger" with pineapples, teriyaki and provolone. Look for locals like the newly opened Soul Squared Brewing Co. and Loveland's Verboten Brewing on its constantly changing beer list. And in the same block, homebrewers will find paradise at Hops and Berries, a shop with over 100 malts and 85 whole leaf and pellet hop varieties to choose from, plus everything you need to make wine, mead, soda and cheese at home.
The Fort Collins franchise of The Craft Beer Cellar stocks bottles and cans from Colorado breweries like Station 26, Avery, Copper Kettle, and Odell, plus rare one-offs and collaborations from around the world.
For a casual, divey feel without sacrificing beer choices, check out the 20 taps at Steak Out Saloon, a wood-paneled saloon-style bar where you can snack on "fried bottlecap" jalapeños and sip on Odell's Cutthroat Porter.
Tucked away off of College Avenue, Pateros Creek Brewing Company was named after the original moniker of the nearby Cache la Poudre River. Its flagship "Legends" series includes Cache La Porter, Howe's It Hangin' IPA, Old Town Ale and Rustic Red—each with a story to tell. Locals come here Sunday nights to fill up a growler at the bar, shoot some darts and enjoy live music.
Not far away, down Firehouse Alley, Forge Publick House is a cozy English-style pub offering a selection of brews from the likes of Odell, WeldWorks and Crooked Stave. Sit out on the sunny patio or inside and enjoy a cheese plate and music—live or on vinyl.
Alternatively, savor 100 beers on tap at The Mayor of Old Town, a bright joint just north of Colorado State University with a long, curved bar and a rustic meets mid-century modern vibe. Menu highlights include a stuffed jalapeño cream cheese pretzel with raspberry jalapeño jelly, almond-crusted Brie or Thai pork meatballs. And just south of campus, you'll find Black Bottle Brewery. House brews—like Ginger American Red Ale and Scuba Steve Underwater IPA—come from the basement under the bar, but the taproom also devotes about half of its 40 lines to Colorado guest taps. The extensive draft list includes The Last Unicorn, a tart cherry and raspberry Lambic, and Social Insecurity, a Belgian Session Ale.
Across the river from downtown you'll find a cluster of breweries—New Belgium, Odell, Fort Collins and Funkwerks all make their homes here. Also nearby is the family-run Horse and Dragon Brewing Company. The below 5 percent ABV Fort Kölnz Keller Kölsh and Azzaca Session IPA are perfect for a day of drinking. In the same neighborhood, Supermarket Liquors offers over 800 bottles of beers, from locals to imports.
Beer fans who trek three miles south of downtown to the Mason Street corridor will find two of Fort Collins' newer breweries: 1933 Brewing Company, known for its Bathtub Blonde Ale and Trigger Man Brown, and Zwei Brewing, which brews classic German "Continental" beer styles along with more experimental "Indigenous Selections," like a Pilsner dry hopped with Galaxy and Mosaic. ■