Celebrate Spring with an IPA Pesto
Cooking with Beer
by
Sean Z. Paxton
| May 2016 | Issue #112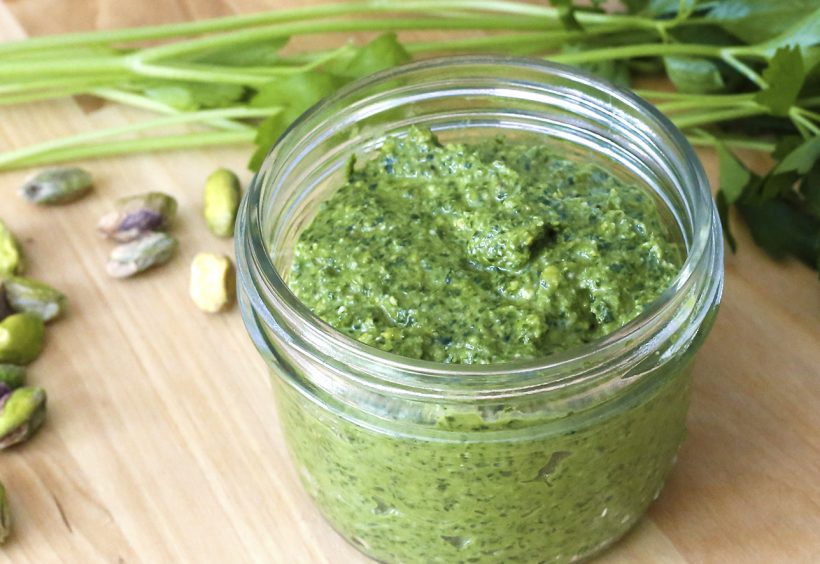 Photo by Taylor Seidler
Spring Pesto
Pesto is defined as anything made by pounding. Traditionally pesto is made with basil, pine nuts, Parmesan cheese, garlic and extra virgin olive oil. In this recipe, I'm combining the bounty of flavors that spring offers with this technique to blend ingredients into a sauce. Depending on what your farmers market or local grocery store have to offer, this recipe can be modified and designed to enhance any style of IPA that's available to you. The herbs, greens, nuts and beer style can also be interchanged to highlight other flavors depending on how the sauce will be used.
This pesto is also very good for you. Dandelion greens are a great source of vitamins A, B6, C and K, as well as thiamin, riboflavin, calcium, iron, potassium and manganese. Along with the other ingredients in this pesto, this recipe is designed to be good for your liver and blood.
Makes: 1 pint (2 cups)
Ingredients
1 bunch dandelion greens, washed and chopped
1 cup pea shoots, washed
1 cup Italian leaf parsley, washed, woody stems removed
1 cup baby arugula, washed
1/2 cup shelled pistachios, toasted
2 tbsp hemp seeds, shelled and raw
1 spring garlic, chopped (or 2–3 cloves peeled)
1 – 2 tsp kosher salt
1/2 cup IPA or another hoppy brew, cold
1/2 cup extra virgin olive oil, with a grassy or peppery flavor
1/3 cup Parmesan cheese, such as Parmigiano-Reggiano or Asiago, grated
Directions
In a food processor, add the chopped up dandelion greens, pea shoots, parsley, arugula, pistachios (or other nuts or seeds), hemp seeds, spring garlic and salt. Attach the lid and pulse several times to grind down the greens and chop up the nuts or seeds. Add in the IPA (or other hoppy brew) and pulse until a paste starts to form. Then slowly add the olive oil, followed by the Parmesan cheese (which vegans can omit and replace with a few tablespoons of white miso). Scrape down the sides of the bowl with a spatula and continue to pulse until the sauce is a uniform color and no longer chunky, but not smooth either.
Transfer the Spring Pesto to a sealable jar and refrigerate until ready to use. It will last up to a week, sealed. It can also be frozen in ice cube trays and sealed in a freezer bag for use later.
Uses
• In any recipe that calls for a basil pesto, replace it with Spring Pesto.
• Toss Spring Pesto with al dente pasta, roasted fennel, roasted garlic and grated Parmesan.
• Add to scrambled eggs for a "Green Eggs & Ham" breakfast.
• Spread on a pizza in place of red sauce.
• Add to crumbled feta cheese, caramelized onions and sun-dried tomatoes soaked in IPA for a quiche filling.
• Spread Spring Pesto over grilled bread that's been rubbed with a raw garlic clove, then top with grilled zucchini, chopped oregano and marjoram leaves and a drizzle of extra virgin olive oil to make bruschetta.
• Add a spoonful of this pesto to a soup like potato leek, chowder or minestrone.
• Toss roast vegetables in this pesto immediately after they come out of the oven and serve.
• To create a dip, add Spring Pesto to mayonnaise and/or sour cream and place into a hollowed out red bell pepper. Serve with your favorite spring vegetables as a crudité. This same dip can be spread on a turkey or chicken pesto sandwich, wrap or panini.
• Make your favorite bread roll recipe and divide the dough in half. Add 1/2–1/3 cup of Spring Pesto to half of the dough and knead it in thoroughly. Then cover both doughs in oiled bowls and allow to raise once. Next, divide the doughs into half sized versions of the rolls. Take a piece of each batch and roll them out together, creating a marbled roll. Place in a pan and repeat. Bake as usual. Serve with Spring Pesto butter.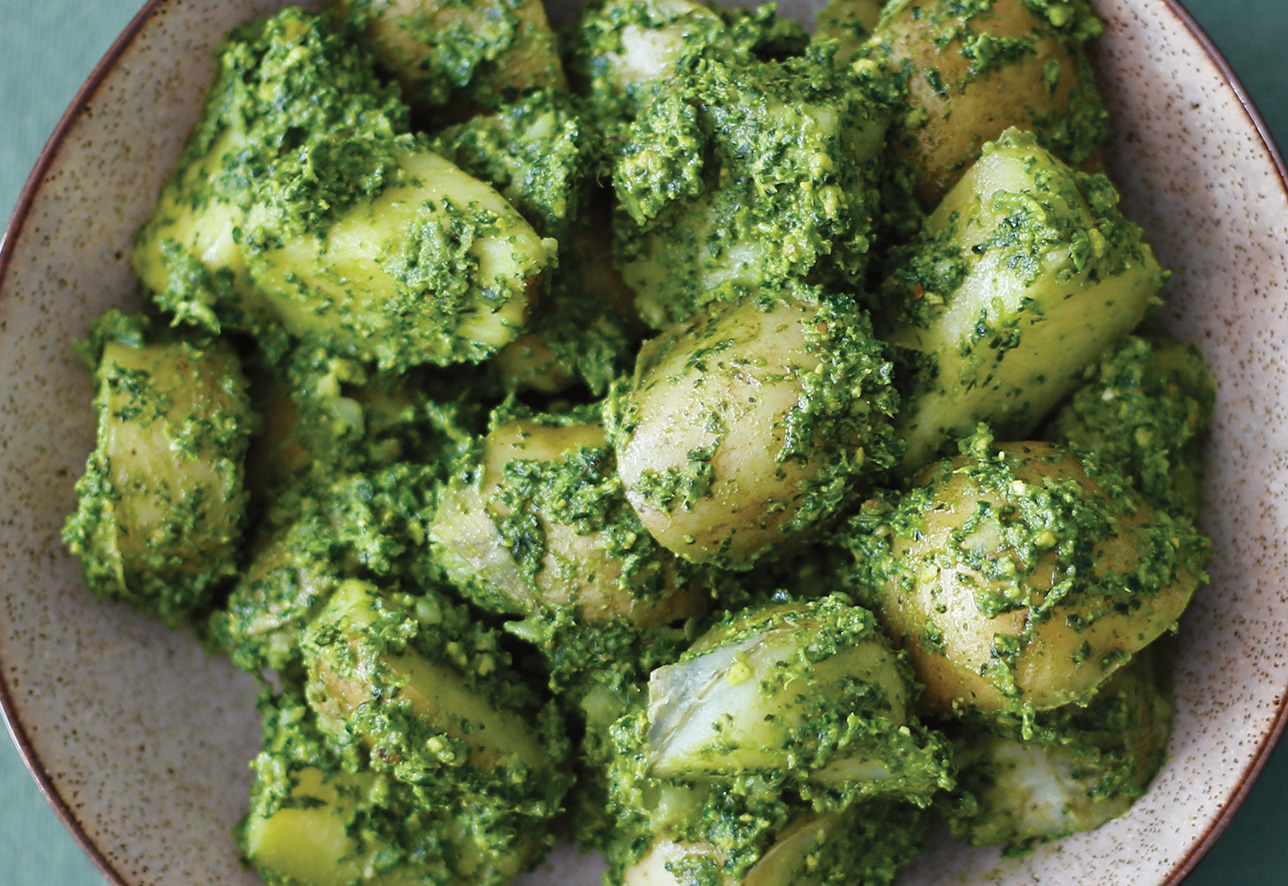 Spring Pesto Potatoes
The flavors of the Spring Pesto add a wonderful green grassy flavor to potatoes. And whether they're served warm or cold, this quick dish can be used for any meal from breakfast to dinner.
Serves: 4–6 as a side dish
Ingredients
2 lb potatoes, such as fingerlings, Yukon Gold or Idaho, washed and quartered
2 tbsp kosher salt
1 cup Spring Pesto
Directions
Place the cut up potatoes into a pot and add enough cold water to cover the tubers by 3 inches. Add the salt and place the pot over high heat. Bring the water to a boil, reduce the heat and cook until the potatoes are fork tender, about 20 minutes.
Drain the potatoes into a colander, letting them steam for a few minutes. Place the still steaming potatoes (each variety will add a different flavor and texture) into a large bowl and toss with 1/2 cup of Spring Pesto. The potatoes will soak up the pesto. After a few minutes, add another 1/2 cup to give an outer coating, along with a sprinkling of salt and a splash of olive oil. The potatoes can be served warm immediately as a side dish to any protein.
To create a potato salad of sorts, add blanched garden peas along with crumbled goat cheese and roasted red bell peppers to cold Spring Pesto Potatoes.
Spring Pesto Cream Sauce
Once you have pesto, a pesto cream sauce is in easy reach. This transforms the pesto into a sauce that's totally different from its original concept. The addition of tofu gives an ultra creamy, but not heavy, texture. Adding in the white miso and yeast gives a meat-like flavor with an umami punch that enhances all of the pesto's different flavors.
Makes: 3 cups
Ingredients
14 oz silken tofu, preferably organic, drained of any moisture
1 tbsp white miso
1 tbsp nutritional yeast*
2 tbsp IPA or another hop forward brew
1–2 tsp kosher salt
1/2 cup Spring Pesto
2–3 tbsp extra virgin olive oil
*Available in most grocery stores in the spice aisle or in a health food store.
Directions
Add the tofu, white miso (or other miso), nutritional yeast, beer, salt and pesto to the pitcher of a blender. If you like a stronger pesto flavor, add more to your liking. Start the blender at the low setting and work up to the highest setting. Once creamy and a single shade of green, slowly drizzle in the olive oil, giving the finished sauce a little extra body and a grassy flavor. Adjust seasonings to taste.
Transfer the sauce to a 1 quart canning jar with a lid. Store in the refrigerator for up to a week. This sauce can be used hot or cold.
Uses
• Pour this sauce hot or cold over poached, grilled or sautéed white fish. The herbal/grassy flavor will complement the delicate fish, while adding a counterpoint with a different texture. Salmon and IPA are not a good combination though, as the hop oils mix with the fish oils, causing a tinny or metallic off flavor.
• Use as a dressing over mixed greens like arugula, baby spinach or curly endive along with shaved radicchio, toasted nuts, crumbled goat cheese and toasted sesame seeds. Serve as is or roll it up into a flour tortilla to use as a wrap filling.
• Cook pasta to al dente and drain. Portion out the pasta and top with both the Spring Pesto Cream Sauce and the Spring Pesto. Garnish with more hemp seeds for texture and taste. ■
Previous:
Dance the Can-Can: Canning a Homebrewed Saison
Next:
Irish Iced Latte