In Search of Terroir, Community and Revenue, Farms Add Breweries
News
by
Rebecca Kirkman
| Jul 2016 | Issue #114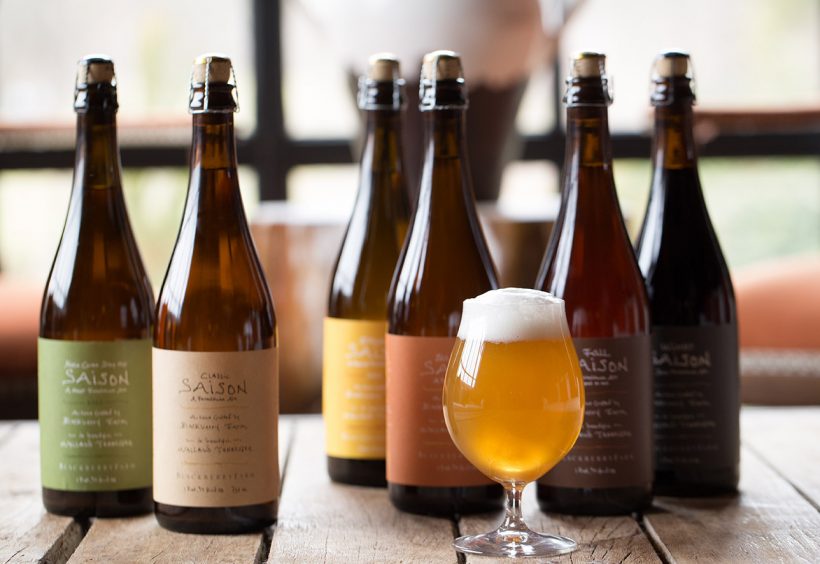 The beers at Blackberry Farm.
Spanning 300 acres in Lovingston, Va., Wood Ridge Farm has been in Barry Wood's family since the late 1800s. Wood began planting barley five years ago and opened Wood's Mill Malt House on the farm in 2014. This summer, the farm will debut its own 7-barrel brewery and taproom, Wood Ridge Farm Brewery.
"With the direction I had already gone, it was almost a no-brainer to start a farm brewery, especially after the state passed farm brewery [legislation] two years ago," Wood explains. His head brewer Nicholas Payson will work with ingredients from the farm, like spring water, hops, custom malts and even yeast propagated from the property with help from RVA Yeast Labs.
In states like Virginia with farm brewery licenses, adding a brewery gives farmers the ability to use their crops in a product that they can sell directly to consumers, thus creating a new revenue stream, bringing tourism to the farm and forging a sense of community.
"Brewing is a great—and relatively profitable—way to incorporate fresh ingredients in new and interesting ways," says Liz Preston, a former molecular biologist who purchased 10 acres of Arkansas land for organic farming in early 2013. Prestonrose Farm and Brewing Co. opened in February 2016, and Preston plans to use farm-grown, organic herbs, fruit and vegetables in her beers. Hops and barley are in the works, too.
Across the country, farms have found success making beer. Sixth-generation farmer Brett Bullock opened Screamin' Hill Brewery, New Jersey's first farm brewery, on his family's 100-acre property in 2014. In Louisiana, Tom Conklin brews farmhouse-style beers at Chappapeela Farms Brewery, which he opened in late 2015 on a hog and duck farm of the same name. And in 2011, Tennessee's Blackberry Farm added a brewery to its 4,200-acre estate and won silver at the 2015 Great American Beer Festival for its Summer Saison.
At Black Hops Farm in Lucketts, Va., opening Vanish, a 20-barrel brewery and taproom, arose from a desire to create a community space in a rural area. Vanish launched in December 2015, nearly two years after owner Jonathan Staples purchased the 55-acre farm. "My definition of success would be to have a farm that makes beer and other agricultural products the way that they were made 100 years ago in Loudoun [County]," he says. "Largely self-sustaining, working closely with other farmers and brewers, and creating a sense of place for what we do." ■