Hold Me Closer, Tiny Lager: Boosting Flavor by Toasting Malt at Home
BYOB
by
Drew Beechum
| Jul 2016 | Issue #114
Illustration by Michael Rapa
"Turning pro is a good way to ruin a great hobby." This oft-repeated maxim hinges on the idea that once you go big your days of playing in the kitchen or the garage are over. Half the fun of brewing is the crazy things you can get up to in the brew house, which is easy to do when it's $50 on the line. But when you're talking real dollars, the risk becomes too dear. Besides, your brewery faithful want that 500th batch of IPA pronto!
That's the brewer's life: go to work early, scrub, scald and serve until late. Toil away, go home and collapse (or go out to your company's third pint night of the week). Who's got the time or desire to stand over yet another pot making more beer?
Well, it turns out some folks do. I ran into Lee Bakofsky, Eagle Rock's "Barrel Master," at a homebrewer's fest pouring a brace of homebrews. I did a double take, but yes, he still regularly brews at home despite brewing every day at work.
One of Bakofsky's beers was a flavorful yet simple Pilsner, a common favorite among craft brewers. To boost the flavor of the small lager, he toasted the malt in his oven and then used newer German hops to up the interest factor further. Lee also noted, to his pleasure, that the new hops gave a generic noble hop flavor and aroma instead of fruit salad.
So yes, it turns out you can be crazy enough to work and play with your beer!
Tiny Lager
For 11 gallons at 1.043 OG | 36 IBU | 2.6 SRM | 4.2% ABV
Malt
7.5 lbs Pilsner malt, toasted (see notes)
Mash
Saccharification rest at 156°F for 60 minutes
Mash out at 170°F for 10 minutes
Hops
1.0 oz Magnum | 13.5% AA | 60 minutes
1.0 oz Huell Melon | 7.2% AA | 10 minutes
1.0 oz Mandarina Bavaria | 8.5% AA | 10 minutes
1.0 oz Huell Melon | 7.2% AA | whirlpool 10 minutes
Yeast
SafLager West European Lager (S-23)
Notes 
For a softer toast character, roast for 15 minutes at 350°F with no stirring. Or, for a stronger/darker toast character, roast for 25 minutes at 250°F (with convection heat). ■
Previous:
Dark Mild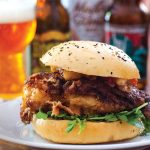 Next:
Fried Chicken Sandwich in a Polynesian-Style Beer Marinade