Strength in Numbers: Will Mergers Help Small Breweries Compete with Big Beer?
The Business of Beer
by
Brad Japhe
| Sep 2016 | Issue #116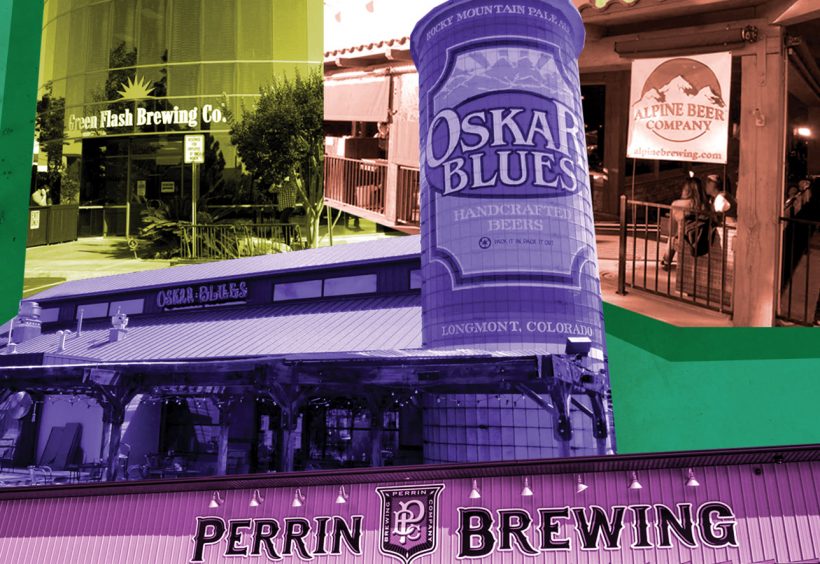 By now it's a familiar story. AB InBev, MillerCoors, and Heineken continue to grab headlines with their ongoing quest to assimilate prominent craft breweries into their respective portfolios. Meanwhile, another controversial phenomenon in the beer business is attracting far less fanfare: small to mid-size breweries purchasing each other, with increasing frequency.
At the end of 2014, Green Flash Brewing Company surprised the San Diego scene with its acquisition of nearby Alpine Beer Company. The two breweries shared a common county as well as a penchant for hop-forward IPAs, so their union wasn't that much of a stretch, but in hindsight, it seems like a turning point. Less than two years later, upwards of a dozen such mergers and acquisitions have gone down.
What does it mean for the breweries involved? And more importantly, what does it say about the future of craft brewing?
To take brewers and owners at their word, it's all just business as usual. "Moving forward, our focus remains the same. We will continue sharing our vision for beer while having a great time," wrote Zach Prichard, president of Oklahoma's Krebs Brewing Company, when he announced the purchase of Prairie Artisan Ales in late June. Terms of the deal weren't disclosed, but it seemed sensible enough; Prairie brewmaster Chase Healey had already been producing his critically-acclaimed beer at Krebs, under contract. Although his beers live on, Healey's involvement will be limited to that of a part-time ambassador. "There have been very few operations changes as a result of our acquisition," Prichard says. "We have been making almost all Prairie beer in Krebs from day one. We will continue to do so. We will continue to push ourselves."
But how much of the beer is in the recipe and how much lies in the hands of its founding brewer? In the case of this popular brand, we shall soon see. In the meantime, Healey shifts his attention to American Solera, a Tulsa nanobrewery focusing exclusively on oak-aged sours that opened its taproom to the public on August 26.
While some companies want the name, others need the space. Asheville, N.C., witnessed the first such merger of this kind in May, when a chain of local pubs known as the Thirsty Monk announced plans to purchase 15-year-old French Broad Brewery. Behind the move was a need for increased production. Thirsty Monk will shift its own brewing operations into a facility with an annual output of roughly 3,000 barrels. French Broad, which is available in cans, kegs, and bottles throughout much of the Southeast, made no mention of changing or discontinuing its well-liked 13 Rebels ESB or Anvil English Porter.
When you've got the recognition, and you've got the real estate, the missing piece is often purchasing power. That seems to be the strategy for Colorado-based Oskar Blues Brewery. After joining with Fireman Capital Partners, a Boston-based private equity firm in March 2015, the brewery formed Oskar Blues Brewery Holding Company. The acquisitions came shortly thereafter: Michigan's Perrin Brewing last year, and Florida's Cigar City Brewing in early 2016. "We're trying to forge new ground," explains Chad Melis, marketing director at Oskar Blues, "and do it in a way that feels good for the culture of all these different breweries, and positions us all in a place to compete moving forward." That translates to better prices for the raw materials needed to make the beers, and greater leverage when it comes to distributing them.
The relative autonomy of the constituent breweries involved in these deals remains to be seen, however. Melis concedes that they're navigating uncharted waters. "There's no existing model that we're taking a playbook from," he says, "but the individual culture of these breweries is a large priority. They were built with an entrepreneurial attitude, and we want to continue to let them be that."
Some in the industry remain skeptical—especially when private equity is involved. "Oskar Blues purchasing Cigar City isn't craft buying craft," says one brewer who asked to remain anonymous, "it's investment bankers buying craft." Maybe the flavor of Dale's Pale Ale, or Jai Alai IPA won't be affected, but it undeniably impacts the smallest microbreweries, which have a fraction of the resources of Green Flash or Oskar Blues. That it's happening at an increasing rate could be cause for concern. The market can be cruel to breweries of a certain size, trying to compete with macro prices for access to mainstream bars and retailers. If these fledgling beer business are squeezed by costs and marginalized by distributors, a new, increasingly consolidated definition of craft could soon emerge. And it might not be so smooth going down. ■