Fall Pasta: Brown Ale and Duck Ragú with Barley Cavatelli
Cooking with Beer
by
Sean Z. Paxton
| Oct 2016 | Issue #117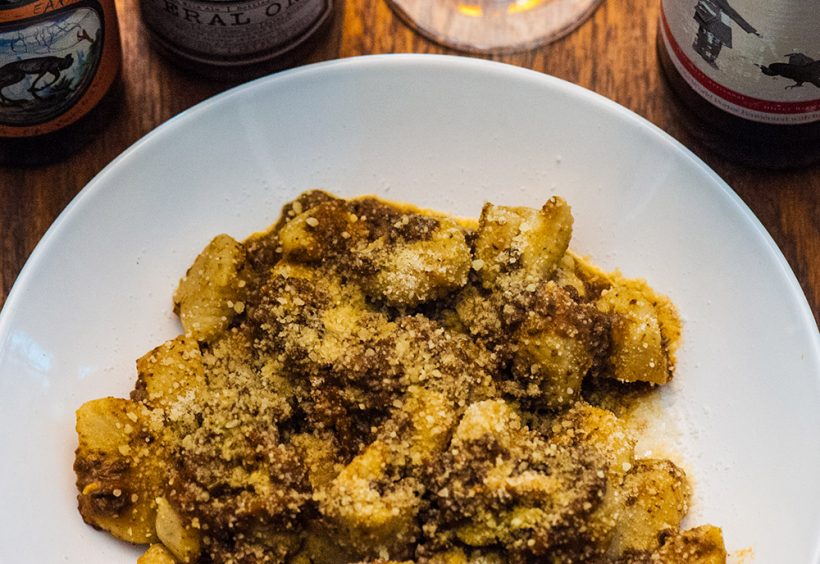 Photos by Sean Z. Paxton
With the shift to shorter days and longer nights, our diets go from lighter fare to heartier meals that stick to our ribs. I was inspired to make a duck ragù with fresh pasta that would make any Italian grandmother proud. With these recipes you can create a lovely, soul-satisfying dish for fall.
Duck Ragù
Duck is an interesting bird. It has a wonderful rich character that, when fully extracted, leaves a meatier flavor profile than its fowl cousins. This recipe uses as much of the whole bird as possible to layer in the flavors of the duck, creating a rich, succulent sauce that will warm you up on a cold autumn night.
Ragù, or Italian meat sauce, has similarities to a classic Bolognese, with a higher meat to vegetable ratio, making it more like a stew than a tomato sauce. To increase the umami, Asian ingredients are added, giving the finished sauce a scrumptiousness that satisfies the soul. Several variations to this sauce are included. This meat sauce is best if made a day in advance, allowing the flavors to meld together and integrate. Try using this ragù on pasta with a thicker texture and size, as in Italy the pasta is the main ingredient, not the sauce. A tagliatelle, pappardelle, cavatelli (recipe follows), orecchiette, penne rigate, or even gnudi and gnocchi will all work well with this recipe. This sauce can also be layered into a lasagna, creating a very elegant duck version.
Serves: 6 guests
Ingredients
1/4 cup duck fat
2 yellow onions, large, peeled and chopped
3 bay leaves, preferably fresh
1/4 cup garlic, roasted and peeled
1 tsp kosher salt
1 tsp oregano, dried
1 tsp thyme, dried
1/2 lb duck hearts, ground
1/2 lb duck gizzards, ground
2 anchovy filets (optional)
2 tbsp barley miso
2 tbsp mushroom powder* (optional)
1 tsp soy sauce
28 oz canned San Marzano tomatoes, peeled and chopped
2 tbsp tomato paste
12 oz beer, like a malty Nut Brown Ale, Brown Ale, Bock, or Scotch Ale/Wee Heavy
2 cup stock, preferably homemade duck, but chicken stock will work
* Making mushroom powder is as easy as taking dried shiitake or porcini mushrooms and pulsing them into a powder in a clean spice or coffee grinder. Save this powder in an airtight jar.
Directions
In a Dutch oven or a large, thick-bottomed pot over medium heat, melt the duck fat (or olive oil). Add the onions and bay leaves, sautéing until the onions start to take on a light brown color, about 12 – 15 minutes. About halfway through, add the salt, oregano, and thyme. Add in the roasted garlic and stir for a minute, then the duck meat and optional anchovies. If duck hearts and gizzards aren't available, ground duck legs, thighs, or breast meat can be used. Brown the meat, stirring to break it up and incorporate it into the onion mixture. Cook until it's lightly caramelized, about 6 – 8 minutes. Slow cooking each ingredient adds to the complexity of the sauce.
Next, add the miso, mushroom powder, and soy sauce, cooking for 4 – 5 minutes to dissolve into the sauce and reduce any moisture before the tomatoes are added. Use fresh, ultra-ripe, peak season tomatoes if available. Otherwise, use canned San Marzano tomatoes, crushing them in a bowl with your hands into irregular chunks. Pour the juice and tomato pieces into the pot along with the tomato paste. Cook the sauce, stirring occasionally, for 5 – 7 minutes, reducing the liquid.
For the beer, the choice is yours. I'd suggest a lower IBU brew with a heavy malt component. A Nut Brown Ale, Brown Ale, or Bock will add depth and enhance the caramelization you've created during cooking. This will increase the depth of the sauce, along with its umami aspects.
A Stout or Porter will add a unique roasted element that incorporates well with the tomato's acidity. A Smoked Porter or Rauchbier will further the umami by contributing a smoky undertone to the finished sauce. Even a rye-based brew or an Old Ale will create a good malty base for this sauce, as would a Winter Warmer or (for a Venetian touch) a spiced brew with cinnamon. Pour into the sauce slowly but all at once.
Add the stock and stir well. Let it simmer on medium heat for the next hour, slowly reducing and stirring periodically. Taste and adjust the seasoning with salt, if needed. The final sauce should be thick, leaving a trail behind the spoon, allowing you to see the bottom of the pot. For the best results, I suggest cooling the sauce to room temperature, then refrigerating it overnight before using. This sauce can be made up to 5 days in advance and can be frozen for up to 6 months.
Ragù Variations
• To make a richer version of this sauce, add 2 tablespoons of heavy cream.
• Instead of duck, try this sauce with ground pork, beef, veal, venison, or lamb.
• When yellow San Marzano tomatoes are available, substitute 2 pounds for the red variety and omit the red tomato paste.
Barley Cavatelli Pasta
Making pasta is therapeutic. This tender, cheesy, and easy-to-make pasta is a particular treat, and especially delicious when served with the Duck Ragù.
Makes: enough for 6 entrée servings
Ingredients
2 duck eggs, or extra-large chicken eggs, farmers market fresh
15 oz ricotta, part skimmed milk (not low-fat)
1 tsp kosher salt
1/2 tsp nutmeg, freshly grated
1 cup barley flour
2 – 3 cup all-purpose flour
Directions
In a large bowl, add the cracked eggs and whisk until light and frothy. Next, add the ricotta, salt, and nutmeg, whisking to incorporate. Add the barley flour and 1 3/4 – 2 cups of flour evenly over the top of the liquid mix. Gradually knead the mixture to form a dough. The texture of the dough should be soft, not sticky. If the dough is too sticky, add more flour. Once the pasta dough comes together, roll it onto a lightly floured work surface and knead the dough until it's smooth and slightly elastic. This will work the gluten to give the pasta a chew and bite. Knead the dough, adding more flour if it gets sticky, for about 3 – 4 minutes. Wrap the pasta dough with plastic wrap to let the flour hydrate while the gluten relaxes for 30 – 45 minutes. Sprinkle some of the remaining flour on your hands, rubbing them together to remove any dough that might be stuck to your fingers.
If you have a cavatelli machine, you can use it to shape your pasta. Cut the dough ball into quarters, wrapping the remaining dough in plastic while working with one quarter at a time to prevent the rest from drying out. On a lightly floured work surface, work the dough into a rope shape, about 1/4 inch thick. Put this through the cavatelli machine, cranking the gear, forming the shape, and capturing the finished pasta in a container (a 9-by-13-inch casserole pan works well). Allow it to sit uncovered while shaping the rest of the dough.
If you don't have a cavatelli machine, you can make pasta the old fashioned way. Form the dough into ropes as you would for the machine, and cut it with a knife or dough scraper into 1/2 inch pieces. Using the back of a large fork positioned with its tines on the work surface to create a hump, take a single piece of pasta dough and roll it from the top of the fork's hump to the tines. Push down lightly with your fingertip, creating ridges on the outside while the dough folds onto itself. Repeat this step with each piece from the first quarter, then continue this same procedure for the remaining quarters of dough. This is cavatelli: similar to gnocchi, but with ridges for the sauce to stick to and hold on to better.
Let the pasta sit uncovered at room temperature for 30 – 60 minutes to dry slightly. This will help it hold its shape as it cooks. While the pasta dough is resting, bring a large pot of salted water to a boil. This being fresh pasta, it will be done in about 6 minutes. Cook in batches, so as to not overcrowd the pasta, and place the cooked pasta into a large bowl. Toss lightly with some of the sauce, and let it sit as the remaining pasta is cooked.
To Serve
Plate the cooked pasta, lightly coated with sauce. Pour another ladle of sauce (ragù or other) over the cavatelli, garnish with freshly grated Parmigiano-Reggiano cheese, and serve immediately.
Other Sauce Suggestions
Try this pasta with the Spring Pesto recipe from issue #112 (May 2016), but make it with heartier fall greens like kale, chard, or spinach, along with some of the herbs. ■
Previous:
Winter is Coming: Homebrewing an Old Burton Ale
Next:
Hay Rye'd