Worthy Brewing Opens Country's First Hopservatory
News
by
Kristen Pope
| Dec 2016 | Issue #119
Photo by Kristen Pope
Beer drinkers will soon be able to gaze into the cosmos while sipping on an IPA at Worthy Brewing's new "Hopservatory." Located inside the Bend, Ore., brewery, the observatory—opening in December—features a 16-inch RCOS-based Ritchey-Chrétien telescope and lets visitors explore space via guided tours and programs.
Below the telescope room, the "Transporter Room" (an homage to Star Trek) features a mosaic by California-based artist Rick Skalak. Covering the walls, floor, and central column, Skalak's art depicts hop comets, a Klingon ship, the U.S.S. Enterprise, and even old-timey bicycles—a nod to owner Roger Worthington's passion for cycling.
Worthington wants visitors to learn about the universe and reflect on their place in it while enjoying the Hopservatory.
"I wanted to create a place that generates epiphanies," he says. "A place where you get perspective, make comparisons, think about scale, and get outside of your own skin. A place where going big makes you feel small in a respectful and humble way."
The nonprofit Worthy Garden Club, which focuses on promoting science literacy, awareness of the planet, and cultivating urban hops, will lead programs and tours at the Hopservatory in partnership with the Oregon Observatory at Sunriver and the University of Oregon. Program topics will include space travel, habitability of exoplanets, and talks by astronauts. Docents will give scheduled tours several nights a week for a $5 donation to the nonprofit.
Worthy Brewing, which opened in 2013, has always reflected Worthington's environmental ethos. The brewery's roof is packed with solar panels and photovoltaic cells to soak up Bend's nearly 300 days of sunshine a year. The brewery also uses local Pacific Northwest hops, environmentally-friendly canning practices, and motion-detected lights, in addition to pre-treating waste water before disposal and sending its spent grain to a local farm. Worthington hopes the Hopservatory will help people connect with the brewery's environmental message.
"We're creating a spot where we encourage our guests to look up, transport themselves into space, look back, see our precious blue dot, and come back with a newfound appreciation of our Earth [and] a refreshed commitment to take better care of her," he says. ■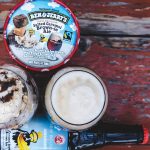 Previous:
Pint-Makers Work Together on Cold Creations
Next:
Beer News