How to Make Lord Nibbler, a Cocktail with IPA syrup, Bourbon, and Campari
Kindred Spirits
by
T. Read Richards
| Jan 2017 | Issue #120
Crafted at Valkyrie in Tulsa, Oklahoma.
We designed the Lord Nibbler in defiance of the concept that some drinks are inherently "manly" while others are "girly." It marries two ubiquitous "male" drinks—whiskey sours and IPAs—into a delicate, crowd-pleasing beverage for all kinds of people with all kinds of drinking preferences. The pine and citrus notes in the massive hop profile of Oklahoma's own COOP Ale Works F5 IPA shine brightly against the hints of soft vanilla and spice in the bourbon.
1 oz COOP Ale Works F5 IPA syrup (see below)
1 1/2 oz Evan Williams Black Label Bourbon
1 oz lemon juice
1/3 oz Campari
grapefruit peel for garnish
Combine ingredients and shake with ice to mix. Strain into a coupe glass and garnish with grapefruit peel.
IPA Syrup
16 oz COOP Ale Works F5 IPA (or another West Coast-style IPA, like Deschutes Inversion or Ska Modus Hoperandi)
16 oz sugar
Combine over heat until sugar dissolves. Makes 1 liter. Store refrigerated in a sealed container. ■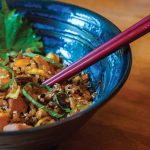 Previous:
Umami Rice with Brown Ale
Next:
Braised Rabbit Tagliatelle: 3 Pairings