Gold Label: A Revolutionary Beer
History by the Glass
by
Ron Pattinson
| Jan 2017 | Issue #120
The 1950s were a time of great optimism, and also a time when Strong Ales made a comeback in Britain, after more than a decade of austerity.
One of the most renowned was Gold Label, a revolutionary type of Barleywine, which, unlike those that had gone before it, was pale in color. Tennant Brothers, a large regional brewery based in Sheffield that owned 700 pubs across the North of England, developed the recipe.
Tennant already brewed a dark Barleywine, but for this innovative pale version they needed new techniques. Because they brewed single-gyle, the long boil required to concentrate the wort to the appropriate strength became a big problem. Their solution was to employ the palest materials and to use a high percentage—over 30 percent of the total—of sugar and flaked corn in the grist.
At a mighty 10.6 percent ABV, Gold Label was the strongest regularly brewed beer in the UK. It sold in surprisingly large quantities for its strength, no doubt boosted by a newspaper advertising campaign in the mid-1950s. But it wasn't a quick beer to produce. After primary fermentation it was racked into 54-gallon hogsheads and left to mature in a cellar for six to 12 months. When it was considered ready, different batches of beer were mixed to produce the perfect blend.
But how did it taste? I'll leave that description to Frank Priestly, a brewer at Tennant and a great admirer of Gold Label:
"By choosing a suitably old one, I would find myself with a glass of perfectly matured barley wine. The drinking experience was incredible. The smooth malty, hoppy flavour was wonderful and as it went down, you could feel the warm alcoholic glow diffuse throughout your body."
The Brewer's Tale by Frank Priestley, 2010, page 20.
In 1961 Tennant, afraid of being bought and butchered by asset-strippers, sold to national brewer Whitbread. Despite assurances that they could continue trading as before, most of Tennant's draft and bottled beers were soon replaced by Whitbread equivalents. Things didn't look good for Gold Label. By this time Whitbread was brewing a Barleywine of its own, Final Selection.
However, Gold Label had built a considerable following and, surprisingly, Whitbread decided to retain two Barleywines, at least initially.
"We also had a rival beer on our hands. Our own Final Selection with a virile supporters' club. With shelf space like gold dust and delivery costs crippling, it seemed wise to give one of them the chop. But which one? We just couldn't decide. So now we sell them both throughout the country where you see our sign. The buck is passed, the choice is yours. Not ours."
Illustrated London News, Saturday 10 February 1968, page 38.
Ultimately, Final Selection was the loser. In the 1970s Whitbread pushed Gold Label heavily and with 6,500 pubs, the company had plenty of outlets for it. I can remember the billboards: "As strong as a double whisky and half the price." It was such a success that they also started brewing it at their London headquarters.
Despite not being CAMRA-approved, I always had a soft spot for this Barleywine; the perfect drink to close a winter session down the pub. It was just as Frank Priestley described it: smooth and warming.
Unlike most of the beers I write about, Gold Label isn't dead. It's managed to outlive both Tennant Brothers and Whitbread. Though it's been pared back to a feeble 7.5 percent ABV. If you're ever in the UK, look for the little gold can and have a taste of history.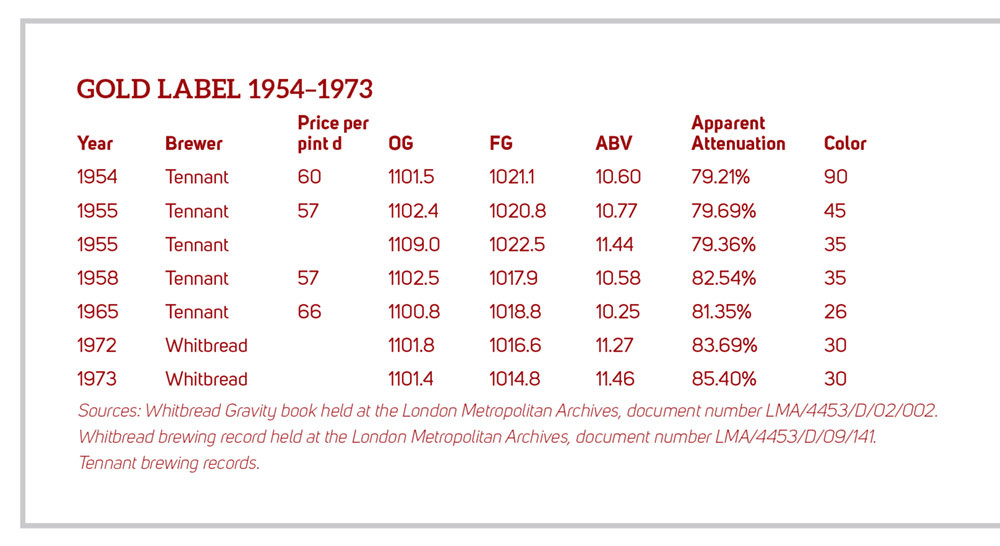 ■