Wholesale Change: Breweries and Upstart Distributors Are Writing New Rules for Selling Beer
The Business of Beer
by
Joshua M. Bernstein
| Jun 2017 | Issue #125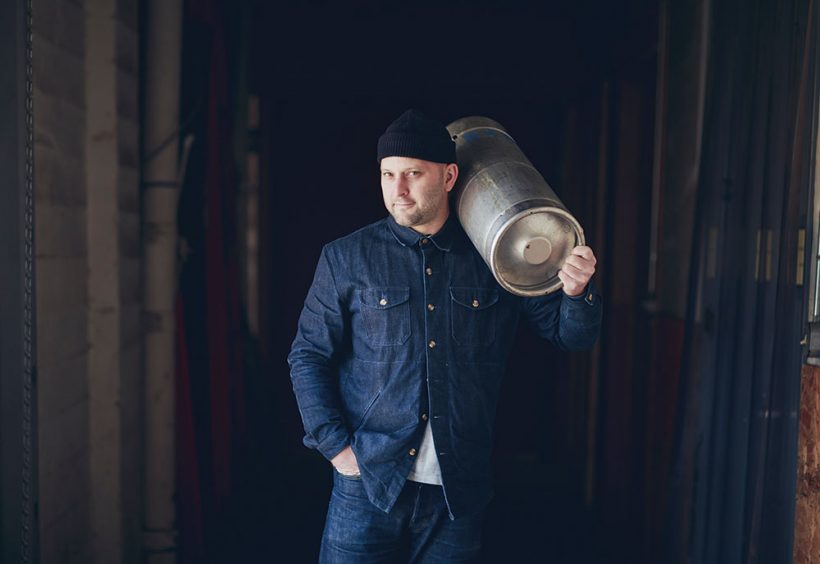 Day One Distribution's Robby Roda. | photo by Leah Nash
Robby Roda suffered through no shortage of headaches as Cascade Brewing's sales director. The Portland, Ore., brewery sold its fruited sours far and wide, meaning Roda dealt with distant distributors with varying degrees of giving a damn. "They were so reluctant to work with us and make changes to support us because they didn't have to," he says.
Like most breweries, Cascade signed franchise agreements with its wholesalers, the middlemen in America's three-tier system. (In short: Breweries sell to distributors, which supply bars and stores.) The contract is a bit like a handcuff-bound marriage. "It's almost like being held hostage by the Mafia," he says. "It's a big manipulation of the system."
But Roda found a loophole. Oregon lets out-of-state breweries enter the market twice yearly for 30 days, at the princely sum $10 per visit. "I so generously pay it each time," says Roda, who launched Day One Distribution in August 2016. He brings in buzzing brands such as California's Monkish and Phantom Carriage for a fleeting instant. "It's basically on and gone," he says. Stock disappears before a brand's luster fades, or beers accrue dust. "We keep it limited, keep it small, keep it special," Roda explains.
In a less-cluttered craft era, when growing breweries signed with distributors and sent truckloads of stock hither and yon, the arrival of, say, Sierra Nevada was heralded like manna from heaven.
Today, America is marching toward 6,000 breweries, a glut of IPAs, Pilsners, and, well, more IPAs. Promiscuous consumers seek spanking-new formulations, with a premium placed on fresh and local. To survive and thrive in this new social (media) order, breweries are disrupting distribution. In Maine, a Bissell Brothers veteran started Sleek Machine Distro to primarily sell the brand. California's Modern Times, Oregon's The Commons, and Illinois' Solemn Oath ship limited quantities of beer to the East Coast. And Colorado's Crooked Stave, Virginia's The Veil, and Massachusetts' Night Shift Brewing all operate full-fledged distribution arms.
Night Shift has self-distributed since its inception more than five years ago. "It kept growing and growing until we were like, 'This is turning into its own business,'" says co-founder Rob Burns. Last October, the brewery formed Night Shift Distributing and leased a former refrigerated dairy-product warehouse. A fleet of refrigerated trucks delivers Night Shift kegs and cans as well as beer from breweries including New Jersey's Magnify, Chicago's Pipeworks, and Maine's Mast Landing. "We're placing an importance on the care and freshness of the product," Burns says. The wholesaler piggybacks on Night Shift Brewing's 400-odd accounts, including Whole Foods, and offers an escape clause from the arrangement. "If you want to leave, we'll do it amicably and part ways," Burns says.
A few years back, a New York City distributor approached Eric Hobbs, then at Penrose Brewing in Illinois, with an opportunity. "He was basically like, 'I don't care how much beer you have to send to me or how infrequently you'd be willing to send it, I would just like to be able to offer the beer from time to time,'" says Hobbs, now Solemn Oath's vice president. The proposition marinated in his mind until Solemn Oath's expansion opened up extra capacity. Last fall, the brewery sent an exploratory shipment to New York City and, later, Boston, testing the waters and taking notes. "We look at it as a chance to put our beer in new people's hands, but it's also a big learning opportunity," Hobbs says. "We came back with a boatload of ideas."
Unlike the traditional distribution model, where brands become permanent residents of new drinking terrains, Solemn Oath only sends beer every three or four months. "Our home market is still taking really good care of our beer," Hobbs explains. "We will always make sure our local wholesaler has all the beer they need and our taproom is well satisfied."
Day One also approaches distro as a surgical strike instead of a carpet bomb. "I'm not looking to take over the Oregon market," Roda says. And not every beer maker passes muster. "To be honest, I turn down more breweries than I work with," he says. "The main thing is the quality of beer, but also the relevance in the current market." That means passing on perfectly wonderful piney IPAs in favor of Brooklyn-based Other Half's hazy, tropical variations. Hype and name recognition help beer from Day One blow through tap lines. "I don't want my accounts to feel like I'm selling them expensive shelf turds," Roda says.
Portland's Belmont Station regularly buys from Day One. "It's a great way to test the waters, especially in a market like Portland that has a reputation of being a hard one to crack," says owner Lisa Morrison, a BeerAdvocate contributor. She also helped to get Bell's in town during 2015's Craft Brewers Conference. "The event brought out every transplanted Midwesterner in Portland. There was a line three blocks long for folks just to get a pint of Two Hearted Ale."
Such clamor isn't uncommon in Brooklyn, where high-end bars like Tørst facilitate one-offs with ratings-site darlings from England's Cloudwater to Boston's Trillium. "New York City is still a cultural hub," Brooklyn writer and photographer Cory Smith says of the allure. "It's still a badge of honor to be here, something to hang your hat on as a business owner."
At its heart, brewing is business, and breweries are best suited to look after their self-interests. That's why handling distribution holds appeal. "If you're with a MillerCoors house or a Bud house, most sales guys are paying their mortgages with commissions from selling pallets of Bud, not one sixtel of your limited-edition Saison," says Burns at Night Shift. He counsels brewers to start distributing themselves. "I'm like, 'Just do it yourself. I know it sucks, but it'll be worth it. At the very least you learn what it's like to be a distro company and have realistic expectations,'" he says.
Entering the distribution game isn't simple. Hoping to land workhorse brands to keep the coolers cranking, you'll need bucks for trucks and warehouse space. There are logistics to orchestrate, accounts to appease when a keg starts leaking, and, at the end of the day, paperwork to shuffle. Hurdle them, though, and you'll find opportunity. "There's room for indie wholesalers to rise up across the country," Burns contends. "Don't open another brewery, please, open a new wholesaler." ■