Dismiss Notice
Extreme Beer Fest:Los Angeles
Join us December 9th in Los Angeles for the ultimate throwdown of craft beer creativity!
Learn more...
Dismiss Notice
Beer-Soaked English Trifle
Cuisine à la Bière
by
Sean Z. Paxton
| Aug 2017 |
Issue #127
Photos by Sean Z. Paxton
Trifle dates back to medieval times. It can be prepared in a large "trifle" bowl or individual half-pint glass cups, with or without a base. This layered dessert can be made with any leftover cake, pudding, pastry cream, fruit, jam, jelly, curd, compote, or whipped cream, but an English trifle usually involves a sponge cake, pastry cream, jam, fresh fruit, and a wine or spirit, such as sherry or scotch.
In my version, I offer some ideas for pairing fruit with the flavor profiles of different beer styles, and explain how to assemble this great make-ahead dessert that can feed a crowd.
Malted Sponge Cake
Light and airy, this classic sponge cake, also called a Genoise, works in many different dessert applications from a standard layered cake to a jelly roll or pinwheel cake, or, in this case, an English trifle. With its structure and spongy attributes, this cake can also be soaked in beer, as we'll do here.
Ingredients
6 extra-large eggs, room temperature
1 cup organic sugar
1/2 cup all-purpose flour
1/2 cup malted barley flour
1/2 tsp baking powder
1/2 tsp kosher salt
Directions
Preheat the oven to 350°F, using the convection bake setting if available. Line a half-sheet pan or two 9-inch cake pans with parchment paper. Do not grease the pans or the parchment paper, as the final cake lift will be affected by the addition of fat or oil.
One of the key factors in making this cake is to incorporate as much air into the eggs as possible. An electric mixer fitted with a whisk attachment will make whipping the eggs easy, or use an electric hand mixer in a large bowl. Add the eggs to a very clean bowl (any oil residue will affect the amount of air the eggs can capture). Beat the eggs on high for 1–2 minutes, mixing the yolks and whites together into a homogenous deep yellow color. Turn the mixer off and add the sugar. Turn the mixer back to high speed and mix for 8–10 minutes. The egg volume will increase 4 or 5 times, becoming marshmallow-like. The color will change to a pale white.
As the eggs whip, add the flours, baking powder, and salt in a separate bowl. Using a whisk, blend the ingredients together well. To test the eggs, stop the mixer and remove the whisk attachment. Lift up the whisk, and if there's a ribbon of egg mixture—more like taffy than whipped whites—the eggs are done.
Sift one-third of the flour mixture into the egg mixture, folding with a spatula until all the flour is incorporated. Repeat with the next third. Scrape the sides and bottom to avoid clumps. Add the last third of flour and fold until just incorporated. Over-mixing the batter will deny the cake the desired lift and spring.
If you're making a pinwheel-style cake or plan to cut out small disks for individual trifles, pour the finished batter into a lined half sheet tray. Spread the batter into the corners and level out the surface.
To make two 9-inch rounds, weigh each cake pan and take note of the weight. Equally divide the batter into the two pans. Place the tray or pans into the preheated oven and bake for 25–28 minutes, or until the internal temperature of the cake is 195°F and it's golden brown on top.
Remove the tray or pans from the oven. Ready a cooling rack, a serrated knife, and a dry kitchen towel or heat-proof glove. Run the knife along the sides of the cake to help release it from the tray or pan. Invert the cake onto the cooling rack. Then, pinch a corner of the parchment paper and carefully pull it back. Allow the cake to cool before slicing or cutting.
Beer Pastry Cream
Pastry cream, a dessert building block, is a basic pudding that can also be used as a filling for cakes, doughnuts, or éclairs. This technique is important for bakers to learn. Adding various styles of beer will also contribute to the flavor of the finished pastry cream.
Makes: 2 cups
Ingredients
1 cup beer, see style ideas below
1 cup heavy or whipping cream, preferably organic
1 cup organic sugar
1 vanilla bean, halved, seeds scraped (optional)
1/4 tsp kosher salt
3 extra-large egg yolks, at room temperature
1 extra-large egg, at room temperature
3 tbsp cornstarch
3 tbsp unsalted butter, softened
Directions
In a medium pot with a thick bottom, add the beer, cream, 1/2 cup of sugar, the optional vanilla bean, and salt. Bring to a gentle simmer over medium heat. Turn off the heat.
While the beer mixture warms, add the yolks and eggs to a bowl. Using a whisk, beat them for 1–2 minutes, until uniform in color and lightly fluffy. Add in the remaining sugar and cornstarch, whisking until fully combined. Set aside.
To prevent the eggs from scrambling, the egg mixture must be tempered first. Whisk a small ladle of the hot beer mixture into the egg mixture. Repeat this step a few times to slowly warm the egg mixture. Once over half the beer mixture is added to the egg mixture, reverse the process and whisk the egg mixture back into the beer mixture's pot.
With the heat on medium, scrape the entire bottom surface of the pan with a spatula, forming a pattern. Using a thermometer, continue to scrape or stir until the pastry cream begins to set and thicken (182–185°F). Turn off the heat and continue to stir. Add the butter, mixing until fully incorporated.
For a perfect texture, pour the pastry cream through a fine strainer into a bowl. Cover the bowl with plastic wrap to prevent a skin from forming. Refrigerate for at least 2 hours and up to three days in advance.
Matching Beer Styles with Fruit
Hefeweizen or Dunkelweizen
Bananas, blueberries, strawberries, mangos, papayas, or kiwi
Belgian Tripel
Cherries, raspberries, apricots, or peaches
Flanders Red Ale
Strawberries, raspberries, or plums
American Wild Ale or Lambic
Apricots, peaches, plums, cherries, strawberries, or the fruit in the beer
Old Ale or Barleywine
Plums, prunes, nectarines, or beer-soaked raisins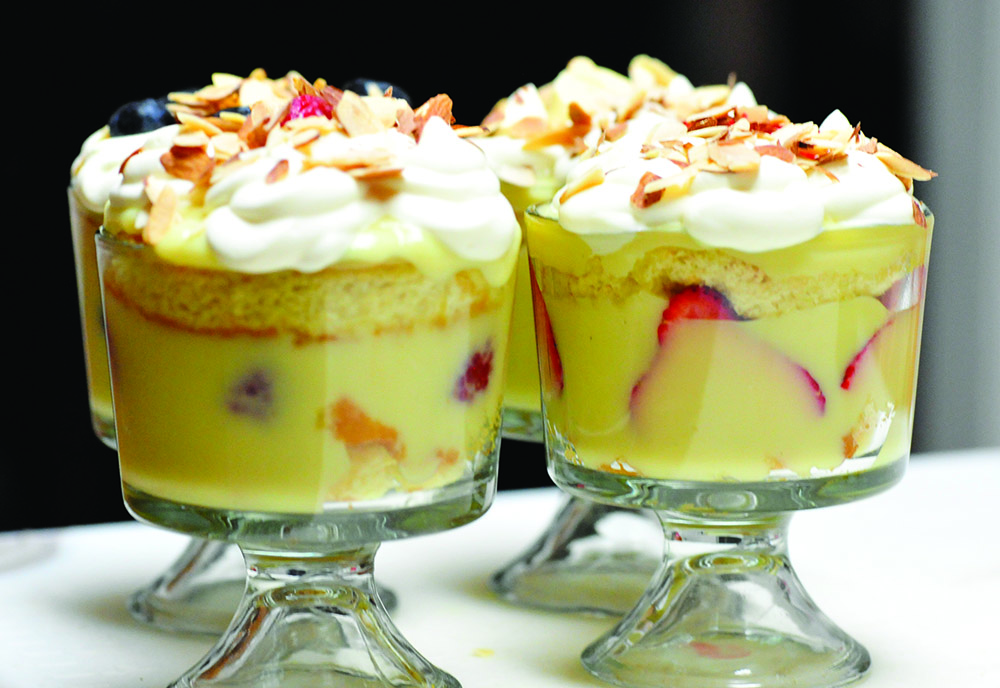 English Trifle
Begin this recipe by making the Malted Sponge Cake and Pastry Cream first. Save the remainder of the beer you chose to flavor your pastry cream and use it to moisten the sponge cake and thin out the jam or jelly. Use the same fruit suggested for that beer style.
Makes: 6 individual trifles or one large trifle
Ingredients
1 recipe Malted Sponge Cake
1 recipe Beer Pastry Cream
12 oz beer, see Beer Pastry Cream
6 oz jam, jelly, or fruit compote
2 pint fresh or dried fruit, same as the jam or jelly
1 pint heavy or whipping cream,
preferably organic
2 tbsp organic sugar
3 oz almonds, sliced and toasted
Directions
Add 1–2 ounces of beer to the jam or jelly, whisking to incorporate. Set aside. Then, in a bowl, whisk the cream and sugar together to make a whipping cream. Set aside.
If creating individual trifles, use a straight-sided glass bowl or half pint glass to cut out cakes from a sheet tray, creating two disks per glass (12 total). Alternatively, the cake can be cut into cubes to create layers. Place one of the cake disks into each cup. Sprinkle a teaspoon of beer over the cake to moisten the trifle. Next, add a layer of Beer Pastry Cream (use a pastry bag for more control and less mess). Nestle your fruit of choice into the pastry cream, sliding it down the sides of the glass to showcase the fruit. Add another cake disk and another teaspoon of beer. Lightly coat with a touch of jam or jelly, then a thin layer of Beer Pastry Cream and a decorative scoop of whipping cream. Top with fruit, arranging it for visual appeal. Cover and refrigerate for 2–24 hours.
To make one large trifle, follow the directions above, but use the individual 9-inch cake as a layer (cutting in half to make four layers, if desired). Garnish the top of the trifle with the almonds and serve. ■