A Festive Shift: Why Beer Events Are Moving Beyond the One-Size-Fits-All Model
The Business of Beer
by
Joshua M. Bernstein
| Nov 2017 | Issue #130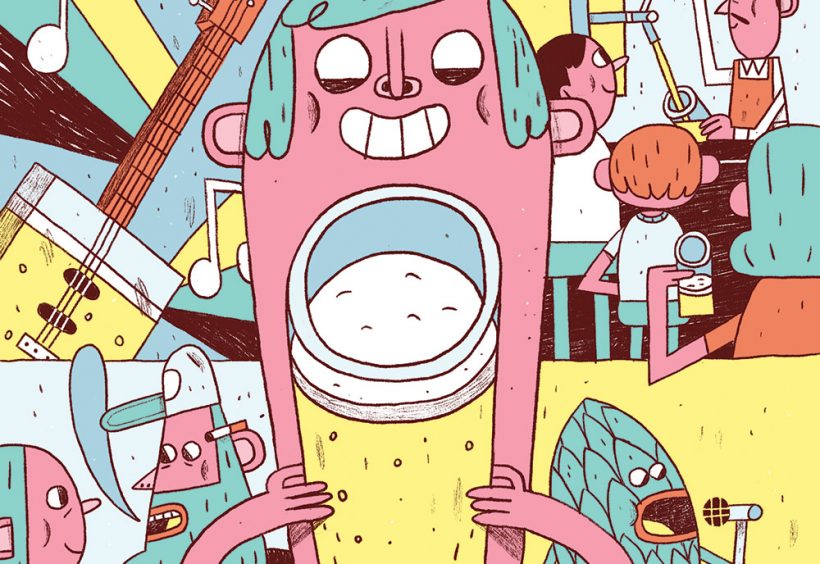 Illustrations by Alfonso de Anda
Maybe five or six years ago, a city official in Paso Robles, Calif., presented Firestone Walker brewmaster Matt Brynildson with an offer he could easily refuse.
"He said, 'I have access to this incredible location. Would you like to do a beer fest?'" Brynildson recalls. "I think he was surprised when I said, 'Absolutely not.'"
The last thing the world needed was another beer festival. There were too many, he reasoned, loud and bloated and as unfocused as a busted camera. But the official wouldn't take "no" for an answer. "He challenged me and said, 'Let's do it exactly the way you would want to,'" Brynildson says.
Instead of inviting folks willy-nilly, Brynildson curated 40-odd top-shelf breweries including Russian River and 3 Floyds, stipulating that brewers or founders attend to pour. For attendees, "there was more of a focus on meeting brewers and trying their beers than coming and trying to get drunk," Brynildson says.
Founded in 2012, the Firestone Walker Invitational Beer Fest was an instant smash, its whopping beer selection matched by a refreshing intimacy. The now-annual festival (which sells out in minutes and raises funds for the Paso Robles Pioneer Day celebration) has grown in prestige, but not in size, as Firestone Walker limits attendance to fewer than 4,000 people. According to Brynildson, when a beer fest grows too big, "it becomes difficult to have this special event where you can focus in and learn more about beer."
Beer festivals are fast evolving. Used to be, you'd stuff 100 breweries in a square box of a room and let the taps rip, each booth an introduction to a new world of Barleywines, India Pale Ales, and Imperial Stouts. Festivals were bastions of discovery and education, not just inebriation doled out by the ounce. Now, cookie-cutter fests have cropped up countrywide like weeds, catering to pretzel-necklaced hordes that care more about quantity than quality.
Mass hedonism certainly has its time and place, but beer fests are ditching the one-size-intoxicates-all model. Today's circuit contains fetes that cater to every niche drinker. Since 2012, fans of sour and wild beer have flocked to Crooked Stave's What the Funk!? in Denver, while Stout drinkers have descended on the Oregon coast for Fort George's Festival of Dark Arts. Down in San Diego, Modern Times assembles America's most cultish IPA makers, including Monkish, Great Notion, and Creature Comforts, for the Festival of Dankness, which first appeared in 2015.
"I felt like the generic, throwaway festivals were detracting from craft beer's culture, and so I wanted to help point the way forward by showing what a festival could be," says Modern Times founder Jacob McKean. "There's no better way to learn about IPAs than to try a bunch of them from the 50 best, most exciting IPA brewers on the planet."
Across the country, Kenny Gould, editor in chief of online magazine Hop Culture, created the laser-focused Juicy Brews Beer Festival this October as an antidote to Pittsburgh's large-bore beer bashes. It featured hazy IPA specialists including SingleCut, Triple Crossing, and Aslin, many of which had never distributed a drop to Pittsburgh. "It was important for us to provide our community with a really unique experience," Gould says. Rarity combined with a buzzy beer style created irresistible catnip. "We sold every single ticket in under 10 seconds," Gould says.
Matthew "Fuj" Scher, an information technology specialist from Albany, N.Y., racks up miles on his odometer traveling to festivals such as the Lambic-focused Night of The Great Thirst, held biannually at Maine's Ebenezer's Pub, and Hill Farmstead's Festival of Farmhouse Ales in Vermont. He's primarily drawn to festivals organized by breweries, to him a key marker of quality. "You know you're going to have a more intimate event and, more than likely, a better selection of curated beers," he says.
Sometimes, though, beer isn't lure enough. August welcomed Copenhagen's inaugural Haven Festival, a collaboration between rock musicians Aaron and Bryce Dessner of the National, noted Danish chef Claus Meyer, and Mikkeller founder Mikkel Borg Bergsø. "It's not only a curated music festival, but it's also a curated beer festival and a curated food festival," says music promoter Xenia Grigat of Beat Box Entertainment. Attendees could snack on duck-heart hot dogs while sipping blueberry sours and watching, say, Iggy Pop or Band of Horses bash away on stage. Beer doubled as entertainment, too, as Mikkeller live-brewed a beer that was spontaneously fermented on festival grounds. "Beer was a very big element to Haven, and next year it will be even bigger," Grigat insists.
Enticing potential attendees is one hurdle. But how do you sweeten the deal for brewers, too? One perk is education. "At our festivals, brewers spend the entire previous day discussing how we make our beers in a series of seminars," says McKean of Modern Times. "We're just as focused on creating a valuable, educational experience for the brewers as we are on throwing a great festival for beer drinkers."
Poll a bunch of brewers about their favored beer style, and odds are they'll say Pilsner. Small wonder, then, that Oxbow Beer and Italy's Birrificio Italiano easily enlisted cultish breweries including Hill Farmstead, the Veil, and Tired Hands for the inaugural Pils & Love festival, held in July in South Portland, Maine. "The goal was to educate and turn more people onto the style," Oxbow owner and brewer Tim Adams says of the waterfront celebration. He embraced minimalism, eschewing flashy branding and towering merch tables to simply spotlight the liquid. "It was almost a sensory-deprivation effect."
Firestone Walker has also offered seminars at its festivals, including a talk by hops supplier Haas, and creates a kind of brewers-only green room. "It's more important that we provide a space away from the festival where brewers can just hang out and share stuff and share beers," Brynildson says. "If you can pull it off, that networking opportunity is so amazing. That's the most valuable piece for the brewers. There's almost a festival within a festival." ■