Greeting Cards and Gruits? Beer Holidays Seek a Place on the Calendar
History & Culture
by
Bryan Roth
| Jul 2018 | Issue #132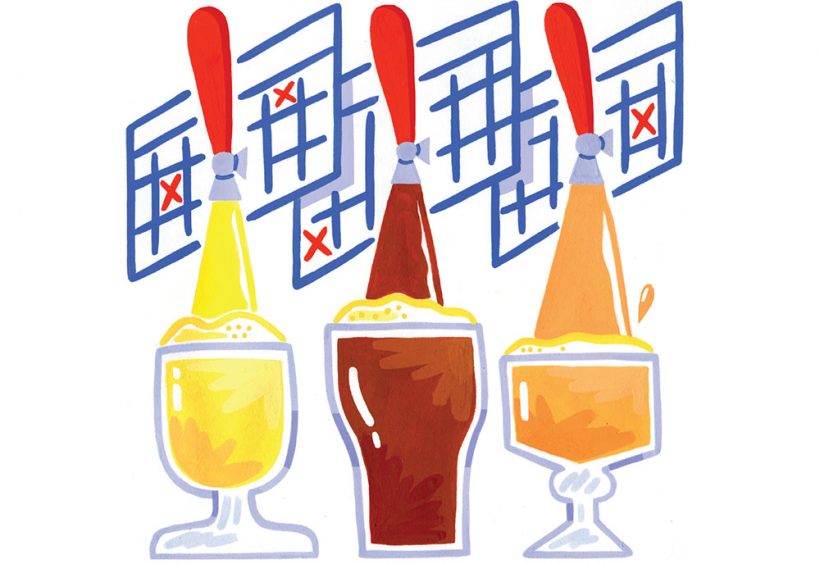 Illustration by Tim Liedtke.
Drinkers may occasionally find a Gruit on tap, but for the most part, the fermented, hopless concoction stays relatively anonymous in bars, breweries, and restaurants.
But every Feb. 1, Steve Beauchesne makes sure the centuries-old style that uses herbs and other foraged plants in lieu of lupulin gets its due, at least for one day. Since 2013, Beau's All Natural Brewing Co., his brewery in Vankleek Hill, Ontario, has celebrated International Gruit Day, an opportunity to highlight historical traditions and the process of brewing with botanicals. Sixty-two brewers across the US and Canada joined the effort in 2018, and, in recent years, participants have included Montreal's Microbrasserie Dieu du Ciel!, North Carolina's Burial Beer Co., and Washington DC's Pizzeria Paradiso Birreria.
Gruit may never be front-and-center for beer lovers, especially at a time when hops seem to dominate recipes, but Beauchesne says he decided to create the holiday as a way to generate some amount of attention for an otherwise forgotten style. He cites a bump in Twitter impressions as proof of some level of success—the #GruitDay hashtag generated 2.6 million impressions  in 2017, almost double the year prior. Beau's—which produces about 2,000 liters (17 barrels) of Gruit a year—sees an increase in the style's sales the week of Gruit Day, but not one that changes the yearly production levels.
"In a lot of ways, it feels like we're preserving history," says Beauchesne, co-founder of Beau's. "It's sort of like you're drinking with your ancestors when you have a Gruit."
Beauchesne knows his one-day event isn't going to swing the pendulum of popularity for Gruit, but his effort reflects an ongoing attempt by breweries all over to use beer-centric holidays to their advantage. In some cases it can cause a brief spike in sales, but nothing that will alter a fiscal year. Rather, these made-up observances instead act as an annual reminder of a particular style, brewery, or brand, one form of marketing that businesses hope grabs a drinker's attention, reminds customers about a beer or style, and maybe—just maybe—encourages a repeat experience when options are at record levels of variety and availability.
Even if drinkers miss the chance to mark International Gruit Day, they quickly have more holiday options with Allagash Brewing Co.'s annual Drink It Now Day (Feb. 18) and Saison Day (April 14). "We're excited when we can use social media to help bring beer lovers together and share something we all care about," notes Allagash marketing director Jeff Pillet-Shore.
On March 24, importer Merchant du Vin organizes Orval Day as an excuse to celebrate the famed Trappist ale, with 50 cents of each bottle sold during the month of March donated to MAP International, which provides healthcare supplies to those in need around the world.
In 2016, the company shipped about 12,000 bottles to retail partners and saw an uptick to about 12,540 bottles for 2017. Preparation for the day included print and digital communications to accounts as well as pushing the #OrvalDay hashtag on social media. For the 2017 Orval Day, total sales of the beer were estimated to be no less than five times the typical single day sales in the US, says Craig Hartinger, marketing director for Merchant du Vin.
"It's a competitive marketplace because there's so much great beer out there," Hartinger says. "We try to sell in a number of different ways and one of those ways is through promotions, but Orval has a great story behind it and Orval Day a wonderful charity behind it, which makes it less difficult to implement."
When it comes to celebrating a style, Cambria Griffith created an opportunity for Barrel-Aged Beer Day while working as distribution marketing manager for The Bruery. Griffith had seen fans raise glasses for National Beer Day, Stout Day, and IPA Day, and figured there might as well be a celebration for a style beloved by the business. Stouts, sours, Saisons, and more would all be a part the occasion, marked annually on the first Friday in October.
Starting in 2013, Griffith connected with friends and colleagues at dozens of other breweries to officially take part through special releases and taproom events. The number has grown enough that Griffith wasn't able to track it in 2017, but includes popular names like Firestone Walker, Stone Brewing, and Oskar Blues. Over the years, the event has resulted in beer dinners, tap takeovers, and other local events near The Bruery's home in Placentia, Calif.
The payoff isn't literal, Griffith notes, as the goal, like so many other "holidays," is to put more attention on a category and brands that people may not think about regularly. The Bruery uses a badge on Untappd to encourage drinkers to check in a barrel-aged beer, and the company's website always gets a bump in traffic. Griffith says page views spiked 70 percent for 2017's Barrel-Aged Beer Day.
"I see it as a win for anyone who's making barrel-aged beer," says Griffith, who now works as Figueroa Mountain Brewing's director of marketing. "It's one thing to make a holiday just to say you made it, but it's another to have it resonate with people and businesses."
What that means, exactly, is up for interpretation. No matter what time of year, there's some kind of beer to celebrate, whether it's Sour Beer Day (the second Saturday in September), National Lager Day (Dec. 10), or Beer Can Appreciation Day (Jan. 24). Rather than worry about overuse, these holidays may simply be pet projects, ways to encourage 24 hours of excitement.
"I don't need Gruits to become the next big thing, but I'd love to see them as 'a thing' so they're not weird to find," says Beauchesne, who started International Gruit Day. "I like to think of myself as a beer fan before I put my company hat on, so it's just a cool thing to have for people." ■