The Mystery of Barclay Perkins' Sparkling Beer
History by the Glass
by
Ron Pattinson
| Oct 2018 | Issue #133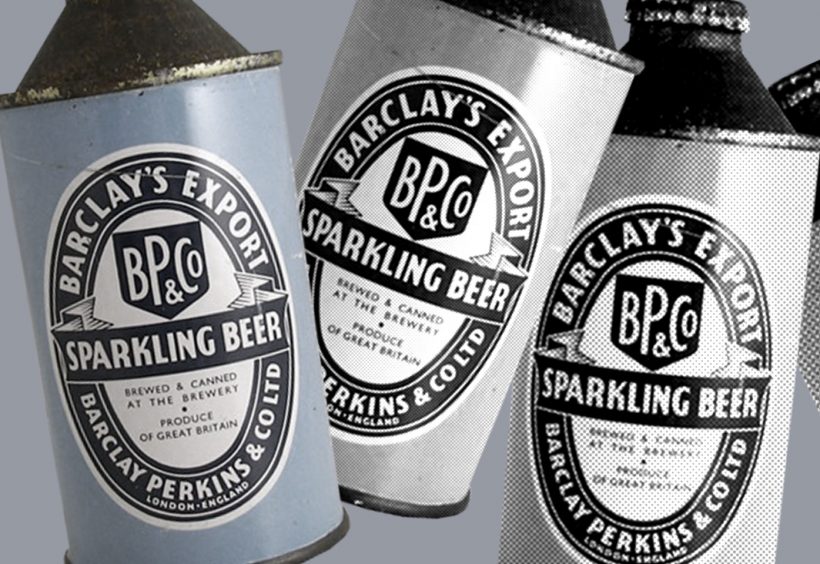 Barclay Perkins was ahead of its time in many ways. Despite a legacy of being one of London's largest 18th-century Porter breweries, it invested in a shiny new lager brewhouse in the 1920s. A brave move, after several attempts by British brewers to venture into lager production had ended disastrously.
It wasn't just lager brewing where Barclay's was innovative. It was also one of the first breweries to start canning. And there was one beer where these two acts of daring combined: Sparkling Beer.
Not appearing in any Barclay's pub price list, it's safe to assume that it was a beer destined for export. Don't ask me what style it was. Barclay's kept it very vague. Even though it was brewed as a lager, there's no mention of that on the packaging. The amber color doesn't mark it out particularly as a bottom-fermenter. If we want to get technical, I'd say Vienna Lager. But I'm not so sure that was the brewer's intention.
A beer with a long shelf life is my guess. Hidden away behind metal walls for extra protection. Which would explain why it turned up in ships' stores:
Now Pete the second cook sweats like a pig
As he bakes pies and bread and other gear.
He pauses from his work to take a swig
At lukewarm cans of "Barclays Sparkling Beer"
Poem by an assistant steward on the Esso "Lucky Star," August 1956.
The army got supplies, too. A few years back, someone stumbled upon rubbish left by British soldiers, way out in the Libyan Desert. Along with empty packets of Victory cigarettes were cans of Sparkling Beer. Also empty, obviously.
Over the years, the recipe and strength changed, but Sparkling Beer, unlike some Barclay's beers, always maintained a decent gravity. I suspect because it was exclusively destined for export. Even during the war, it remained over 4 percent ABV.
The recipe was a bit odd for lager. In 1939 it was 88 percent Pilsner malt, 12 percent crystal malt, and a whole load of Saaz hops, which resulted in a dark amber beer (around 12 SRM) with 40-odd IBU. Unusually for Barclay Perkins, the early versions were all malt. Its beers normally contained both flaked corn and sugar. After the war corn does appear, either as flakes or grits.
Every version except that from 1954 contained at least some Saaz hops, surprisingly, even during the war years. As Bohemia was at the heart of the Nazi empire, they couldn't have been very fresh. And when fresh hops became scarce, brewers reached for emergency supplies. In the summer of 1941, Barclay's used 1938 harvest Saaz. Resorting to increasingly older hops was a feature of both world wars.
Like most British breweries, Barclay Perkins usually treated its water before brewing, different treatments for different styles. There was just one exception to this: Its lagers were brewed with straight well water, which had a typical London profile, high in calcium carbonate and sodium sulfate.
What happened to Sparkling Beer? I'm not sure. A trademark application in 1968 implies it was still brewed that year. But the dwindling of Britain's empire and merchant fleet whittled away at its intended market. When the last part of Barclay Perkins, Park Street plant—the Lager Brewhouse—closed its doors at the end of the 1960s, Sparkling Beer probably quietly slipped into oblivion, unnoticed.
Thirty years or so is not a long life for a brand. But there are still those cans out there in the desert as a reminder. ■