Fresh From the Can: Cranberry Beers and Ciders for the Holiday Table
Food & Drink
by
Ben Keene
| November 21, 2018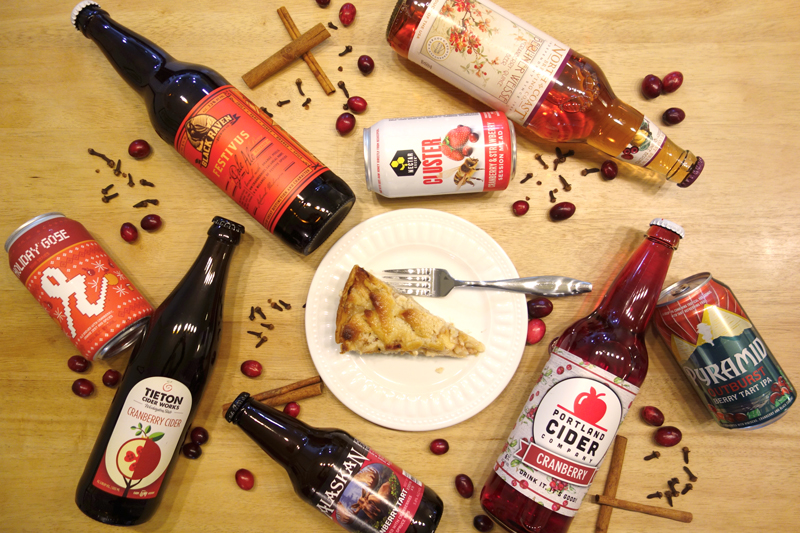 At the end of every year, as temperatures dip across much of North America, we gather around the table with friends and family to share memories and celebrate holidays. And whether it's roast turkey, mom's stuffing, crispy latkes, or green bean casserole, we all have our favorite dishes. (Let's be honest though, pie is at the top of all of our lists, right?) The challenge is just deciding what to pair them with for maximum deliciousness.
There's an art to matching food and drink successfully, as well as an element of personal preference, of course. Seasonality might come into play, too. Pumpkin ales—the fall beers everyone loves to hate—have started to fade by this point in the year, to be replaced by darker offerings like Winter Warmers and more potent potables like Barleywines and Doppelbocks. But in recent years, as brewers have challenged themselves to develop new flavor combinations in an effort to excite consumers and stand out on crowded shelves, a somewhat unexpected ingredient has appeared in a growing number of beers: cranberry.
Search BeerAdvocate for the word "cranberry" and you'll produce more than 400 active and retired beers with the fruit in their name. It's clearly become a more popular ingredient with the bright red berries turning up in everything from Porters and Stouts to Wits and Wild Ales. From Wisconsin, the top cranberry growing state in the US, we get beers like Cran-bic, a Lambic-style ale, while in Massachusetts and New Jersey, which are also known for their bogs, we find the tart farmhouse ale Three Cranes and That Cranberry Good Good, an Imperial… Shandy? To date however, Cascade Cranberry is the second highest rated American made cranberry beer with a 4.02 score (behind Cran-bic's 4.27), while Sam Adams Cranberry Lambic (no longer in production) has the most ratings with 1,389.
So, whether you're looking for something different to wash down the beef brisket with, or need a new companion for that slice (or three) of apple pie you're looking forward to, here are a handful of beers—along with a couple of ciders and a "session" mead—to try with your holiday meal this year.
Cranberry Quince Berliner Weisse
4.1% ABV | North Coast Brewing Co.
This sparkling, salmon-hued Berliner Weisse from one of California's craft brewing pioneers is certainly eye-catching in the glass and its delicate, juicy, fruit-forward fragrance has the ability to win over even the most skeptical drinkers at the table. Yes, the words "spontaneously soured" do appear near the bottom of the label, but the flavor is much more zesty than acetic with some initial sweetness fading into a thrillingly acidic finish. Pear-like quince seems like the quiet star here, providing welcome balance to its tart counterpart.
Cluster
5.1% ABV | Nectar Creek
Fizzy and bright red with a bit of haze, this sessionable sipper from Nectar Creek meadery in Oregon (another leading cranberry grower) falls on the sweeter end of the spectrum, but its crisp carbonation and a touch of dryness saves it from syrupy territory. Sweet tart on the nose with floral strawberry and fragrant honey leading the way, Cluster might not appeal if you're looking for a drink with more tartness, but as a low-alcohol cranberry and strawberry mead, it's an interesting twist nonetheless.
Outburst Berry Tart IPA
6.5% ABV | Pyramid Brewing Co.
Reddish orange in color with a resilient, rocky head of pinkish beige foam, Pyramid's Outburst-inspired variant might be confused for an Amber Ale from a distance. Meanwhile, the aroma telegraphs tropical punch, bringing to mind Hawaiian Punch: sweet and fruity with red berries, ripe apples, and black cherries (maybe due to Calypso). Medium-bodied and malty, the taste delivers a hit of moderate, earthy bitterness as well as a degree of tartness, muting some of the beer's IPA character, but not to the point of imperceptibility.
Cranberry
6.0% ABV | Portland Cider Co.
Deep scarlet in color with good clarity, this bottle from Oregon's craft beverage capital definitely screams cranberry. Robust, orchard-fresh apple aromas leap out from a slightly sharp red berry background, leading into a harmonious marriage of the two fruits in this bold cider. A high level of carbonation lends more body to an otherwise light profile, while the zippy tartness of the cranberry makes Portland Cider Company's semi-dry seasonal a quenching and quite refreshing option.
Cranberry Tart
5.8% ABV | Alaskan Brewing Co.
Rose gold in color with admirable clarity, Cranberry Tart is slightly sweet on the nose with a prominent cranberry aroma against a woodsy, ever-so-slightly resinous backdrop. Spritzy, light-bodied, semi-dry, and truly more tart than sour, Alaskan has brewed an approachable beer that's flavorful enough to make you want to crack open a second bottle, and although it isn't at all heavy handed with the eponymous fruit, a bit more spruce could contribute additional complexity to this clean finishing ale.
Cranberry Cider
6.9% ABV | Tieton Cider Works
Pale to medium red in the glass with brilliant clarity, Tieton's cranberry cider is very aromatic with notes of clove and (particularly) cinnamon, and brings to mind baked apples or a steaming mug of mulled cider. Light bodied with bold fruitiness, lots of warning spice character, and just a touch of tartness, this core offering from an award-winning Yakima Valley orchard and cidery successfully integrates both fruits into a stronger drink with a semi-sweet finish and a tangy cranberry linger.
Holiday Gose
4.3% ABV | Reuben's Brews
Clear, pinkish pale-gold with a small head of loose bubbles, this beer looks, as expected, like a fruited Gose. A tickle of orange appears in the aroma, but cranberry, a trace of bright, spicy, coriander, and the style's telltale salinity mingle together pleasantly almost like a cocktail. Highly carbonated and light-bodied, this is an interesting, easy-drinking release from Seattle's Reuben's that doesn't lose its identity with the introduction of additional flavors—subtle cranberry tartness and subdued citrus marry nicely with the Gose base.
Festivus Holiday Ale
7.3% ABV | Black Raven Brewing Co.
As a Pale Ale, Festivus is rather dark, falling solidly at the top of the amber color range with a pillowy, beige head that throws off aromas of pungent galangal root, caramelized orange rind, crusty rye bread, and earthy, piney American hops. Cranberries don't reveal themselves in the nose, but an underlying tartness to the complex flavor of this medium-bodied, spicy beer points to their contribution. With plenty of bitterness and a hardy ABV, this Washington-based brewery has made a very food-friendly beer with a native ingredient. ■