Website Could Become "Pandora of Beer"
Innovation
by
Lisa Morrison
| Sep 2010 | Issue #44
Many websites already use data to recommend products tailored to your unique interests. Pandora, for example, helps you discover new music by "learning" your taste and suggesting similar artists and songs. Amazon is great at tipping you off to books, movies and other items based on what you've purchased in the past. Netflix, too, can steer you toward films you're likely to enjoy based on your ratings of ones you've already seen.
So why couldn't a website do the same thing with beer? It can. It's called "Pintley."
"Pintley recommends beer based on each individual user's tastes and preferences," says co-founder Tim Noetzel. "Pintley learns from a user's ratings and taste notes to create a unique taste profile, and caters beer recommendations specifically for them." The engine is similar to the Pandora and Netflix models, and is intended to encourage the ever-expanding palates of craft beer lovers.
"The idea behind Pintley is to help beer lovers, especially new ones, find beers that they may never have thought to try," says Noetzel. "BeerAdvocate is such a great source, especially for expert ratings, opinions and news about the beer community. I think Pintley really complements that by helping beer advocates get in touch with their own personal tastes and the specific beers that really excite them as drinkers."
The process is simple. After you sign up for an account on Pintley.com, you are shown a list of relatively common beers you might have tried. You rate the beers you're familiar with by clicking on a simple scale to indicate how much you enjoyed the beer, from "I hated it" to "I loved it."
"We use these initial ratings to start developing a user's recommendations, and the recommendations get more accurate with every rating a user gives and every tasting note they write," says Noetzel. The initial ratings help Pintley create a profile page for each registered user, which can be expanded to include tasting notes on specific beers. Each rating a user gives a beer is counted toward that beer's total rating, based on a 1–5 scale, with 5 being considered the best.
A test run by this reporter involved Maiden the Shade, a summer seasonal IPA by Ninkasi Brewing of Eugene, Ore. It was listed on the Pintley homepage as a top-rated beer, and I had just reviewed it as a Beer of the Week for my radio show, "Beer O'Clock!," so my memory of it was still fresh. Since I loved the beer, I rated it highly on the beer's profile page, which also indicates style, ABV, IBU scale, average rating and number of ratings. Besides the "loved it/hated it" rating scale, there are also clickable icons that let you indicate whether the beer is a favorite and add the beer to your wish list.
The "My Taste Notes" tab reveals even more rankings—for appearance, aroma, taste, texture, drinkability and value. There is also a blank space for leaving your own written tasting notes. The next tab reveals others' tasting notes on the same beer.
The final tab offers suggestions for similar beers that Pintley believes you may enjoy. The beers that Pintley suggested for Maiden the Shade included a few IPAs such as Stone Ruination IPA, Pliny the Elder and Dogfish Head 90-Minute IPA, and also a number of other beers such as Deschutes The Abyss and Great Divide Yeti Imperial Stout.
These suggestions are what floored me about Pintley; it was like a personal list of some of my favorite beers of all time. Inspired and intrigued, I decided to really dive in. I rated a few more beers and checked my personal recommendations. Again, I was presented with a list of beers that I now wanted to try. There were only a few misses (not sure what I did for Pintley to suggest a certain crappy macro lager), but I bet there will be fewer of those as more ratings are added.
Bottom line: Pintley is a fun and informative website that promises to offer fresh insight, and it will surely grow along with its community. There is even a Pintley iPhone application in the works. But be warned—while Pintley seems magical in its ability to determine what beers you will enjoy, it's also very good at eating up many hours of your time! ■
Previous:
Three Threads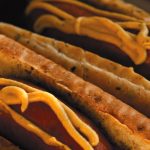 Next:
Brats Gone Wild: Oktoberfest Sausage 2 Ways