Brats Gone Wild: Oktoberfest Sausage 2 Ways
Cooking with Beer
by
Sean Z. Paxton
| Sep 2010 | Issue #44
Photos by Sean Z. Paxton
The Brat, short for Bratwurst, is a beautiful thing when prepared correctly. It is the perfect one-handed meal: a good, chewy roll coated with a strong mustard, filled with a meaty yet juicy sausage, and topped with sweet onions and peppers that have been braised in beer. Try these two versions.
The Basic Brat
This has to be one of the simplest recipes, yet it packs a huge punch in texture and flavor, and is perfect for a tailgate or backyard barbecue.
Serves: 3–4 guests
Ingredients:
1/4 cup olive oil, butter or fat (bacon or duck)
1 each onion, yellow, large, peeled and sliced thin
1/2 each bell pepper, red, seeded and sliced thin
1/2 each bell pepper, yellow, seeded and sliced thin
4 each garlic cloves, peeled and minced
1 sprig thyme, fresh
1 tsp kosher salt
12 oz Oktoberfest or Märzen-style lager beer
4–6 each Bratwurst-style sausages
4–6 each sausage-style buns
beer grain mustard
ketchup (optional)
Directions:
In a large pot over medium heat, add the oil, onions, bell peppers, garlic, thyme and salt. Stir well to mix and sauté for 6–8 minutes to lightly soften the vegetables. Deglaze the pan with the Oktoberfest beer and turn the heat to low. Add the sausages and poach them in the beer for 10 minutes. Remove the sausages from the mixture and keep warm, or mark on the grill for extra texture and flavor.
Split the buns in half and toast to a golden brown. Lightly spread one side with some grain mustard and a touch of ketchup (if desired). Place a Brat in the center and top with a tong-full of the onions and peppers. For a nice twist, dip the bun in the beer liquid or in the onion and pepper mixture to add flavor to the sandwich, similar to a French dip. Serve immediately.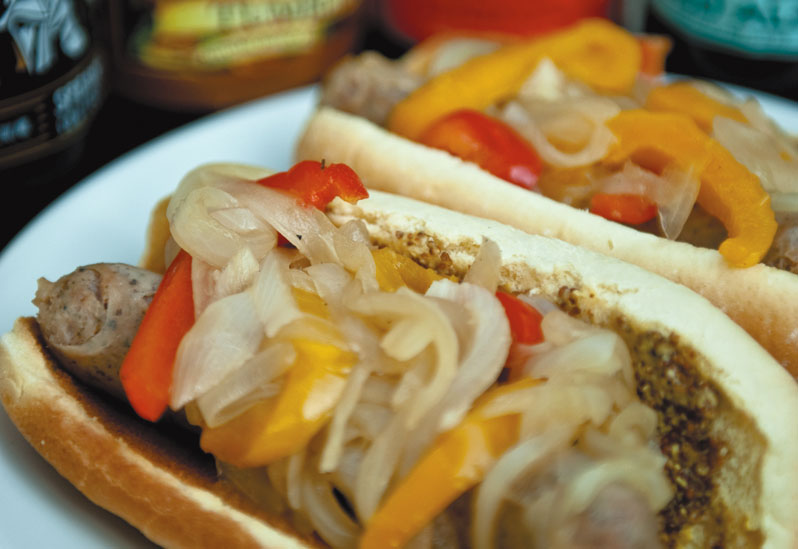 Brewing Network 5th Anniversary Brat
In June, before the launch of the 2010 National Homebrewers Conference just outside of St. Paul, Minn., the Brewing Network celebrated its fifth year of broadcasting. To help celebrate this popular international beer community event, I created my own nod to the Brat using the Kramarczuk's smoked Brats. If you haven't been to the Kramarczuk's sausage company, I highly recommend you go. I felt like I'd walked into another country, right off the sidewalks of St. Paul. They do ship (visit kramarczuk.com for more info); however, if you can't get these Brats, try to find a local sausage maker or, better yet, pick up a book on sausage making and whip up your own fresh Brat. You will taste the difference, I guarantee it!
Serves: 4–6 hungry eaters
Onion and Pepper Mixture Ingredients:
1/2 cup olive oil
2 each yellow onions, large, peeled and sliced
1 each red onion, large, peeled and sliced
1 each red bell pepper, seeded and sliced
1 each yellow bell pepper, seeded and sliced
1 each green bell pepper, seeded and sliced
6 each garlic cloves, peeled
1 bunch thyme
1 tbsp kosher salt
44 oz ESB-style ale
Onion and Pepper Mixture Directions:
In a large pot, over medium heat, add the oil, onions, peppers, garlic, thyme, salt, and beer. Bring the mixture to a boil and cool till the beer is reduced by 2/3, and the onions and peppers are very tender, almost caramelized. This will take about 40 minutes. Lower the heat and keep warm.
BN5 Brat Ingredients:
24 oz Amber-style beer
4–6 each smoked Brats from Kramarczuk's
4–6 each Wild Rice Hoagie Rolls, see recipe below
Sierra Nevada Pale Ale Honey Mustard
BN5 Brat Directions:
In a medium-size pot over high flame, add the beer and sausage and bring to a boil, then turn the heat down to a soft boil. Simmer the sausage for 15 minutes just to warm them and infuse the beer into the sausage. Most smoked sausages are already fully cooked. Have a hot grill ready to go and add the sausage to the grate. Turn the sausages every minute to crisp up the casings, but be careful not to split them open. As the casing gets crispy, add the cut Wild Rice Hoagie Rolls to the grate and toast them lightly. Once toasted, add a few tongs' worth of onions and peppers, topping with a crispy Brat and a good squeeze of Sierra Nevada Rosemary Mustard.
Wild Rice Hoagie Rolls
Moist, light, and full of texture and complexity, these rolls combined with the perfect sausage, onions and peppers will redefine the standard hoagie roll. This dough can also be formed into hamburger buns or loaves of bread and used with cheese as an appetizer or for sandwiches.
Makes: 12 hoagie rolls
Wild Rice Ingredients:
3/4 cup wild rice, preferably from Minnesota
24 oz Bock-style lager beer
1 tsp kosher salt
Wild Rice Directions:
In a medium-size pot, add the rice and beer, mixing in the salt. Bring the beer to a boil, then turn the heat to low, covering with a lid. Let the rice simmer for 60 minutes, until it is tender but not falling apart, and all of the beer has been absorbed. Let the rice cool completely before making the rolls. The rice can be made up to three days in advance and refrigerated in a sealed container.
Hoagie Roll Ingredients:
1/2 cup water, warmed to 110˚F
2 tbsp honey, local
2 tbsp barley malt syrup*
2 1/4 tsp baker's yeast
2 each large eggs
4 tbsp unsalted butter, melted
12 oz Bock-style lager beer
4–4 1/2 cups unbleached bread flour, high gluten
1/2 cup barley flour
1/2 cup dark rye flour
1/2 cup rolled oats
1/4 cup powdered milk
1 tsp sea salt
*Available in most grocery stores in the syrup aisle, or many gourmet shops.
Hoagie Roll Directions:
Using a liquid measuring cup, fill with the hot water and mix in the honey and barley malt syrup until dissolved completely. Check the temperature, making sure the water is not over 110˚F, as to not kill the yeast. Mix in the yeast and let sit for 5 minutes, rehydrating the yeast and checking to see that they are active. If the yeast does not proof, discard and start over.
In the bowl of an electric mixer or a large bowl with a wooden spoon, add the eggs and beat lightly. Add the melted butter and beer, and mix well. Add in the cooked wild rice and any residual beer from cooking, along with the yeast cocktail. Blend to combine.
In a sauté pan over medium heat, add the oats and toast to a golden brown, stirring continually. This will take about 4 minutes. Add the toasted oats to a food processor with 1 cup of the bread flour, pulsing to pulverize the oats. Add this to the bowl of the mixer, along with the remaining bread flour, barley flour, rye flour, powdered milk and salt.
With a dough hook (if using an electric mixer), turn to a low speed until a dough is formed, then increase to medium, kneading the dough for 5–8 minutes. If the dough is too wet, add 1–2 tablespoons of bread flour at a time, letting the dough incorporate the extra flour before adding more. If the dough is too dry, add a tablespoon of water at a time to lightly moisten it.
Alternatively, the dough can be mixed using a wooden spoon and stirring until a dough ball comes together. Then knead the dough on a floured cutting board for 5–8 minutes, or until the dough is elastic and pulls away from the board clean, without any stickiness.
Transfer the dough to a lightly floured surface and knead lightly, forming the dough into a ball by pulling it toward the center from underneath, tightening the top surface. Place the dough ball in a large bowl (about triple the size of the ball, lightly coated with oil). Wrap with plastic wrap and let rise in a 70˚–75˚F area for 1 1/2 to 2 hours or until doubled in volume.
Punch the dough down and transfer to a lightly floured surface. Divide it into 4-ounce balls. With a floured hand, roll the dough ball with the palm of one hand in a circle to create a round ball, free from any creases. Now roll the ball into a log shape, roughly an inch longer than the sausage that will fill the finished bun. Apply more pressure to the ends of the log, tapering them, while creating a thicker center to the roll. Place on a sheet tray lined with parchment paper or Silpat, or onto a lightly oiled surface. Repeat with remaining dough balls. Once complete, lightly coat each roll with oil or egg wash, depending on the type of crust desired. Cover lightly with plastic wrap and let re-rise for 20–30 minutes.
Preheat the oven to 400˚F. The rolls may be lightly sprinkled with onion seeds, sesame seeds, poppy seeds or dried herbs, if desired. Place into the oven and bake until the internal temperature reaches 185˚F, about 14–16 minutes. Let cool completely before using. If some dough is left over, it can be made into more rolls or put into a loaf pan to make a loaf of bread.

Red Onion, Rosemary, and Stout Relish
Combining a sweet onion, a piney herb and a toasted Stout, along with the tang from malt vinegar and some heat, creates a tasty relish that hits all the flavor sensors on the tongue. This can be used on any type of sausage or burger as a condiment, and also works well over an English cheddar or grilled steak.
Makes: 4 cups
Ingredients:
4 each red onions, medium size, peeled and chopped
8 each garlic cloves, peeled and minced
1/2 cup olive oil
1/2 cup malt vinegar
12 oz Stout-style beer
3–4 sprigs rosemary, fresh
1/4 cup sugar
1/4 cup brown sugar
1 tbsp kosher salt
freshly cracked black pepper to taste
Directions:
In a medium-size pot, add the onions, garlic, oil, malt vinegar, Stout, rosemary, sugars and salt. Mix with a spoon and place the pot over medium heat. Once the mixture comes to a boil, turn down the heat until a simmer is reached. Stir the relish periodically to check the consistency, looking for a finished product that is thick, and making sure the onions are caramelized and nothing burns. This will take about 30–40 minutes to make. If the onions aren't quite done, add a few tablespoons of water or more beer to the mixture and continue to cook.
Once the relish is cooked, add the cracked pepper and transfer the mixture to a sterile jar and seal or let cool, and place in the refrigerator for up to three weeks. If you want some heat in this relish, add anywhere from a teaspoon to a tablespoon of chili pepper flakes along with everything else at the beginning of the boil.
Fennel, Orange, and Tripel Compote
Try this compote over a smoked duck sausage. Need I say more? It would also be a great addition to a cheese plate, mixed with brie for a grilled cheese sandwich or on a hamburger made with ground lamb.
Makes: About 3 cups
Ingredients:
1/4 cup olive oil
1 each fennel bulb, top chopped off, quartered, cored and sliced thin
2 each yellow onions, peeled and sliced
1 each orange, tangerine, or blood orange zest (juice preserved)
1/4 cup honey
1/4 cup malt vinegar
12 oz Tripel-style Belgian Ale
1 tsp kosher salt
1 tsp fennel pollen (optional)
Directions:
In a medium-size pot, placed over a medium flame; add the oil, fennel and onion. Stir and lightly caramelize the vegetables for about 8 minutes. Add the citrus zest, honey, malt vinegar, beer and salt. Bring to a boil, reduce the heat to a simmer and cook until most of the liquid has reduced and the fennel and onions are caramelized. Add the remaining orange juice and fennel pollen (if using) and cook for another minute. Transfer the compote to a sterile jar and seal, or to a container and let cool completely before sealing. To serve, warm the compote and use about 1/3 cup per sausage. ■
Previous:
Website Could Become "Pandora of Beer"
Next:
Old Forge Brewing Company