Nebraska Brewing Company: Big Risks and Big Beers in Cornhusker Country
From the Source
by
Sean Lewis
| Oct 2010 | Issue #45
Considering the fact that the thousands of American craft breweries own a miniscule, albeit growing, portion of the beer market, what criteria do craft beer drinkers use when figuring out if a brewery is "big"? Does distributing beer to states thousands of miles away count? What about having the ability to experiment with barrel aging, or winning medals at beer festivals? Surely drawing criticism and stirring controversy on internet forums means your brewery has made it big, right?
If this were a checklist, Nebraska Brewing Company would be able to check off each of the above boxes. But NBC is not a big brewery, and founder Paul Kavulak will be the first to tell you that. "It's absolutely laughable how we do things to make ourselves look big," he said.
Except nobody is laughing at his 10-bbl brewpub located in Papillion, Neb., just outside of Omaha. Instead, people are starting to take notice of this little brewery that is making people realize there may be more to Nebraska than college football.
A Little Beer in a Lot of Places
Despite Kavulak's work as the president of the Nebraska Craft Brewers Association, as well as the efforts of other Nebraska brewers, Omaha is not a mecca for craft beer drinkers. It is a condition that Kavulak is working to change.
"Our mission is to ultimately make the market in this area more suited to good, elevated, quality craft beer, and we're going to get there," he said. Part of that mission involves organizing beer festivals, writing beer columns for local newspapers and of course, brewing quality beer. But just because he is a man on a mission, doesn't mean that Kavulak isn't a businessman first.
It was clear early that Nebraska Brewing Co. wouldn't be operating at full capacity if the beer was only sold at the bar. With the brewpub still in its infancy, Kavulak recalls reading an article that featured an interview with Patrick Rue of The Bruery.
"The interviewer asked: 'What's the key to your success?' and he said, 'The key to our survival is a little bit of beer in a lot of places,'" Kavulak said.
So NBC's founder kept his eyes open for distributors who could take beer from his little brewery outside of Omaha to areas of the country where craft brewers are treated like rock stars. Now, three years after opening in November of 2007, Kavulak's beers are distributed in Iowa, Oregon, New York, Pennsylvania and Massachusetts—with an eye toward spreading into Rhode Island and New Hampshire.
"I want our beer to be among [great beer drinkers], and I want these great craft beer drinkers to encounter our products. And that's what drove me to the other coast," Kavulak explained.
This push for a wider distribution was not met with resounding cheers by the online beer community. Instead, forum users took turns criticizing Nebraska Brewing Company for not staying local and predicting failure in the already deep East Coast markets. But scattered amongst the criticism and vitriol was praise for what has emerged as the brewpub's most popular beer among beer geeks—Hop God—a sign that at least some attention was still being paid to the beer being made.
Take Big Risks
Before NBC, Kavulak's brewing résumé was short, but his nose for business was keen. Kavulak only had the beers in his homebrewing portfolio when he decided to dive face-first into the murky waters of owning a brewpub in Nebraska.
"The passion [to start a brewpub] began to burn brightly in 2005, and my wife [Kim] and I began to work on a business plan here at the house," Kavulak said. "We did our best to flush it out. We were at lunch one day—and we laugh now … we laugh because at that moment we were talking about the business plan, I said that if I don't concentrate on this business plan like I concentrate on every project, then I'll never be able to get it done. She agreed, and at that moment, I got out my cellphone, called my boss and resigned."
He had no brewing equipment, no brewery location and no experience as a brewpub owner, but Kavulak was fully committed to his dream. He found the space in Papillion's Shadow Lake Town Centre, he found the equipment when a Japanese brewery sold off their 10-bbl steam-jacketed system, and he began to piece together his pub.
With him at the very start was local homebrewer Tyson Arp, who helped build the brewhouse and helped get Nebraska Brewing Co. off the ground. Kavulak didn't have the capital to hire Arp as part of the brewing staff right away, but kept his cellphone number on hand. However, Kavulak changed his mind after running into Arp at a homebrew competition.
"As fate would have it, I ended up being one of the judges to judge 'best of show' beer," Kavulak said. "I still had [Arp's] cellphone number in mind, and when he won 'best in show,' I said, 'Hey, you just won 'best in show,' let's talk.'" Arp was brought in as an assistant brewer and has moved up alongside Kavulak to the head of the brewhouse. Together, along with assistant brewer Sam Riggins, they create award-winning beer.
Drink Big Beers
Nebraska Brewing Company has a solid lineup of year-round beers (see below), but one of them, along with NBC's Reserve Series beers, stands out above the rest. Kavulak still recalls the euphoria felt after Hop God earned a bronze medal at the World Beer Cup.
"I became 'that guy' for 20 minutes, high-fiving and screaming and dropping the 'f-bomb' and acting like a little girl," he said. "At the end of that 20-minute span, I looked around and said, 'Oh god, I should shut the hell up.'"
Kavulak now opts to let the beer do the big talking for him, and it says some extreme things. NBC produces four limited-production, barrel-aged beers that constitute the Reserve Series. In an effort to find a perfect blend of flavors, NBC's Reserve Series beers are aged in either Stranahan's Whiskey barrels or French Oak Chardonnay barrels from West Coast wineries. Fathead, a Barleywine, and Black Betty, a Russian Imperial Stout, both find their way into the whiskey barrels, while Hop God and a strong Belgian Golden Ale called Mélange à Trois make their way to the chardonnay barrels, as Kavulak dares local beer drinkers to try something that may be outside of their comfort zone.
"They said, 'You'll never sell an IPA in this market, you're wasting your time,' and I thought, 'That's just not right,'" Kavulak said. "I'm going to be a craft brewer and I want to bring these people craft brew styles that I appreciate. Everybody, even our chef [Adam Graybill], finds great things to do with our beers. We make beers that are true to what we want them to be. They're flavorful, and they're rich."
Nebraska Brewing Company isn't big, and even if it barely makes a dent in the bigger markets, it is having a major impact on what it means to drink beer in Nebraska.
Brewhouse
Built by PSS out of the Czech Republic; bought used from a Japanese brewery
10-bbl steam-jacketed kettle, five 10-bbl fermentors, five 10-bbl bright tanks
What's On Tap
NE Blonde
A pale summer beer made with Pilsner malt and Noble hops, 5.1-percent ABV, 19 IBU.
Infinite Wit
Brewed with orange peel and coriander, 4.5-percent ABV, 9 IBU.
EOS Hefeweizen
A fruity and phenolic Bavarian-style Hef, 4.8-percent ABV, 10 IBU.
Brunette Nut Brown Ale
Brewed in the classic English style, 4.8-percent ABV, 15 IBU.
Cardinal Pale Ale
Golden colored with a floral aroma, 5.75-percent ABV, 29 IBU.
India Pale Ale
A hop-forward IPA, 6.5-percent ABV, 65 IBU.
Hop God
A cross between a Belgian Tripel and West Coast IPA, 9-percent ABV, 101 IBU.
Reserve Series
Black Betty Russian Imperial Stout
Aged in Stranahan's Whiskey barrels to bring out a blend of chocolate and coffee-like aromatics. Became available in September, 9.3-percent ABV, 83 IBU.
Fathead Barley Wine
Aged in Shanahan's Whiskey barrels for six months, available in October, 11.3-percent ABV, 34 IBU.
Chardonnay French Oak Hop God
Takes NBC's popular Hop God and ages it in French Oak Chardonnay barrels for six months. Available in November, 10.1-percent ABV, 108 IBU.
Mélange à Trois
A strong Belgian-style Blonde Ale aged for six months in French Oak Chardonnay barrels. Available in December, 10-percent ABV.
What He Said
"From the start, we've always made the beers we've wanted to make. They're not watered-down versions of beers that would work in a Nebraska market."
– Nebraska Brewing Company founder Paul Kavulak ■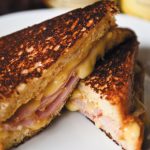 Previous:
Improving the Sandwich with Beer
Next:
BadAss BeerAdvocates