Putting Your Money Where Your Mouth Is
Beer Smack
by
Jason & Todd Alström
| Apr 2012 |
Issue #63
For years, many of you have asked, begged and even demanded that we not only launch a mobile version of BeerAdvocate.com, but a digital edition of the magazine. Trust us—we hear you. That said, some things aren't as easy as simply asking and receiving.
Despite popular belief, BeerAdvocate is not a big company. We started the site as a hobby in 1996 and remained a two-brother operation up until 2011. Today, we host the most active consumer beer website known to man, have three full-time employees, publish a monthly magazine, and host numerous fests and events throughout the year. However, despite appearing to be financially successful now, we're not in the position to self-fund a project the scale of a mobile site and digital magazine, nor do we want to apply for a loan or be owned by investors.
That's where you come in. If you truly want the site and mag taken to the next level, put your money where your mouth is—make a pledge to our Kickstarter fund! With your collective help, we aim to generate the funds to make our BA mobile services project happen.
We also have multiple pledge levels with some very cool and exclusive rewards. For more info and to make your pledge: beeradvocate.com/kickstarter. Thanks for your continued support.
Respect Beer. ■
Previous:
Nicole Erny, Master Cicerone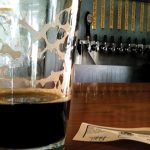 Next:
Beer News