Mexican Tortas with Beery Fillings
Cooking with Beer
by
Sean Z. Paxton
| Jun 2012 | Issue #65
Photos by Sean Z. Paxton
I'm a huge fan of the sandwich: great bread, fresh and delicious ingredients, layered together in a thoughtful order, giving way to texture and spices, all composed to pleasure the palate. The Mexican torta is just that. A special bread cut in half, with the inside top coated in a guacamole spread, the bottom lined with a thin smear of Smoked Märzen Refried Black Beans, then topped with cheese and sprinkled with some roasted chilies or bell peppers. Next, the main filling—chorizo, veggies, or marinated meat—grilled, sliced and arranged with some pickled jalapeño peppers, fresh cilantro and maybe some lettuce. Finally, the two halves are placed in a panini grill, creating a crispy crust and melding all the fillings together. There are many variations to this sandwich—here are my cuisine à la bière versions.
Chorizo Onion Amber Filling
The spicy and well-seasoned chorizo is complemented by the sweet caramelized onions in this filling, which adds tons of texture, flavor, and body to any torta.
Makes: enough for 4–6 tortas
Ingredients:
1 tbsp olive oil
12 oz chorizo, beef, Mexican style, casing removed and crumbled
1 each red onion, peeled and sliced
1 each yellow onion, peeled and sliced
5 each garlic cloves, peeled and sliced
1 tbsp oregano, Mexican variety preferred, dried (or 3 tbsp fresh)
1 tsp kosher salt
8 oz Anderson Valley Boont Amber or Mexican-style dark lager
Directions:
In a large skillet or Dutch oven, over medium heat, add the oil and the chorizo. Using a spatula, break the chorizo apart until it looks crumbled. Sauté the meat for about 5 minutes, until the chorizo releases some of its fat. Add the red and yellow onions to the meat, and sauté for another 8–9 minutes, until the onions begin to caramelize. Add in the garlic and oregano, seasoning the mixture with salt, and cook for another minute.
Deglaze the pan with the beer, using the spatula to scrape any fond from the bottom of the pan. Reduce the beer until it's almost evaporated, just lightly coating the onions and chorizo, about 5 minutes. Remove from the heat and keep warm for the torta.
Other Uses for the Filling:
• Try using this filling for an omelet.
• Sprinkle over corn tortilla chips with grated Monterey jack cheese, and bake to make chorizo nachos.
Chipotle Garlic Copper Ale Marinade
This marinade can be used with chicken breasts, flank or hanger steak, sliced eggplant, or extra firm tofu.
Makes: about 2 cups
Ingredients:
12 oz Lagunitas Censored Copper Ale or other Amber-style ale
2 each limes, halved and juiced
2 each chipotle peppers, canned in Adobo sauce
5 each garlic cloves, peeled
3 tbsp oregano, leaves, fresh (or 1 1/2 tbsp dried)
2 tbsp kosher salt
Directions:
In the pitcher of a blender, add the beer, lime juice, chipotle peppers (more or less depending on desired heat level), garlic, oregano, and salt. Seal with the lid and purée the mixture until smooth, about 1 minute. Pour the marinade into a large sealable bag or container, and add the selected protein. Seal and marinate for at least 2 hours, or overnight for more intense flavor.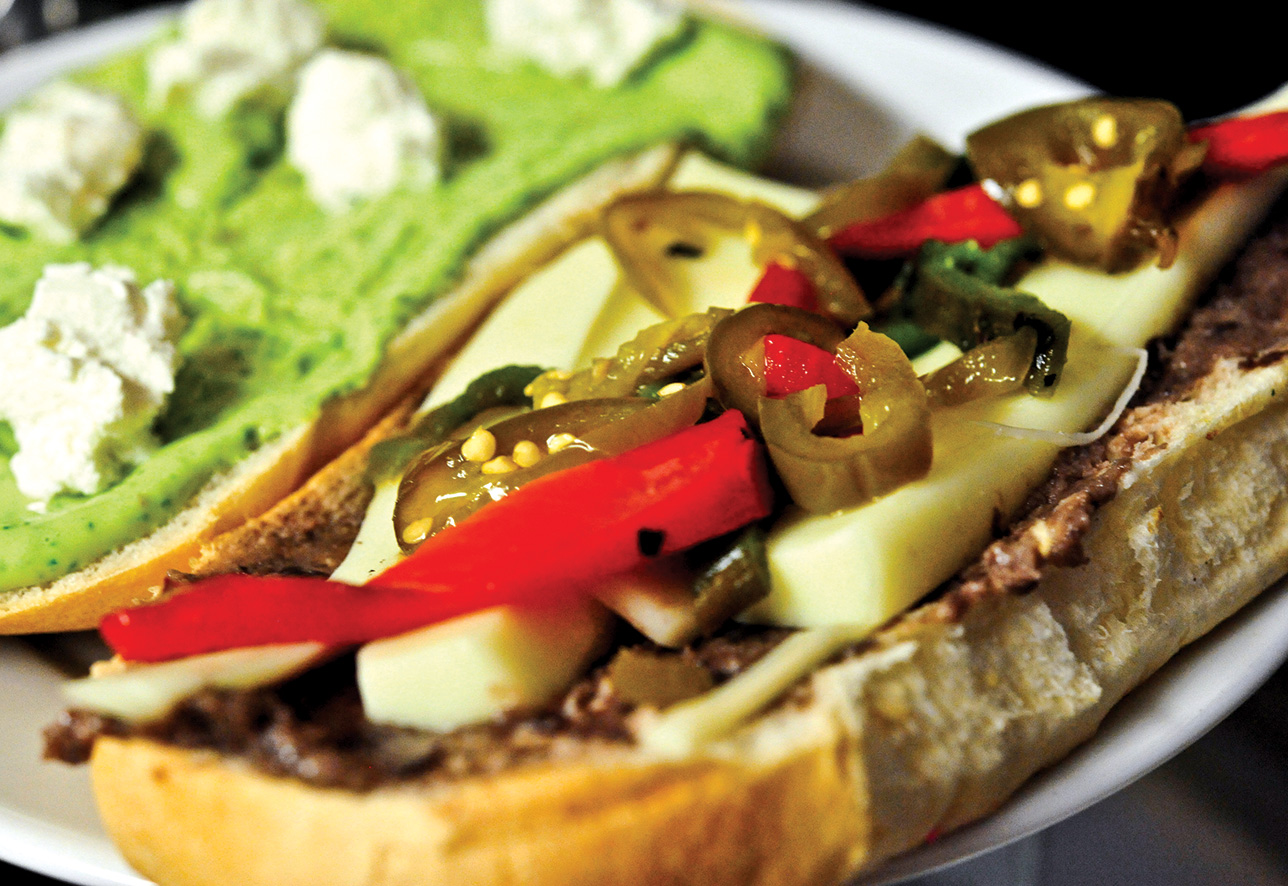 Avocado Cilantro IPA Aioli
Similar to a smooth guacamole, this mayonnaise adds a creamy texture and a delicious flavor to any torta, Baja fish taco, or sandwich.
Makes: 3 cups
Ingredients:
1 each avocado, large, ripe, peeled and pit removed
1 tbsp lime juice, fresh squeezed
5 tbsp Firestone Walker Union Jack IPA or other citrusy IPA
1/4 cup cilantro, fresh, washed, stems removed
1 tsp coriander, ground
1 tsp kosher salt
2 each jumbo egg yolks, room temperature
1 cup oil, mix of vegetable and olive oil
Directions:
In the bowl of a food processor, add the avocado, lime juice, IPA of choice, cilantro, coriander, salt, and egg yolks. Pulse the mixture several times, until it is smooth and all the ingredients are evenly incorporated. With the motor running, slowly drizzle in the oil, in a very fine stream. The finished aioli will be dark green in color, have a smooth, creamy texture and will be very spreadable.
Transfer the aioli to a sealable jar and refrigerate until ready to use. This mixture will last for a week, but may oxidize, leaving a brown color on the surface. This will not affect the taste.
Smoked Märzen Refried Black Beans
In a torta, the refried beans are used in place of mustard or mayonnaise to add some texture and moisture to the sandwich.
Makes: 6 cups of beans
Ingredients:
1 lb. Rancho Gordo Midnight Black Beans, rinsed, soaked in water overnight
10 each garlic cloves, peeled and chopped
1–5 each chipotle peppers, canned in Adobo sauce, minced
1 tbsp oregano, Mexican variety, dried
1 bunch epazote, fresh if possible (optional)
20 oz Aecht Schlenkerla Rauchbier Märzen
vegetable stock or water
Directions:
Place the dried black beans into a large bowl and wash well, removing any beans that are broken or any other debris. Transfer the beans to a large container and cover with cold water by 4–5 inches. Let the beans sit for at least 8 hours or overnight to rehydrate.
Pour off the soaking water and re-rinse the beans. Place into a large Dutch oven, and add the garlic cloves, chipotle peppers, oregano, epazote and Aecht Schlenkerla Rauchbier Märzen. Top the liquid off with either vegetable stock or water until the beans are fully covered. Place over medium heat, and let the beans simmer gently for about an hour, or just until the beans are cooked through. If the liquid drops to below the beans, add more stock/water. Strain the beans through a colander, with a bowl underneath to catch and save the liquid.
In a clean pot or large skillet over medium-high heat, add the fat, using olive oil or rendered pork fat, bacon fat or duck fat. Once the fat has melted, add the cooked beans and toss to coat in the oil. Using a potato masher or large spoon, mash the beans to a paste, seasoning with salt to taste. Add some of the reserved bean liquor if the mixture starts to look too dry. The finished consistency should be that of rustic mashed potatoes.
Any leftover beans can be used in burritos or tacos, spread over nachos, added to a seven-layer bean dip or to any other recipe that calls for refried beans.
Kale Mushroom Oregano Amber Ale Torta Filling
This vegetarian filling is full of great texture derived from the combination of kale, onions and mushrooms, and has delicious flavor, protein and fiber.
Makes: enough for 4 tortas
Ingredients:
2 tbsp olive oil, regular or garlic infused
1 each onion, red, peeled and sliced
6 each mushrooms, white or brown, cleaned and sliced
3 each garlic cloves, peeled and sliced
1 bunch kale, curly, stems removed and chopped
1 bunch kale, dino, chopped
2 tbsp oregano, Mexican, leaves, preferably fresh
1–2 each chipotle, canned in Adobo sauce, minced
8 oz Drake's Amber or other Amber-style ale
1 tsp kosher salt
1–2 tsp malt vinegar
Directions:
In a large skillet or Dutch oven, over medium heat, add the olive oil and red onions. Sauté the onions for 4–5 minutes or until they are just translucent. Add the mushrooms and sauté for another 5–6 minutes, or until the edges just start to brown and the mushrooms have released their water. Add the garlic and cook for 1 minute, then add the two bunches of kale, oregano and chipotle, and sauté for 3–4 minutes, until the kale just starts to wilt. Deglaze with the beer, remove any fond from the bottom of the pan and reduce the beer to a glaze that coats the vegetables. Season with salt and malt vinegar to taste.
Other Uses for the Filling:
• For a twist on nachos, layer this filling over tortilla chips, grated pepper jack cheese and some of the Smoked Märzen Refried Black Beans, and bake at 400˚F for 15–20 minutes, until the cheese is melted and bubbling.
• Use as a filling for an omelet with some crumbled goat cheese.
Mexican Rolls
These rolls can usually be found in a Mexican market or panaderia. If they are not available, a good Italian roll, Kaiser roll, or ciabatta roll can be used as a substitute.
Bolillo: A golden-brown, 6-inch oval roll with tapered sides, soft on the inside and crunchy on the outside, similar to a baguette.
Birote: Similar to a bolillo, but found around the Guadalajara area and made with a sourdough starter, creating more tang and sour flavor.
Telera: My favorite type of bread to use in a torta sandwich. The crust is thinner than that of a bolillo, while the dough is very similar. The roll is also shaped differently, in more of a large oval, about 4–5 inches in diameter and decorated with two lines across the surface. ■
Previous:
Crazy Homebrew
Next:
Turn Your Backyard Into a Biergarten