Fire Up Your Fourth of July with a Semi-Patriotic Party
Party-Gyle
by
Cathy Erway
| Jul 2012 | Issue #66
Fireworks, flags, barbecue and beer. If there's one time to party, it's the Fourth of July. Unlike Thanksgiving or Passover, there are no traditional must-haves on the table, and it's warm enough outside to get down with the grill. In my humble opinion, this is not the time to get back to basics, either. No, this holiday is all about going balls-out berserk with the party spread, hats and streamers, and running amok barefoot in the grass.
What are some ways to show off a little patriotic spirit, without succumbing to sheer silliness? One sure way is to focus on all-American craft ales, celebrating the country's colorful brewing heritage. Red Ales, blueberry beers, and Wits, perhaps?
If there were ever some American foods to serve with them—and some of the simplest to prepare for a crowd—it's hot dogs and hamburgers. These cookout standards can be spiffied up with some less-traditional fixins'. Here are some ideas to make each entrée stand out with toppings inspired by other parts of the world. Hey, it's a free country, so why not mix it up?
The Doggone Mad Party  
Pick up a variety of frankfurters to grill up and serve with some nontraditional topping concepts, such as:
The Hot Tandoori Dog: Make a fresh cucumber-studded raita with yogurt, a crushed garlic clove and chopped herbs like cilantro and mint. Sauté some onions with curry powder and serve them both on the dog as toppings.
Pair it with: Refreshing Pilsners, Wheat Ales and lagers
The French Poodle: Smother the dog with some Dijon mustard laced with mayonnaise, and top with cornichons instead of relish. Smear a little pâté on the inside of the bun for an extra "je ne sais quois?"
Pair it with: Robust Brown Ales, Porters and Amber Ales
The Maki Roll Dog: Totally not difficult and definitely worth it—steam some sushi rice and pick up nori sheets along with wasabi and pickled ginger. Spread a thin layer of the sticky rice across the nori, smear with some wasabi and roll up a grilled hot dog inside. Fits perfectly, and great for hot weather, too.
Pair it with: Crisp Pale Ales or IPAs
The Bizarre Burger Bash
Keep flipping patties on the grill to serve with these suggested, unfamiliar fixins':
Banh Mi Burger: Quick-pickle some shredded radishes and carrots in a lightly sweetened vinegar solution. Serve as a topping along with mayonnaise, Sriracha and fresh jalapeno slices.
Pair it with: Hefeweizens, summer ales and Saisons
Don Quixote Burger: Make a salsa romesco by blending some almonds with tomatoes, garlic, olive oil and a splash of vinegar. Melt a slice of Manchego cheese on the patties, and serve with the sauce instead of ketchup.
Pair it with: Malty Brown Ales, Black IPAs and Red Ales
The Cubano Burger: Stuff this burger with Swiss cheese, pickles and a slice of ham.
Pair it with: Pilsners, summer ales, Wheat Ales ■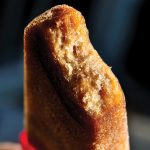 Previous:
Mexican-Style Paletas
Next:
The Hay Merchant in Houston, Texas