Over a Barrel
BYOB
by
Drew Beechum
| Aug 2012 |
Issue #67
Illustration by Ellen Crenshaw
The clamor over barrel-aged beers shows no sign of abating despite the inexhaustible supply of mega-Stouts tossed into wood to create bourbon-fueled pants-kickers. To replicate that experience, we homebrewers had a choice—age oak cubes (not chips or powder!) in whiskey or bite the bullet, get a full-sized barrel and shanghai our friends' brewing capacity.
My brew compadre, Izzy, recently pointed me to the Woodinville Whiskey Co., which sells their used 8-gallon bourbon and rye whiskey barrels online. They use a cask once and then offload them. For homebrewers, 8 gallons is more manageable than 50 or 60!
I ordered my barrel late Wednesday night and had it in my greedy little hands by Saturday. I skipped the bourbon and got rye instead. I prefer rye's spicy, dry character over bourbon's corny sweetness. I even visited the distillery during the American Homebrewers Association Conference and yup, the rye is delicious.
What to put in it first? How about a Rye Wine with Maris Otter, rye malt and a little crystal rye? I'm thinking ultra-stupid big on this one—16 gallons total with 8 for the wood and 8 for the steel. Then I'll keg 5 gallons 100-percent wood aged, 5 gallons straight steel aged and finally 5 gallons blended. Three great tastes in one batch! To know when to pull the beer from the oak, I'll drill a small hole in the barrel head, plug it with a stainless steel nail and taste periodically. (Use stainless only to avoid tainting the beer!)
TRI-RYE WINE
For 16 gallons at 1.106, 13 SRM, 65 IBU, 11.5% ABV
Malt / Grain / Sugar
55.0 lb. Crisp Maris Otter
12.0 lb. Weyermann Rye Malt
1.5 lb. Thomas Fawcett Crystal Rye Malt
Mash
Strike and rest at 150°F for 60 minutes
Hops (Pellets)
3.5 oz Warrior | 15%AA | 90 minutes
1.5 oz Willamette | 5.5% | 0 minutes
Yeast
US-05 / WLP001 / Wyeast 1056
Notes
8 gallons of the beer will be destined for the oak barrel, the other 8 will stay in steel. Eventually, the goal is to produce three different kegs, two straight and one blended. ■
Previous:
American Hops in British Beer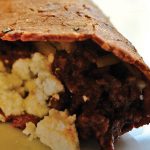 Next:
Beer Tacos