Buy, Drink, Repeat: The Psychology of Brand Loyalty
Feature
by
Jason Notte
| Aug 2012 |
Issue #67
Until the day he died, my father was a Coors Light man. He found it light, refreshing and easy to drink cold. He loved Coors in the same way others may enjoy an old photo or familiar place, joining countless macrobeer lovers who have stuck by their brand, and an aging first wave of craft beer drinkers who've come back to older craft brands after years of exploration.
"We know from some famous research done with Coca-Cola that our reactions to some beverages aren't necessarily just sensory. It isn't just the smell, taste or feel that we love—our reaction also is psychological," says Harry Beckwith, director of Beckwith Partners and author the Unthinking blog at Psychology Today.
It's the same reaction Edward Burke has whenever a Heineken is placed in front of him. The retired New Jersey Turnpike worker from Belleville, N.J., has been drinking Heineken for nearly 30 years, ever since his go-to beer, Schaeffer, became scarce in New Jersey. Burke says it's the taste and long-lasting flavor that have kept his curbside recycling container filled with green bottles and red stars.
"Years ago, when I lived in Harrison, New Jersey, Schaeffer was the beer for the area and the era," Burke says. "When I got away from that, I started drinking the Heineken, liked it and stayed with it—I still like it."
Burke will try other beers occasionally, but it's usually when he's pressured to, and he doesn't consider it a pleasant experience. "I'll try a Bud at some place that didn't have anything I liked, but that would be weird and just once in a while," Burke says.
But is that brand loyalty? Beckwith argues that both my father's and Burke's psychological reactions to their brands of choice are often construed as "brand loyalty," but have very little to do with being loyal. When the brain responds to the idea of a particular beer and the experience associated with it, Beckwith says that's a "brand addiction" and, in many cases, is more powerful than a simple allegiance.
"Just thinking something is 'Coca-Cola' changes the responses in people's brains and makes them feel better about themselves, just as they might while drinking a $70 bottle of wine," Beckwith says.
There's also a chance that those who stick with one brand out of routine have become "brand habituated" and see no need to try something different. A 2009 study by research group Mindset Media (and updated recently by social media site Meebo) found that people who preferred light beers tend to seek stability. Fans of big domestic brewers in general tended to be more dogmatic than their craft beer counterparts, and less open to new experiences or risks.
Craft beer's pioneer brands draw a similar following among the generation that came of age in the late '80s and early '90s. Boston Beer president and founder Jim Koch has been brewing Samuel Adams Boston Lager since 1984, but says that he only recently has seen Sam Adams gain a following among craft drinkers who've returned to the brand after trying hundreds of other, bolder brews—some from Boston Beer Co. themselves.
"It's not like Sam Adams is their exclusive beer, but it's the beer they come back to after they've tried other things," Koch says. "Maybe that's all you can get—not so much brand loyalty, but brand preference."
Steve Dresler agrees. As the brewmaster at Sierra Nevada, he's made Sierra Nevada Pale Ale for nearly three decades and has offered new generations of drinkers hoppier beers like Torpedo and Hoptimum when they tell him that Pale Ale is "the beer my dad drinks." Meanwhile, those drinkers' dads and moms have come back to Pale Ale after similar exploration, making it 60 to 70 percent of Sierra's total output.
"It's kind of like a taste of home," Dresler says. "It brings back so many good memories with it. You're familiar with that flavor, and there's a lot of comfort in that."
Comfort, but not loyalty. Beckwith says that settling on a beer brand as "good enough" after tasting what the rest of the beer world has to offer is more about risk aversion than loyalty. Instead of making a potentially bad choice in an unfamiliar beer aisle or bar, the "good enough" drinker will use their brand of choice as a safety net.
In Beckwith's view, true brand loyalty implies an attachment to the brand itself and what it represents. He points to Harley-Davidson riders who equate the brand with outlaws and the open road, and Apple owners fanatically devoted to design. His true beer-brand loyalist wouldn't look like my dad or Edward Burke, but more like Miles Jordan of Chico, Calif.
Jordan, a retiree and part-time jazz writer for the Chico News & Review, bounced from wine to beers as diverse as Anchor Porter, New Albion, Mickey's Big Mouth and Henry Weinhard for years before coming across the Sierra Nevada brewery 10 minutes from his house. The brewery was still in its infancy in the early 1980s, when he and his friends would show up on paycheck Thursdays for half-price cases of overfilled and underfilled bottles of Pale Ale, and free drafts from the warehouse kegerator while they waited.
"The pub itself was an offshoot of [founder Ken Grossman's] desire to get between us and the beer we were sucking up out of the kegerator," Jordan says. "They decided to put a cash register into the pub, and my friend and I take full credit for the success of that brewpub project."
Jordan has been drinking Sierra Nevada ever since, and his Thursday meetups have morphed into Sierra's unofficial "citizen advisory board" of 20 to 30 drinkers who get first crack at the brewery's new styles. He's brewed a Red Ale at Sierra Nevada's beer camp, applauded Grossman's efforts to run an environmentally friendly facility and isn't afraid to voice displeasure with releases like Glissade, which he says "sounds like an air freshener."
He's loyal, but not blindly so. He's still a hop lover with a California address, so IPAs from Stone, Rubicon and Lost Coast—along with the occasional Pliny the Elder—have graced his palate. When he visits relatives in Oregon and Washington, he's not above drinking something from Ninkasi, Hale's Ales or Maritime. In his travels abroad, Greene King IPA got him by in London, Cambrinus was his beer of choice in Bruges and Malta Porter helped him through a trip to Peru. Yet he's always returned to Sierra without settling on any beer style, and he watched it grow from a small brewhouse to a nearly 1 million barrel brewer with an Asheville, N.C., facility on the way.
"I think the beer has stayed just as good," Jordan says. "Through all the moves they made, it's gotten better."
Unencumbered by the "brand addiction" or risk aversion of their macro counterparts, craft beer drinkers like Jordan are better able to establish a personal connection with the brand. Sierra's commitment to the environment and to increasingly hoppy beers becomes a selling point rather than a scary harbinger of change, and speaks to elements of the drinker's personality that don't usually reside at the bar.
That's fine for the seasoned craft beer drinker, but the younger generation of twenty- and thirtysomethings is a little more reluctant to settle down.
Wendi Sebastian, a 34-year-old paginator from Vernon, N.J., came into beer through "typical college beer" like Corona and Rolling Rock, but moved on to Guinness black & tans. She loved the Stout's roasted bite, nitrogen kick and smooth texture, and made it her drink of choice for two to three years after college. "It's like drinking a fine wine," she says.  "It costs just as much, gives you a little buzz … just sip it slow and enjoy the unique flavors."
But that young beer love was fleeting. Sebastian admits that her love of Guinness blossomed partly out of necessity. During her early 20s, it was difficult for her to find "good beer on tap other than Guinness" in the bars of North Jersey.
About 10 years ago, a group of friends took her to a bar in East Stroudsburg, Pa., that had other, bolder dark beers on tap. She was immediately taken and, eventually, moved on to stronger offerings, like Oskar Blues' Ten Fidy and Lost Abbey's Imperial Stout. She's since sampled pitch-black brews from Dogfish Head, Victory and Lagunitas in her search for a great imperial with a "strong, tasty flavor." In doing so, she left Guinness behind like an outgrown childhood toy.
"Once I tried other good beer at stores and bars, I was hooked, and Guinness was no longer a tasty beer. It was bland," Sebastian says. "I would still drink it at a bar or in a black & tan, if there was nothing else, but I would not ever purchase it at a store."
The search for diverse flavors and a growing commitment to local breweries is making it tough for younger generations to stay tethered to any one brand for too long. "You get into the second generation of craft drinkers now and the brand loyalty is different," Dresler, of Sierra Nevada, says. "When I've done events or traveled and watch craft drinkers, a lot of times they're just looking for something that they've never had before first."
That search is creating a lot of free agents, but longtime craft brewers like Dresler and Koch say the real test will come when those same drinkers age. Folks who were drinking Sierra and Sam in the late '80s and early '90s are now over 40. Not only do drinkers of that age tend to stick with beer as their go-to beverage for the long term, but Koch says they start to settle into a softer form of the addictive and habitual patterns typical of the macrobeer drinkers of a generation before. So maybe brand loyalty isn't disappearing, but transforming.
"Craft beer drinkers, if they've been drinking craft beer for a while and aren't that new to the category, after they have a lot of different beers, they realize there's one or a few that are real favorites," Koch says. "After you try 100 beers and you decide Sam Adams is your favorite beer, you become confident in your choice."
They'll likely just be more connected to their brand than the macro folks. My dad was never as devoted to Coors as Jordan is to Sierra Nevada. He didn't express opinions about Coors Brewing Company, its Molson Coors parent corporation or Pete Coors' political views. To my knowledge, he never visited Golden, Colo. By Beckwith's standards, his love of Coors Light fell somewhere between addiction and settling.
In Koch's view, that doesn't make drinkers like my father any less loyal for sticking by Coors Light or any other brand. It just makes them reveal their personality a drop at a time.
"I don't look down my nose at someone who's drinking a Coors Light, but I come from maybe a different background," Koch says. "My family was brewmasters, and my father and grandfather used to say, 'Jim, all beer is good … some beer is better, but all beer is good.' I believe that." ■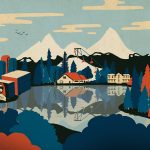 Previous:
Bend, Oregon
Next:
Branded: Beer Logo Tattoos