White Stout
BYOB
by
Drew Beechum
| Nov 2012 | Issue #70
Illustration by Ellen Crenshaw
Brewers love wordplay. It can even cause beer snobs to rage. Witness the battles over "Black IPA," or "Imperial This" and "Imperial That." I love the idea of someone popping a blood vessel over the name "Imperial Mild."
Recently, some brewers have been tweaking the semantics brigade with "White Stout." We're used to thinking of thin, blackish Irish pub juice, maybe even a raging Cutters' Empire Imperial or Dogfish World Wide Stout. Our modern understanding of the word revolves around blackness, coffee and chocolate. Somewhere along the way, we lost the original meaning of Stout: "strong." (Paging Ron Pattinson for a backstory, here.) So now, some brewers are reclaiming the term with their attempts at White Stout. Cue the exploding brains!
Reclamation Stout is inspired by two very different commercial beers. In England, Durham Brewery's White Stout reclaims Stout in the form of a strong, full-bodied IPA. Berkeley, Calif., brewery Triple Rock makes White Chocolate Milk Stout, a pale Milk Stout that uses cacao and licorice to make it taste more like the modern understanding of the style.
This recipe is split: If you want the full hop and no chocolate, keep the full hopping load and skip the extras. For the mocha version, use the smaller hop schedule and add the extracts. Keep the oats and flaked barley though—they give us our thicker Stout body. More importantly, prepare to have fun with brain-splosions!
RECLAMATION WHITE / MOCHA STOUT
For 5.5 gallons at 1.078 OG, 57 / 30 IBU, 7.3°SRM, 8.1% ABV
Malt / Grain
14 lb. Maris Otter
1 lb. flaked oats
1 lb. flaked barley
0.5 lb. crystal 40L
Mash
Single-infusion mash – 154°F for 60 minutes
Hops
1.0 oz / 0.5 oz Magnum | 14%AA | 60 minutes
1.0 oz / 0 oz Crystal | 3.5% | 10 minutes
Yeast
Wyeast 1318 London Ale III
Extras
(for the Mocha version – add in bulk before packaging)
3 oz cacao extract (2 oz of cacao nibs soaked in 6 oz vodka for 4 days; strain, freeze and remove fat cap)
1 pint cold-brewed coffee extract (1 cup ground coffee soaked overnight in 3 cups water) ■
Previous:
Vassar Ale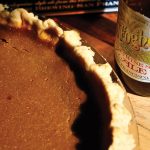 Next:
Thanksgiving Dessert Reimagined: Barleywine Pumpkin Pie