How to Host a Beer Dinner
Party-Gyle
by
Cathy Erway
| Jan 2013 | Issue #72
We've seen beer dinners at bars and restaurants before—a prix-fixe menu is served to pair with a selection of beers, sometimes from the same brewery. It's a one-time event, and often comes with a hefty price tag per person, but you figure it's well worth it, given how many different pours you'll get to try out. You might not be a chef, but after going to one or two of these things, you might actually start to wonder if you can create the same—or a better—atmosphere for beer tastings, with good food, too. Well, you can.
By putting the emphasis on beers, the notion of preparing a fine dinner for guests becomes much less intimidating. Of course, you can always order a bunch of pizzas and try out some different beer pairings with each slice, but that wouldn't quite have the same grandeur … and part of the fun about beer dinners is seeing how beer can be used in the actual food. The winter is a terrific time for hearty, beer-braised main courses, and when you make a great pot of one, why not share it with friends?
For first timers, consider serving the entrée family-style. First courses like salads or soups are much easier to plate nicely and pass out individually. Desserts are fun to experiment in making with different beers—try preparing a few different kinds of desserts (like Stout cake, beer caramels, pecan pie with a little Porter, etc.) and putting out small tastes of each one. You can also seek out a bakery or ice cream company that has beer-flavored specialties.
Most importantly, at your own beer dinner, you're free to decide on the theme for the beers. The theme could be simply homebrews that you've made over the course of the last several months. It might focus on a certain style, such as Belgian Strong Ales from various breweries. Or you could choose a brewery to spotlight. Perhaps there's a new craft brewery whose full lineup you've been meaning to try out, or a few friends whose homebrew bottles have been burning a hole in your fridge. It could be a BYOB affair—or a BYOH (bring your own homebrew), and you can choose which ones to pair with what course.
After hosting your own beer dinner, you'll be all the wiser on beer pairings with food. Plus, the next time you attend one put on by the pros, you'll gain a deeper sense of appreciation for the craft as an insider.
Main course entertaining suggestions:
Beer Bo Ssam
This communal Korean specialty is essentially a great hunk of pork shoulder rubbed with spices and slow-roasted until falling apart. Put out a variety of sauces and some fresh lettuce to make meaty lettuce wraps with.
Pair with: effervescent Pale Ales, ciders and IPAs
Beer-Brisket Pot Roast
Brisket, potatoes, carrots, beer and a lot of time is all this classic winter comfort food needs. You can jazz up the gravy to pour on the hearty fare with a spritz of beer, too, and chop plenty of fresh herbs to set out for garnish.
Pair with: Brown Ales, Black IPAs, Stouts
Provencal Beer-Rabbit Stew
Never cooked rabbit before? Never mind—the delicate-tasting meat can be stewed just like chicken or beef with onions, carrots, celery and some chopped bacon to start out. Instead of red wine, as the French are prone to use, just swap in a Brown or Pale Ale for a braising liquid.
Pair it with: Porters, Abbey Ales, Red and Amber Ales ■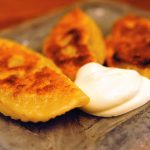 Previous:
Pierogi à la Bière Cuisine
Next:
Baileys' Range in St. Louis, Missouri