Brewhaus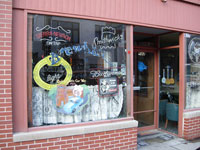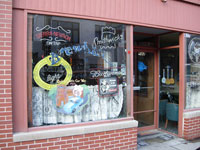 PLACE INFO
Type:
Bar
617 E Washington St
Springfield
,
Illinois
, 62701-1303
United States
(217) 525-6399 |
map
Notes:
Open daily at 3pm, Sundays at 5pm.
Added by jackndan
Ratings: 11 | Reviews: 10


3.93
/5
rDev
-4.4%
vibe: 3.75 | quality: 3.75 | service: 4.5 | selection: 4 | food: 3
The atmosphere is sort of "dim dive" - but in a good way. It feels like the sort of neighborhood bar your dad or grandpa used to hang out in night after night back in the day (and where they bought you your first "legal beer" when yuo came of age).
The selection of beers is pretty good (it used to be much, much better), and they have a lot of variety. The staff is very friendly and knows the beers quite well. The prices are very good too.
444 characters
4.13
/5
rDev
+0.5%
vibe: 4.5 | quality: 4 | service: 4 | selection: 4.25
Love this place! It's been one of the only bars that i can go and relax with friends and have a nice brew. They have quite a variety of bottles and they have new ones all the time and one of the only bars in springfield to have Breakfast Stout.
On the downside to the place...the bathroom. Womens restroom...mens restroom..they are bith horrible! The womena room has two stalls and only one works. The workable toilot has the toilot seat hanging off and the top to the tank in back falls off. When there isnt room in the womens bathroom i go to the mens, which is worse.
Monday-wednesdays are their slowest days. You get to enjoy the atmosphere better. I dont recomend going on thursday,saturday or sundays. The place is always backed and full of young college kid activist know it alls.
790 characters
4.8
/5
rDev
+16.8%
vibe: 5 | quality: 5 | service: 5 | selection: 5 | food: 3
This is one of the best bars I've ever been to. An amazing selection of beers at amazing prices.
The staff know what they're doing and they're very friendly. They also love beer and have great connections with the distributors in the area, so they get the best beers possible.
Once they get the beer, they know how to take care of it. Brewhaus uses nitrogen with all their kegs, even for BMC beers. And if a bottled beer has lasted 3 months, then they offer it on sale on $1 bottle nights. This way even with a huge selection of beers they never sell skunky stuff that's been sitting around too long.
Brewhaus chose not to have a sign with their name out front for the longest time, and the one that just got put up recently was bartered in exchange for a rather large bar tab. It's quite nice but very discrete, in the lower left-hand corner of the window.
There's several regulars that come in every day, and there's also a good mix of people that come in from all walks of life.
If you're into more than just beer, there's an excellent selection of scotch and other hard alcohol at great prices too. They have a long cocktail list and the bartenders know how to make just about anything.
There are two downsides to this place - the bathrooms are grody and there is no food other than free popcorn and a couple flavors chips. But hey, I don't go to a bar to worry about how the bathroom smells or what to eat, so I still consider this one of my favorites.
1,466 characters
4.08
/5
rDev
-0.7%
vibe: 3.5 | quality: 4 | service: 4 | selection: 4.5
Great selection of beers! It is the best in Springfield.
To get the best selection of beers you have to go into a below average bar. The place is dirty and the bathroom smells BAD. There is no food other than popcorn and chips.
Still worth going to if you love beer. The two sided menu shows they know beer and many of the waitresses are great.
I can't think of a place in the capital that even comes close to the quality and selection of thier beers. Good parking and is a next to the old capital and a blcok from Lincoln Museum. Where else can you drink good beer and walk to Lincoln's house? Only the Brewhaus.
614 characters

4.28
/5
rDev
+4.1%
vibe: 4 | quality: 4 | service: 4.5 | selection: 4.5
The Brewhaus is located on E.Washington in Springfield,Il,it is a local favorite for patrons of all ages.The Brewhaus is a smoke free establishment that opens for business at 5pm offering a wide variety of mixed drinks(the cricket is a local favorite)as well as a beer list of well over a hundred bottles!It is a long narrow bar/pub atmosphere,with a long bar that is well stocked,and nicely decorated with a dozen skulls keeping an eye on all the customers.Bottles range in price from domestics for $2.50 on up to some lambics for $10.00 and up.On tap there is Guinnus, Smithwicks, Sierra Nevada,and a few others.The bottles are very plentiful Shlafly,Boulavard,Samual Smiths,Rogue,Dogfish Head,Duchesse(tried this on my last visit),plus many more,if you want it they probably have it within reason.Drinking is what the Brewhaus is all about,at times you will be packed in like sardines,at times you may be the only soul around,you may be surprised to find some bagpipers come in and take over the bar filling the place with there ear piercing but beautiful sound. There is a dart board,pinball,and a couple of arcades,oh yeah and a peanut machine(eat before you come,I don't believe they serve food any longer). The staff is very friendly and knowledgeable. Give the Brewhaus a try if you can find it,it is one of Springfields best!
1,334 characters
4.08
/5
rDev
-0.7%
vibe: 3.5 | quality: 4 | service: 4.5 | selection: 4
2011: Everything was largely the same as it was a few years ago, with the addition of a new Rolling Meadows tap, and Abe's Ale in bottles. Didn't seem like much of a rotating tap selection, but they do have a quality list of beers.
2007:
We rolled in here on a saturday afternoon, right when they opened at 3pm.
It was a dark and narrow space, with a ton of beer neons and mirrors, and a set of framed, vintage-style Guinness ostrich/toucan/etc. posters on the right-side wall. From the front, with the daylight seeping in, it looked like a former diner with wooden booths, brass posts and frosted glass lining the left-hand wall. The bar was on the right, toward the center of the space. Left wall was exposed brick, and the ceiling was black tin panel. They were remodeling the kitchen, but there was complimentary popcorn, and 25 cent mixed nuts on the bar. Ms. Vickie's jalapeño chips also made an appearance. At the bar we got great service from Mike the bartender, and an earful of beer-centric conversation.
Tap selection was just ok (8 total), they had the Schlafly Oatmeal Stout, SNPA, and Franziskaner, but also Miller Lite, Smithwick's, Guinness, most of the usual crap. The main draw was the 100+ bottle list. Some choice imports like Bluebird, Celebrator, Chimay, Duchesse, Duvel, Krusovice, Maudite, Monschof Schwarz, Sam Smith's (7), and Weihenstephaner. American craft was well represented with 2 Abita, Arcadia London Porter, Boulevard (4), DFH (5), Goose Island (2), Rogue (7+!). This was balanced by a bunch of typical stuff as well, since they have to cater to all tastes. The bottle list is revised every couple weeks, so you may find something new or seasonal here.
Overall this was a great place to have a beer in Springfield, selection was great, the place itself left something to be desired. Maybe a new coat of paint is all it needs, it still had the best bottle selection in town. "now with wi-fi"
1,931 characters

3.73
/5
rDev
-9.2%
vibe: 3.5 | quality: 4 | service: 4 | selection: 3.5 | food: 3
While traveling to the Darklord Day 2007 in Munster, Indiana we planned our stop to have dinner at the Brewhaus. For a Friday night is was slow. It is very dark and it took a while for my eyes to ajust. They came into focus quickly when I say they had Founder's Kentuckey Breakfast Stout. This trip got even better because I was going to be drinking three of Beer Advocates top four rated beer. The kitchen was closed at 8pm on a Friday, so we ordered pepperoni pizza that was dilivered to us froma local pizza pub down the street. The bartender gave us plates, forks and napkins so we did not have to eat from the box.
619 characters
4
/5
rDev
-2.7%
vibe: 4 | quality: 4 | service: 3.5 | selection: 4.5
This is a great little beer bar and there are not a lot of choices is Springfield. They had a good dozen beers on tap and they advertised over 200 beers. Several of the bottles I asked for were out but overall a good selection. Nothing really hard to find but a good regional and European selections.
The bar has lots of different hard liquors and many of the people were ordering mixed drinks of all different colors. The grasshopper and Brandy Alexander were very popular and the bar tender said they are like ice cream in a glass. I stuck with beer.
It was a little busy the night we were in and the blender was going all the time so it took a while for our waitress to get to us. How ever she was very apologetic and well informed about the new beers that didn't make it on the menu.
I didn't see any food or food menus and we got there quite late so I'm not sure the serve food.
Very reasonable prices and a good bar makes this a great place to stop in Springfield.
988 characters
4.14
/5
rDev
+0.7%
vibe: 4 | quality: 4 | service: 4 | selection: 4.5
This is a great beer bar for those lost in the midwest bland beer bars! Set in an old bar, just a block from the old State Capitol. Like many of the old bars it is long and narrow, with a cool, old wooden back bar, some tables and a bunch of high backed booths along the wall.
The best feature of the Brewhaus is the beer menu, there are over 100 beers available in bottle, but just a few beers on tap. While the beer menu does not have enough IPA's for my taste they do have many great beers. Just about every beer style is represented, and most beers I have never seen offered in a bar in these parts before.
The servers do a good job of getting your drinks and serving the beer in the correct style glass, nice touch. Of the two servers I have had, one was very knowledgable and they other was so-so.
810 characters

4.03
/5
rDev
-1.9%
vibe: 3.5 | quality: 4 | service: 4.5 | selection: 4 | food: 3.5
Brewhaus:, Located on East Washington in Springfield Illinois, just steps from the Old State Capital Building a few block walk from Lincoln's Village, and equally important, a very easy stroll back to the Renaissance and the Springfield Hilton Hotels. This would be an excellent beer bar in any City in the United States, and is an terrific beer stop for any person looking a great beer that perhaps you have not seen before.
After a long day at work, and a long walk, I was ready for a great beer, and some food. After circling the Old State Capital, I hoped I had found the place. The front of the Brewhaus is unassuming, and I was surprised at the size of the place, very long and relatively narrow. There were at least ten beers on tap, and another 100 available in bottle. The selection was quite good, and there was a couple of brews on tap I had not seen before. Lots of seating, both along the bar and in booths and tables running along the wall. All though it is not an old place, the space is, and it was a bit dark.
Although the kitchen was closed when I arrived, they had a nice layout for happy hour. Definitely worth a trip.
1,145 characters
Brewhaus in Springfield, IL
Place rating:
90.9%
out of
100
with
11
ratings