Beer Circus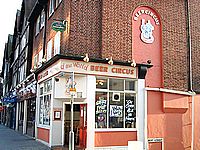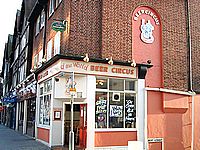 Bar, Eatery
282 High Street
Croydon
,
England
, CR0 1NG
United Kingdom
// CLOSED //
Notes:
Reviews by TheLongBeachBum:
TheLongBeachBum from California
4.24
/5
rDev
-4.9%
vibe: 3.5 | quality: 4.5 | service: 3.5 | selection: 5
After meeting up with fellow BA's RichLightWeight, RobBeer, LondonPorter and Mr & MrsBeeryMatt at the excellent Bricklayer's Arms for the first Pints of the day – it was soon time to move onto the Bier Circus; sadly LP had to leave us due to prior work commitments.
A Tube and a Tram ride from Putney Bridge soon had the Famous Five in deepest ASBO land and the rural charm of Chavdon. The Bier Circus is a good 10-15 minute walk, even from the Tram stop, but it gave me the chance to see some of the lower urban delights of Croydon and witness some strange cries from the Saturday afternoon Street Market Traders as we perambulated our way through the concrete jungle.
If I had not been with BA RichLightWeight I fear I would have probably passed by the Bier Circus; its low key orange and white painted exterior and corner location lend it the appearance of a small local shop cum Café rather than a Beer Bar. The second and third floors of the corner exterior are a tight Flemish Bond patterned brown brick, whilst the ground floor has a corner entrance set into a white painted wooden framework spattered with pastel orange highlights. High on the wall on West Street the Bier Circus Elephant sign is easily spotted and once sighted is not forgotten.
Once inside, the atmosphere is very clinical and rather Spartan. The Bar is to your left and set against the wall. A Trifecta of Beer Engines is accompanied by a selection of taps for Belgium, German and even Czech brews. Chalkboards behind and opposite the bar list the various International offerings. Directly opposite the middle of the bar a pasted collage of fun print outs are guaranteed to deliver a laugh and a giggle. Lots of Belgium Breweriana and Adverts litter the walls front to back, and top to bottom. Simple furniture is mainly basic tables and chairs down the right hand side and at the front. Venture to the back of the Bier Circus and more tables can be found, as well as a set of stairs in the far left that lead down to the Toilets and another area which looks and feels more like a Cellar Bar. Dark Star Hophead is the regular Cask with rotating Guests filling the brace of open Engines. Pilsner Urquell and Verhaeghe Pils filled a couple of the taps. But thanks to the Traditional Belgium Beer Festival being held 27th October – 4th November 2006; other taps had De Ryck Kriek Fantastiek and Cantillon Lambiek. I tried the simply awesome tart dry lemon Cantillon Lambiek and it kicked ass, even at £3.70. Better still, a couple of large brown cardboard boxes on the bar contained Girardin Kriek and Lambic. As I was on a Lambic run I hit up the Girardin Lambic; clearer, drier and with a pronounced Sherry and Oak tingle it proved to be very different to the better known offering from Brussels. Holy crap, where else could you get TWO genuine traditional lambics on draft in the UK?! I perused the bottle list but never ventured into that area, I feared a Wallet Hemorrhage and death by Belgium Beer if I had, and to say that it includes some serious treats is an understatement, though I hear that availability can be hit and miss at times. Even so, I feel that it is well worth the risk of heading out here, there are plenty of substitutes worthy of investment if your particular favorite is a blob. I noticed that Fantôme produce a special brew for here, a dark spicy offering called Fantôme Circus, though I didn't try it.
No Food, except snacks from what I could determine. Service was a little patchy, the woman at the bar on our visit was attentive but suffered from a frontal smile lobotomy and she didn't seem to know much beerwise either - when I asked for a Girardin Lambic she picked out a bottle of the Oude Gueuze from the cooler….oh well, given the nature of the Belgium Festival and the extra beers on sale I can forgive her for that little hiccup, but not the lack of a smile!!
Expensive is such a dirty word, for such a great range of Belgium bottled beers, including some rarities, it is not surprising to note that many are priced accordingly - but not everything is "expensive" here, many of the beers, including the Cask Ales are leveled in line with the surrounding area.
The Bier Circus is clearly not a British Pub - and you should not expect it to be – it is most definitely a Bar, European in style with a healthy Belgo-Dutch influence. Croydon may impart a negative impression on many visitors, its repressive concrete structures, Yardie speaking Chavs, "yoof" Pubs and general annoying Southern demeanor did not impress me, but I can forgive Croydon, and its Chavspeak, Hoodie, Skanger, Yarcos and Bazza existence…well as long as the Bier Circus is here that is, sadly the rather large "Leasehold For Sale" outside worries me that it may not be though.
Bit of a Trek from London innit – but wanna make summin ov it?? WELL worth it Wanka....if yer ard, or sumfin, or nuffin…whateva.
Last Visit: Saturday 28th October, 2006.
Nov 02, 2006
More User Reviews:
Dukeofearl from California
4.58
/5
rDev
+2.7%
vibe: 4 | quality: 4.5 | service: 4.5 | selection: 5
Was fortunate enough, thanks to londonporter's urging, to spend the evening at this little slice of heaven for my 45th birthday while on vacation with my girlfriend. We met londonporter at Victoria Station and took the train down, and then was very pleasantly surprised by the appearance of wl0307 to join us. We arrived 3 minutes before opening time, and landlord Graeme took pity on us and let us in.
Let me start by just saying- this place was one of the best beer bars/pubs I have ever had the joy of spending some time. It didn't have a lot of physical atmosphere compared to the great historic British pubs, and it didn't have food, but everything else made up for that. The service was very helpful and friendly. Incredible taps (cask ales included Dark Star Hophead, Rebellion Wrecked, and Hampshire Bell, all very nice). Belgian taps included one my all-time favorites- Poperings Hommelbier. I was in a very happy place after finding that!
Has an excellent bottle selection, primarily Belgian, but saw some really good German beers as well. And if you don't see something you want (not likely, but just for argument's sake), ask. They have other goodies tucked away that aren't obvious. You can buy bottles for take-away at what I thought were reasonable prices.
Kind of hard to find from central London (I'm real glad I had a guide) for a non-local, but well worth the trip. Highly recommended.
Oct 22, 2005
wl0307 from England
4.58
/5
rDev
+2.7%
vibe: 4 | quality: 4.5 | service: 4.5 | selection: 5
Visited this place very recently, on a rainy afternoon right after three drinks at the Evening Star in Brighton.
The place itself is rather simple-looking, with a seating plan like a modern coffee shop to me. A long bar occupies the middle part of the narrow, long pub with six to eight (?) taps and three handpumps, with several fridges behind the bar stocking the bottled army. On the bar a well-made beer menu is on display, with tasting notes and useful information about almost every beer available there. The selection is fantastic, esp. on the side of Belgian beers, though selection of French and German bottled beers is quite decent as well. Two British ales on draught rotate regularly from microbreweries, while Dark Star's Hop Head remains the regular--all in superb condition as I tasted them.
The pub got crowded to full almost within 30 minutes after 6pm, with mostly beer lovers and locals occupying the bar and stuffing the whole place with laughter and joy, spicing up this Belgian beer bar with a touch of English pub atmosphere. The owner was very patient helping me sort out a lot of bottles of Belgian beers from the basement which I asked for take-away, even when it was already very busy. In short, this is simply a superb pub not to be missed in Greater London, if at least you like quality Belgian beers, that is.
Sep 04, 2005

UncleJimbo from Massachusetts
4.44
/5
rDev
-0.4%
vibe: 4 | quality: 4.5 | service: 4 | selection: 5
I visited the Beer Circus on November 3rd, 2004. BAs BeeryMatt and MrsBeeryMatt agreed to meet me there, and we had a great time sharing some pints and getting to know each other.
With the help of some good directions, I made my way to Croydon from London by train (15-20 minute train ride from Victoria Station), and proceeded to the Beer Circus on foot from the East Croydon train station (15-20 minute walk). I walked right by Beer Circus and had to double back to find it (it really does not look like a typical British Pub from the outside). It looks like a small corner shop. Once inside I found a bright pub with some small wooden tables and chairs near the front, the bar on the left, and more tables in the rear. The restrooms and some additional seating is downstairs. Across from the bar on the wall are several large chalkboards listing the tap and cask beer selections and selected bottled beers. There was at least one TV, which was not turned on during the evening of my visit.
As for the beer selection it was excellent. There were 2 or 3 beers from cask, and 6 taps, as well as a great and extensive bottle selection of approximately 150 beers (which was described in a beer menu booklet). There were quite a few Belgian and Dutch and German beers available, among others. A very impressive beer selection on top of 2 or 3 real ales as well.
The service was good and friendly, and the proprietor was in no hurry to rush us out after our last pints were purchased (though this made for an exciting journey back to London where I made the second to last underground train from Victoria back to my hotel).
I am not sure if food is served as we did not order any.
Overall this is a great pub and beer bar, and I highly recommend a visit. It was a good time with some good fellow BAs who took the trouble to meet me for a pint.
Some pics from my visit can be found at:
http://www.imagestation.com/album/pictures.html?id=2134295712&idx=12
thru
http://www.imagestation.com/album/pictures.html?id=2134295712&idx=17
Jan 28, 2005
Beer Circus in Croydon, GB2, United Kingdom
Place rating:
4.46
out of
5
with
4
ratings