Buddy's Beer Barn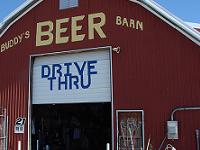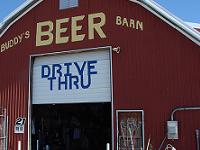 Store
10150 Montana
El Paso
,
Texas
, 79925
United States
(915) 599-2273 |
map
Notes:
Reviews by joshjam:
More User Reviews:
4.25
/5
rDev
+11%
Whenever I visit el paso for work, this is always one of my first stops. Buddy is a great older friendly guy that loves to talk to and get to know his patrons. Its a drive thru thrift shop like liquor and beer store. I have to preface this with the fact I am spoiled as far as a selection goes where I live and there is nothing that truely comes close to what I can find in el paso; however, buddy's is the place to go to find some interesting items. for instance: i went there when I landed this week and found older vintages of some originally decent beers. I found a 2012 clown shoes third party candidate (ages pretty damn well), 2011 pike brewing old bawdy, and a 2011-2012 bottle of twisted pine la petite saison. These beers were on clearance!!! Buddy buys stock from the distributors when they want to clear floor space so youll always find something interesting there. The selection is alright at best, but what he does have is almost always worth the visit from whatever distance youre from.
1,002 characters
2.65
/5
rDev
-30.8%
vibe: 3 | quality: 1.5 | service: 3 | selection: 3.5
Pretty much a big barn you can drive in and have your beer brought to you. Beware though the sell expired beer and I can tell they didnt have any knowledge on how to properly care for their beer. The man and the woman that work there are very friendly on the other hand. Sometimes they try to push you into buying some of their old t shirts and antiques they have for sale.
373 characters

3.45
/5
rDev
-9.9%
vibe: 4 | quality: 4 | service: 2 | selection: 4
One of the larger craft beer selections you'll find in El Paso, but still a little less than what I was hoping for when I got there.
The place is a drive through (not simply a drive-by window; you actually drive right through the middle of the building), though I prefer walking inside.
The place is very expensive, and that's probably its biggest downfall.
They do give you the option to "build your own 6-pack", but they charge something along the lines of an "inventory management fee" to do so, which makes an already expensive proposition even more expensive. I walked out with a sixer priced at $30 even.
The Greenery Market at the Sunland Park Mall has a slightly smaller selection, but much better price.
Alternatively, you can get beers for roughly the same price at a nice bar setting at Hope & Anchor on Mesa st, and they actually have a bigger selection. The Hoppy Monk also has something like 50-100 beers on tap.
So if you don't mind paying premium, and you want to drink outside of a bar, then you might consider going here after hitting up The Greenery. Otherwise, you'd be better off going to The Hoppy Monk or Hope & Anchor.
update: Today (March 2, 2011) I called to inquire if they had any Trappist beers and any Weihenstephaners in stock. A lady answered, and was extremely unhelpful and seemingly disinterested in talking to me. After telling me they should get some Trappist beers in tomorrow, she hung up on me mid-sentence when I was asking which one(s) they carried. That was very unprofessional and rude, and was a stark contrast to the very helpful service I got from a younger gentleman who helped me out when I visited in-store. As a result, I have lowered the Service rating from 4 to 2.
1,725 characters
3.7
/5
rDev
-3.4%
Stopped by Buddy's to see what they had to offer for local beers as I was on business travel to this part of the world. This place is unique in its own right and should be visited to just see it - antiques, signs, stuff of all kinds displayed and/or laying everywhere. Unfortunately, no local beer available because the owner stated they were hit hard on Saturday for a lot of their specialty beers (I stopped on a Sunday). I had called the day before and was told they had beers available from Real Ale. Saw Deschutes, Blackened Voodoo, Sam Smith's, Chimay, Fischers in the cooler among others. The incredible bright spot was Doug Barker - 1/2 owner with his wife. The name comes from the fact that they have been buddies for a long time. Doug doesn't drink but had a very good working knowledge of beer and beer terminology. Doug spoke to me for approx. 10 minutes and was very talkative and helpful. He even recommended other places to visit for local beer purchases (Billy Crews, etc.) just a great guy and nice gentleman.
1,026 characters
4.65
/5
rDev
+21.4%
I've had the pleasure of frequenting Buddy's Beer Barn several times since I've been in El Paso. When I'm reviewing a beer store, I think it's always important to take context into consideration. Buddy's is a nice piece of eccentricity, and a blooming rose in the desert of craft beer that is El Paso. The staff is very knowledgeable, and their love of all things craft is hard to miss. They regularly stock between two and three hundred varieties of beer in their drive-up coolers. If you've never been to the west texas town of El Paso, Buddies Beer Barn is as good a reason as any to go. the only downside is that the prices are a touch on the high side, but for the work that they've put into bringing craft beer to this part of the world, I'm happy to pay an extra buck or two for a quality bottle.
803 characters
5
/5
rDev
+30.5%
Buddy's Beer Barn is unique in its own way. First, it's a drive thru. Second, it's literally in a barn. Third, there's random stuff everywhere (antiques, collectibles, toys, US Army patches, etc.) The store itself is a part museum, part general store, and part craft beer store. One of the main things people dislike about this place is the random stuff everywhere, but that's also what people DO like about this place. It's different. It's run entirely by a couple (extremely nice and welcoming people) and is about as authentic of an old town beer store as possible. Considering they're located in El Paso, TX, which is quite far from any major distributor (another one of the reviews here touched on this), they have an excellent selection.
It is very hard to get craft beers here and there are hardly any stores that sell them in the entire city. So, given the circumstances, their selection is great (actually, their selection is great anyway, even if they were located in Dallas). I've even seen beers from Rochester NY (where I grew up), which is impressive because craft brews from Rochester rarely make it to the south-west.
In terms of organization, the store is set up pretty simply. Anything that comes from overseas and in a pint bottle or larger is on one side, all macro brews are in another section, and all other beers are in another place. Breweries are grouped together and they're arranged, generally, by country. All it takes is a little looking around and you'll find what you want.
The prices are reasonable, not cheap (but good beer rarely is) but definitely not expensive. They do have good specials though, so Google their name and check their website, the often have specials on domestics. Also, possibly the best thing about this place is that if there's a particular beer you're looking for, you can tell the owners and they'll try their best to order it for you. A friend of mine came down from NY and asked about a couple Ommegang beers that they didn't have (they had some, but not the whole line), and sure enough, the next week I went back and bought all those beers he was asking about.
2,126 characters
5
/5
rDev
+30.5%
vibe: 5 | quality: 5 | service: 5 | selection: 5
The texas law kind of screws El Paso when it comes to fancy beer, but I'm sure it will get better as the market grows. Texas has a three tier beer distribution system: Producer, distributor, and retailer. Texas Retailers have to purchase from Texas distributors. Distributors like to put their headquarters near large populations. El Paso, when compared to the rest of the cities in texas, is literally an 8 to 10 hour drive to the nearest respectable distributor's HQ. All of this, combined with staggering gas prices, makes it almost impossible to get good beer in El Paso, Texas. Taking this in to consideration, Buddy's Beer Barn is a shining beacon of hope in El Paso. A place where I can get various authentic German dopplebocks and wheats, Belgian beers, authentic Czeck pilsners, etc. Buddy sells singles as well as sixxers and even 5.5 gal kegs of specialty beer. (not to mention all sorts of mega beer) I don't know how they manage to convince the central texas distributors to bother and send any good beer out here in El Paso, Texas, but I'm grateful that they do it. Buddy's cannot order beer from Las Cruces, by law it HAS to come all the way from Dallas or even farther. I asked around many places selling special beer and I found out that often some of the distributors unload 'expired' beer. If you argue with a distributor, you may not get any more beer from them ever again. You're just kind of stuck with it :( and I don't know how this is legal. Some of these beers were brewed 10,000 miles away. Expired doesn't necessarily mean its gone bad, but its usually not ideal and the distributors shouldnt be able to get away with this.
1,651 characters

3.8
/5
rDev
-0.8%
Living on the west side, it took a while to get out here. I was expecting more volume, but the quality is there. They have a website listing what they carry. I was disappointed not to find what I was looking for. However, there were plenty of other selections there that were not on the website. Buddy and his staff were extremely helpful and knowledgeable. Like the Greenery Market at Sunland Park Mall, all items are priced by the bottle. It's a great idea for sampling, but it hurts the wallet. After growing up in the land of Beer, Brats, and Cheese, I am disappointed with the overall craft beer availability, price, and production in the El Paso area. Time to start brewing.
680 characters

2
/5
rDev
-47.8%
My computer tech is starting to enjoy German dopplebocks so I stopped at Buddy's while passing through El Paso. They had no German dopplebocks, or at least I couldn't find any. The place was very disorganized, imports and domestics were all mixed up on both sides of the store. Overall the selection was very disappointing, and there were a lot of bare shelves.
I did buy a 4 pack of Old Rasputin and a sixer of Paulaner Octoberfest but at $23 I kind of felt robbed.
If you want a keg of domestic beer that's the place to go. If you want craft or import don't bother.
570 characters
4.1
/5
rDev
+7%
Stopped here a couple times while I was in El Paso for a buddy's wedding last month. At first I was a little turned off when I saw a bunch of bottles out in the open (keep in mind this is a drive-through as well) in the summer heat of West Texas. Needless to say, I stuck to what was in the refrigerators. Overall, his selection was excellent. Not as much as what I'd expect to find at a lot of places around where I live (San Diego), but for the location he has an excellent variety. I saw a lot of imports, but his American micro selection was a little disappointing. I did, however, see a few things I can't find easily around here (specifically from Colorado). His prices were pretty high, but that's what happens with a lack of competition.
All in all, I've been to better places, but if you're in El Paso this is your only stop to find good beer. Plus the service is extraordinary. Buddy is a very friendly guy and can definitely help you find whatever you're looking for.
982 characters
Buddy's Beer Barn in El Paso, TX
Place rating:
3.83
out of
5
with
11
ratings