Bluetongue Ginger
| Bluetongue Brewery Pty Ltd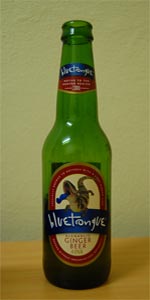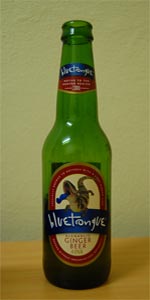 BEER INFO
Brewed by:
Bluetongue Brewery Pty Ltd
Australia
bluetonguebrewery.com.au
Style:
European Pale Lager
Alcohol by volume (ABV):
4.00%
Availability:
Year-round
Notes / Commercial Description:
No notes at this time.
Added by BeerAdvocate on 10-09-2005
HISTOGRAM
Ratings: 7 | Reviews: 5
Reviews by istarilord:
3.17
/5
rDev
+30.5%
look: 2.5 | smell: 3 | taste: 3.5 | feel: 3 | overall: 3
Pours a cloudy yellow-brown with very thing & light head. Light carbonation with very small bubbles.
Smells gingery (thankfully).
Very light flavor, lightly sweet with decent ginger across the palette.
Easy to drink, nothing complex or spectacular, but not bad.
264 characters
More User Reviews:

3.09
/5
rDev
+27.2%
look: 3 | smell: 4 | taste: 3 | feel: 2.5 | overall: 2.5
This brewery/brewpub is part of a winery and in the Hunter Valley wine growing region, where wine is the main focus. The beer was pretty tasty and had a great smell but the mouthfeel was only fair. I could drink a couple of these but probably not more than that. Definitely worth a try but I've had better.
306 characters
1.94
/5
rDev
-20.2%
look: 1 | smell: 2 | taste: 2 | feel: 1 | overall: 2.5
Pours a fizzy, soda-like nothingness: body is a clear pale golden colour, with absolutely no head whatsoever, even when siwrled, agitated or poured aggressively. Large bubbles stick to the edge of the glass, belying the fact that it has some fine carbonation streaming along the sides. Really, it does not look like a particularly pleasant beer.
Nose is fragrant with fresh pickled ginger aromas—genuinely in its favour is the fact that this is proper ginger aromatics. Crisp, biting and spicy. Unfortunately, it's brought back to earth with the unpleasant yeasty bread dough grainy character that sickens and wilts whatever fragrance the beer has on its own.
Taste is similar. It's really dragged down by a thin, waning and unpleasant grainy adjunct character, but lifted and masked somewhat by the ginger which is genuinely good ginger flavours. Unfortunately, the lack of sweetness, body and genuine character means it feels weak and insipid, but you have to give them credit for doing justice to the ginger.
Overall, probably one of the better cynically produced and appallingly weak ginger beers available in Australia. That's up against some pretty weak competition—it's an appalling beer saved by the use of some pretty decent ginger.
1,248 characters

2.61
/5
rDev
+7.4%
look: 3 | smell: 2 | taste: 2.5 | feel: 3.5 | overall: 3
Bottle: I like it. Nice green bottle, stylin' Australian label.
Appearance: standard ginger beer, reasonable light colouring, very little head.
Aroma: very, very strong synthetic ginger smell. Not terribly pleasant.
Taste: not too bad, the ginger is a little subdued, with a touch of spices like nutmeg.
Aftertaste: slight metallic fug over the ginger. Not brilliant.
Mouth feel: light bodied per the style, reasonably high carbonation - a bit too much. The high carbonation carries an off metallic flavour over the top of the ginger.
Overall: not a bad ginger beer, but certainly not as good as others. It is AU$45 a case (2012) which is a decent price, but it is simply not good enough as a stand-up ginger beer. The ginger aroma is too strong, and the ginger flavour is too synthetic and almost metallic. Not awful, but certainly not something I would want to spend too much of my money on. It's reasonably priced, so if you want an okay ginger beer, here it is. I would rather spend a bit more on a Crabbie's.
1,019 characters

1.92
/5
rDev
-21%
look: 4 | smell: 2 | taste: 2 | feel: 2 | overall: 1
A - Looks are quite decent, golden yellow with a hint of amber hues, fine carbonation visible, perfect head, good retention and good lacing.
S - Cooked vegtibles pale malts and sweet ginger
T - Thin and watery, up front the taste is not unlike a thin watery ginger beer. Hop taste is very cheap, very much a macro, ginger beer hybrid. A very tinny aftertaste and honestly very very uninspiring.
M - Thin, bland, some soft carbonation. Feels very rushed.
D - Couldnt drink more than one at a time. Very chemical.
Think cheap macro larger, pour out half and fill remaining space with ginger beer and you wont be far off.
623 characters
Bluetongue Ginger from Bluetongue Brewery Pty Ltd
Beer rating:
2.43
out of
5
with
7
ratings