Leireken Buckwheat Ale
| Brasserie De Silenrieux S.A. (Chez L'Père Sarrasin)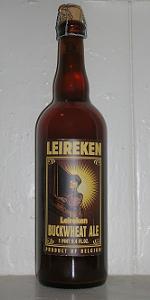 BEER INFO
Brewed by:
Brasserie De Silenrieux S.A. (Chez L'Père Sarrasin)
Belgium
belgacom.net
Style:
Fruit / Vegetable Beer
Alcohol by volume (ABV):
6.00%
Availability:
Limited (brewed once)
Notes / Commercial Description:
No notes at this time.
Added by BeerAdvocate on 11-14-2006
This beer is retired; no longer brewed.
Ratings: 13 | Reviews: 11
Reviews by HugoGrim:

4.03
/5
rDev
+3.9%
look: 4 | smell: 3.5 | taste: 4 | feel: 4.5 | overall: 4.5
Poured from the bottle into a standard pint. Label states best before end 2008. I enjoy the label art of a train conductor.
Very dark brown body with a big head. Loads of carbonation popping to the top.
Aroma is sweet with elements of fruits. Light grains.
Flavor is very smooth. Some hints of the fruits from the nose come through, though nothing overly intense here.
Very drinkable.
388 characters
More User Reviews:

4.38
/5
rDev
+12.9%
look: 4.5 | smell: 4 | taste: 4.5 | feel: 4.5 | overall: 4.5
Got in a trade with czoch75 - thanks! Poured from a corked and caged 750ml bottle with a best by end of 2008 date. Opened with a huge pop. The color was a hazy pale golden yellow with a white head. The head started off as a pretty good size and then exploded into a monstrous one easily taking up a 1/3 of the glass. It built over the top like meringue. Tons of carbonation constantly feeding it. It slooowly settled to a constant 1/2" head with great lacing. The aroma was the standard fruity and spicy with a dryness to it. The taste was really good with an solid spiciness that was well balanced. The taste really developed about halfway thru as it warmed up. At first, it was an average wit but really started to stand out later so let it warm up more than normal for a wit. The mouthfeel was outstanding with a great carbonation and just the right amount of dryness to the taste. Overall, a really exceptional wit and I'm glad I got to try this one. It's part of the MJ Rare Beer club so pretty hard to find but if you love wits it's worth the extra effort. (4.5, RB, T, Y)
1,078 characters

3.13
/5
rDev
-19.3%
look: 3.75 | smell: 3.25 | taste: 3 | feel: 3.25 | overall: 3
3.08
/5
rDev
-20.6%
look: 3.5 | smell: 3 | taste: 3 | feel: 3.5 | overall: 3
Buckwheat ale, also with barley malts.
25 cl small bottle.
Golden colour, thin head but ok lacing. Light carbonation.
Sour and musty aroma. Moldy. Some citrus, but mainly it's a lot of malt and yeast.
Similar in the taste. Faint bittersweetness. Quick and dry finish.
Lightly flavoured, light body. Decently refreshing.
Overall, it's a bit disappointing to me. The aroma and flavour are not doing it for me.
410 characters

3.7
/5
rDev
-4.6%
look: 3.5 | smell: 3.5 | taste: 4 | feel: 3.5 | overall: 3.5
Poured from 75 cL bottle into imperial pint glass. Says on bottle best before end of 2008.
A: Tons of carbonation produces a massive tan head--honestly a little much. This very slowly dissipates leaving behind nice lacing. The beer underneath is a very dark amber color.
S: Grain, grass, and hops predominate...followed by muted malt notes.
T: Definitely a different kind of beer...subtle flavors...grain (I guess that would be the buckwheat), unadulterated malt, and I still get notes of dry grass...almost akin to some sauvignon blancs. Dry minerally bite. Very interesting beer.
M: Dry and astringent. Light body with tart acidic finish.
D: A light and refreshing beer, but the dry complexity makes this a sipping beer as opposed to a slugging beer. I'm glad I got to try this one.
784 characters

3.68
/5
rDev
-5.2%
look: 4 | smell: 3.5 | taste: 3.5 | feel: 4 | overall: 4
Pours a dark brown with a big tan head that falls fairly quick to a small head that stays for most of the beer.
Smells tangy and a bit sweet. Spicy as well.
Interesting taste. Is that what buckwheat tastes like? Sweet and full, a bit of alcohol comes through and a bit of earthiness to it.
Fairly full in mouth with medium carbonation.
Nice. Pleasure to drink.
364 characters
4.35
/5
rDev
+12.1%
look: 4.5 | smell: 4.5 | taste: 4.5 | feel: 4 | overall: 4
Leireken Buckwheat Ale
11/17/06
Style: Witbier
ABV: 6%
Source: 750 ml corked bottle. Best before end 2008. Michael Jackson's club (don't tell the grownups).
Appearance: After reading AKSmokedPorter's head warning, I poured a modest amount into a Chimay goblet. It worked out fine with a modest tilt: fine one-finger off-white head. Beautiful cloudy golden appearance. Nice lacing.
Smell: Citrus and coriander… classic.
Taste: At first it's all about the citrus and wheat, but I found the spices came through quickly with each swallow. Definitely a very nice progression and balance.
Mouthfeel: Crisp.
Drinkability: Like most beers I find this very drinkable :-). It's an unseasonably warm autumn day in NYC so it actually also suits my general feel for this sort of weather, although I think it would be even more welcome in late spring or in summer.
878 characters
4.87
/5
rDev
+25.5%
look: 4.5 | smell: 5 | taste: 5 | feel: 4 | overall: 5
I guess, first-off, Buckwheat is a fruit (related to Rhubarb); not a grain.
Hazy apricot color with a full pillowy off-white head and nice active carbonation up the middle of the Chimay glass. Nice fruity aroma with some light spicy Belgian yeasty character. Nice fruity flavors with soft grainy malts to balance and nice Belgian yeast spiciness. Light bodied, a bit airy, and reffreshing with a nice fruity finish.
An excellent fruity Summer drinker.
Best Before: End 2008
Tasted: 04/10/07
(25.4 oz. tall straight brown wine-like bottle, corked, and caged)
570 characters
4.58
/5
rDev
+18%
look: 4.5 | smell: 4 | taste: 5 | feel: 4.5 | overall: 4.5
received this one from MJ's Rare Beer Club, poured and consumed at room temperature (~70 F):
NOTE: bottle says Buckwheat Bruin Ale (unlike the pictured bottle)
a. the top almost blew my hand off--its under tremendous pressure, pours 100% head (worries of potential overcarbonation), took several minutes to die down for consumption, a dark opaque brown that allows almost no light passage, once head dissipates a thin layer of foam remains with leopard print pattern of small, medium and large bubbles, amazing!
s. first, unmistakably dry, tart, and champagne-y, finishes with some malts peaking through, and slight earthy tones
t. malty and clean, with a refreshing and smooth finish, some champagne fruitiness/sweetness/tartness, and very well-balanced
m. soft, round, effervescence melts away into a medium and clean mouthfeel, nowhere near overcarbonated
d. smooth, tasty, refreshing, but surprisingly filling
on an emptier stomach, maybe this wouldn't be so filling. still incredibly refreshing, must be made with some of the freshest, cleanest, most well-balanced (in terms of minerals) water, which makes a huge difference.
1,137 characters
3.91
/5
rDev
+0.8%
look: 4.5 | smell: 3.5 | taste: 4 | feel: 4 | overall: 4
From the 750ml bottle, opened with a violent pop:
A - Very good. Enormous head over a dark brown body. No lacing evident in my goblet - the only slight minus in appearance.
S - Yeasty, but not in the typical Belgian spicy way, more of a bready yeastiness. Slightly sour. I catch fleeting notes of rubber. I don't know that it begs me to drink it, but it's interesting.
T - Wow...I don't quite know what to make of this. Gritty, hard mineral water definitely noted. There's no mistaking the buckwheat, either. Some alcohol peeks through. Absolutely bone-dry, this beer has sucked blood from a stone in the dryness department. Michael Jackson was right; I'm not bored - but ultimately I don't know how I feel about this taste. I had Rogue's soba ale before, but this is not too similar; the only similarity between the two is the crackery buckwheat. It is bracing and very quenching....this beer is the antithesis of cloying. I will say that it is growing on me.
F - Has a sharp, slightly gritty feel to me. The bubbles are intense. Seems appropriate for the style, though.
D - Here I thought I was going to pound this 750ml bottle of a 6% beer - definitely not the case. Though quenching, high carbonation makes it not an easy beer to rip into. A sipper, one of the more muscular 6% beers I've tried. Still, very quenching, and the alcohol is relatively low. I'll most likely come back to the remaining two bottles soon.
1,426 characters

4.58
/5
rDev
+18%
look: 5 | smell: 4.5 | taste: 4.5 | feel: 4 | overall: 5
Best before end 2008, this was part of the late Michael Jackson Rare Beer Tour back about a year or so ago... possibly longer. I'm excited to review this, as it's my final bottle of the lot.
Corked and caged 750ml bottle served in a tasting tulip at between fridge and cellar temperature.
Appearance- A big, explosive pop of the cork and very active carbonation in the bottle is definitely a positive sign! Many small particles of yeast jump and dance about inside the vessel. Pale gold and hazy, the crown on this beer rivals or even exceeds the very best Tripel or Belgian Pale Ale in existence... it's just incredibly massive. Five full fingers on an honest pour, it leaves a warpath of sticky lacing down the entire glass. A home run.
Smell- Grassy and straw-like, it's pure Belgian farmland. A bone dry nose that accentuates the bright hop features is where this one excels.
Taste- Woody and grassy, images of a quiet farm in rural Wallonia come to the imagination. A crisp, bone dry hop grip is perfect to cap the swallow.
Mouthfeel/Drinkability- Excited to show its stuff, the effervescence appears rapidly and remains active... it's good, but a smoother finish would be optimal. Only after the yeast sediment is added does the mouthfeel mellow out. Superbly drinkable by itself or with a plethora of foods, drink this now if you're holding the same batch as I've had.
1,384 characters
3.4
/5
rDev
-12.4%
look: 4 | smell: 4 | taste: 3 | feel: 4 | overall: 3
750 mL Caged and Corked
A: snifter. pours a deep rich mahogany color with a huge light tan head. amazing retention with a gorgeous amount of lacing.
S: sweet and sour aromas are blending extremely well. some spices are all over this, clove and nutmeg in particular. some fall fruits, mostly dark, linger for a while, apples, raisins, figs and some red grapes.
T: way more bland than the aromas, probably form the buckwheat. some sweet fruits fall in the back of the palate, but the beer has a watery flavor. not nearly as malty as I expected.
M: very smooth mouthfeel. carbonation level is perfect, but the body of the beer is almost nonexistent. very buttery.
D: very drinkable, but it lacks flavor, not by much though. very mellow for 6%, but I don't see buckwheat bring utilized correctly when used for brewing. good experimental try, but not my bag.
859 characters
Leireken Buckwheat Ale from Brasserie De Silenrieux S.A. (Chez L'Père Sarrasin)
3.88
out of
5
based on
13
ratings.