Bubbles Liquor World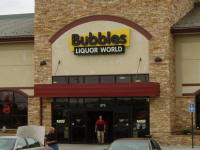 PLACE INFO
Type:
Store
675 Genoa Way
Castle Rock
,
Colorado
, 80109-1979
United States
(303) 468-8100 |
map
bubblesliquorworld.com
Notes:
No notes at this time.
Added by dauss
Reviews: 10 | Ratings: 14
Reviews by dauss:
4
/5
rDev
+12.7%
Located right across from the Outlets in Castle Rock. Its a fairly big store, 27,000 sq. feet according to the website. Its big, roomy, and very clean. They have 46 beer coolers which sounds like a lot, but only 37 of them are actually used to hold beer. The rest of the coolers are wine and other mixers. While I was there I did have someone offering to help, but didn't see if the employee had any knowledge on beer.
The selection was quite large, good selection from many different countries in the 4-12 pack area, but the singles selection was quite limited. I don't think that I could find any hidden gems here, but if I'm driving by, I'll stop by again. Their glassware selection was extremely poor, they only had 1 pilsner glass.
★
739 characters
More User Reviews:
4.12
/5
rDev
+16.1%
vibe: 3.75 | quality: 4.25 | service: 3.5 | selection: 4.75
4.11
/5
rDev
+15.8%
vibe: 3.75 | quality: 4 | service: 3.5 | selection: 5

3.36
/5
rDev
-5.4%
vibe: 3.25 | quality: 4 | service: 2.5 | selection: 3.5
Huge liquor store with craft beer in all coolers
Walk in has a good selection of bombers
Despite the size of the store only brought some tenfindy as everything else was just average easy to find stuff
Staff was friendly on checkout but offered no help while looking
★
267 characters

2.72
/5
rDev
-23.4%
vibe: 3.5 | quality: 3 | service: 1 | selection: 3.75
Overall the store is okay. They got the bombers off the warm shelves and have a bomb shelter in the cooler now. Good selection of locals and imports including 4x of some products that are hard to come by at other shops in the metro area. The prices are consistantly 1 or 2$ lower than local competitors. My only gripe is the customer service. The "beer guy" I spoke with had never heard of weihenstephaner and insisted they didn't carry their product. I walked out with a 6er of hefe. Same guy had never heard of crooked stave. Also talked with a manager who insisted they would call me back on release info for a couple of brews. No call back. So I hit this place up when I know there's some gems to hoard up, but thhats it. The customer service is geared towards self centered laziness to say the least.
★
805 characters
3.64
/5
rDev
+2.5%
vibe: 3.5 | quality: 3.5 | service: 4 | selection: 3.5
Bubbles is off of Founders/Meadows Pkwy exit near I-25. You can see it from the highway.
Good location, large buildling. Lots of selection all around. Decent selection for the local area. Davidson's and Lucas 20 minutes north are better. Lots of 6 pack, 12 pack and single bottle selection. A good selection of 12 oz bottles but the bombers are lacking. The bombers are not kept cold but are on shelves. booo. The prices are slightly better than anyone else in the region. I've been trying all kinds of Colorado beers and there's a good selection here. Lots of employees to help if needed. Large cooler area in back. They have a club card that allows for discounts.
★
665 characters

2.33
/5
rDev
-34.4%
vibe: 3.5 | quality: 2 | service: 2 | selection: 2.5
Bubbles is VERY hit or miss... Some days I walk in and find everything and cannot leave for under $80 and others I can hardly find one brew I want... Their shelves are always around 70% stocked and very basic; sometimes filled with badly expired brew. Bubbles very rarely has overly unique brews. There are many other places to hit, if you're in Denver.
It's also pretty difficult to find GOOD help, or conversation. There's only been a few times I was able to gain new knowledge about my soon-to-be purchase. The good news: Bubbles offers Rewards! WOOT!
Cheers!
★
564 characters
3
/5
rDev
-15.5%
Bubbles is a huge store located in Caste Rock. It is the sister store of Tipsy's outside Golden. Unfortunately the size and design are where the similarities end. As far as beer goes that is.
They have a huge selection of micro beers and macro pop. However, the specialty beer section is lacking. They do have a couple doors full of good stuff, but nothing like Tipsy's.
All of the beer is kept cold and in the back of the store which is good. The prices are quite high. When I went in to check the place out, I left with only one bottle. That is usually impossible for me. Service was so so.
★
596 characters
3.55
/5
rDev 0%
Went by this place on a whim the other day, a few changes for the good!
Less old stock in fridges there. Used to see stuff from breweries shut for months if not years. So quality seemed to be up
This is still a wine-centric shop, never seen any beer enthusiasm or for that matter anyone offering help
Selection is on par with many good shops in Colorado Springs, but a couple of offerings you can't there ( ten fidy & grand teton's cellar offerings) & an expanded selection of build your own six pack selections
Prices seemed more in line with local shops than in the past. I would stop again, better store within a few miles, but not bad. I hit it after eating lunch at the rock yard brew pub
★
697 characters
3.7
/5
rDev
+4.2%
This wasn't exactly the heaven of liquor stores, but it brought a big smile to my face after hopping around stores in Colorado Springs for this kind of selection.
The floorspace is large and well organized, void of that cramped liquor store feel. Selection was magnificent for the wines, and liquor. There were plenty packaged beers with a good selection of the individual imported and large US craftbrew bottles...I grabbed some of the favorites (Beamish, Stone, Okocim and Rogue) and new ones I have not seen as bombers in the Springs. The staff was helpful, but an inquiry to special order Asahi Black failed and they did not provide the follow-up call as promised.
Overall, I was very happy with this place. I don't plan to make the drive from the Springs just for this stop, but will happily make it when commuting between the Springs and Denver. Definitely worth a look if you're in the area for shopping at the Outlet Mall. I also stopped by the Rockyard Brewpub around the corner while I was there.
★
1,009 characters

4
/5
rDev
+12.7%
I stopped by Bubbles on January 26, 2007. I was very impressed with the overall size of the establishment. Although about two third are dedicated to wine they still had a reasonable amount of space for beer.
They offered about 35 doors of beer, probably 12 were taken up by the commercial brews but the rest were dedicated to micros and imports. They also offered a reasonable selection of "native" brews. I was looking for Oskar Blues, Old Chub and was delighted to find it there.
I was browsing the beer selection for about 15 minutes and was never approached by the staff, but when it can time to check out they seemed extremely friendly. Their prices seemed a little high in comparison to comparable stores. All in all, Good store neat place to check out. I will probably stop in again someday.
★
806 characters
4.15
/5
rDev
+16.9%
I was lucky to find this place amidst the sprawling mini-malls, outlet stores, and big boxes of Castle Rock. But what luck! This place is great. Their craftbeer fridges are packed with a near-comprehensive variety of Colorado beers (Great Divide's big beers were the only notable absence), and they were the only store I visited in the Front Range that still has a full stock of Avery Mephistopheles. Their import (read-Belgian) selection is solid as well, and they've got an enormous selection of liquors and wines, rivaling of Total Beverage of Boulder's LiquorMart.
The service was friendly and inquisitive--my cashier didn't know anything about Avery's "Demons" line, and she was happy to answer stocking questions for me.
It seems unlikely that I'll be back in Castle Rock anytime soon, but if I am, this place will definitely get a second visit. And for the Denverites...this place is worth the hour drive from downtown.
★
933 characters
Bubbles Liquor World in Castle Rock, CO
3.55
out of
5
based on
14
ratings.