Left Coast's Scottish Ale
| Left Coast Brewing Company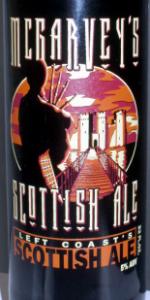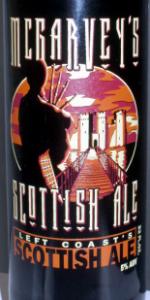 BEER INFO
Brewed by:
Left Coast Brewing Company
California
,
United States
leftcoastbrewing.com
Style:
Scottish Ale
Alcohol by volume (ABV):
5.00%
Availability:
Year-round
Notes / Commercial Description:
No notes at this time.
Added by scottoale on 07-28-2008
HISTOGRAM
Ratings: 13 | Reviews: 10
Reviews by ineva:

More User Reviews:

3.53
/5
rDev
-4.9%
look: 4 | smell: 3.5 | taste: 3.5 | feel: 3.5 | overall: 3.5
Review from 12/2010 notes. Poured into a Nostradamus flute glass. Pours a rich red amber with a moderate light tan head and nice lacing. Aroma is toasty malt and not much else. Light toasty malt, hint of chocolate, dry start. Finishes quite nicely with a mellow dry toasty malt. Not very complex and lightly flavored, but very pleasant to drink. A bit too tame to be outstanding, but a good mellow sipper.
405 characters

3.48
/5
rDev
-6.2%
look: 4 | smell: 3.5 | taste: 3.5 | feel: 3 | overall: 3.5
From a 22oz. brown bomber with 3 color silk-screened label boasting merits of 2008 World Beer Cup, Gold Award Winner, on the back. It pours a burgundy with good clarity and a light tan head of 1/2" that dissipates rather quickly leaving no lace behind.
Musty, earthy aroma with a mild sweetness. Mellow malty nose with some peatmoss is about all I can detect, no real hop notes coming through.
A mild mannered flavor with a nice nutty roastness. Simple and smooth in it's own right...not sweet, nor bitter, it has an interesting (yet bland) sort of perfect balance.
A bit watery overall and very light in body for the style. Carbonation is ample with various sized, sporratic bubbles shooting to the surface.
Super easy to drink and an interesting flavor with a mild ABV...great for sessions.
804 characters

3.26
/5
rDev
-12.1%
look: 4 | smell: 3 | taste: 3.5 | feel: 2 | overall: 3.5
22 oz bottle
Look: Pours a very nice deep red color with a 1 inch foamy head and very good retention
Smell: Beer smells of sour malts and roasted barley similar to a scotch whisky
Taste: At first you taste you really get the roasted barley and it finishes off with a slight hint of chocolate and a hint of dark cherry
Mouthfeel: Medium body and extremely carbonated to carbonated as a matter of fact and it makes it extremely hard to drink
Overall: Apart from the mouthfeel the beer itself has a decent flavor and aroma profile and is actually very nice to look at. If it wasnt for the mouthfell I would drink this beer again
631 characters
3.49
/5
rDev
-5.9%
look: 4 | smell: 2.5 | taste: 4 | feel: 3.5 | overall: 3.5
Tasting from a 22oz bomber. Pours with a decent amount of head (approx 1.5") and a slightly sweet, malty smell. The beer has a bitter, sweet initial taste, followed by a sour, malty aftertaste. The flavor of scotch is thrown in there, and the bitterness helps to balance that with the sweet. The beer is nondescript in your mouth, and the flavors are not overbearing or lingering, making it very easy to drink. There are things missing that make a "really good" Scottish Ale...smokey, barrel type flavors...and that is what is keeping this from being a "great" Scottish.
570 characters

3.56
/5
rDev
-4%
look: 3.5 | smell: 2.5 | taste: 4 | feel: 3.5 | overall: 4
Coppery dark amber in the snifter with nice lacing. Coarsely carbonated, very bubbly mouthfeel. Quite watery, an example of the lighter style of Scottish Ale. Odd metallic smell. Fruity like an old ale. Tastes of fruitcake and ends with a nice bitterish tang.
A very pleasant quaff. This showed up in Denver for $3.29 for the 22 oz.
333 characters

3.55
/5
rDev
-4.3%
look: 3.5 | smell: 3.5 | taste: 3.5 | feel: 4 | overall: 3.5
I'm reviewing a cellar temperature bottle poured into a tumbler glass. There is no freshness date on the bottle. There was a loud hiss as I popped off the cap; I'm guessing this will be a highly carbonated beer. The body is colored red and there is a lot of carbonation rising up from the bottom of the glass; it's more than I've seen in a beer in a while (the high clarity of the liquid may be partially responsible for that). The head is very large and made up of tan foam. As it settles, it leaves behind a bit of lacing. There is some bready, toasted malt in the nose that reminds me of pretzels. I can also detect a few aromatic, non-bittern hops. The flavor is typical of the style. I can taste some caramel malts, some bittering hops in the finish, and an aftertaste with a slight diacetyl quality. It's not very complex, but reasonably tasty. The beer has a medium body and a normal level of mouth coating. I can't feel nearly as much of the carbonation as I can see, which is good. It's not a incredibly drinkable beer. I won't have a problem finishing this beer, but there are many other examples of this style I find more enjoyable that I would purchase instead.
1,173 characters

3.5
/5
rDev
-5.7%
look: 3.5 | smell: 3.5 | taste: 3.5 | feel: 3.5 | overall: 3.5
Picked up a bomber at BevMo in late October for $4.39.
Beer poured brown with red undertones. Off white head was fairly solid with initial pour. Nose is plesant, the malts were perfumed with a light hop flower. Taste is slightly nutty, somewhat sweet, with a light hop to balance the finish. Mouthfeel is light to medium bodied and somewhat smooth. Overall drinkability is decent. This is not a beer that will wow you but it is a pretty decent effort and an OK representation of the style.
490 characters
4.15
/5
rDev
+11.9%
look: 4 | smell: 4 | taste: 4 | feel: 4.5 | overall: 4.5
Pours fairly dark, clear burgundy color with a nice tan head. Aroma is filled with earthy, nutty, malty goodness. Taste is similar - roasted notes, malty sweetness and just a touch of hops. This beer is light to medium in body with very low carbonation, low bitterness, and that makes it very drinkable. Mouthfeel is pleasant.
This beer reminds me of Scotland and great session beers of that country. At 5% I personally think it's too high to be a session beer, but it is still very drinkable and enjoyable. I think it's very, very good.
539 characters

3.99
/5
rDev
+7.5%
look: 3.75 | smell: 4 | taste: 4 | feel: 4 | overall: 4

3.85
/5
rDev
+3.8%
look: 4 | smell: 4 | taste: 3.5 | feel: 3.5 | overall: 4.5
This is a pretty good, somewhat toasty, malty Scottish Ale that is easy to drink and has good flavour but is a bit one-dimensional.
Dark red, slightly brownish, it has a dense, medium tan head that shrinks slowly to a ring and leaves no lace.
Aroma is toasty barley and grain, light chocolate, with a faintly earthy leafiness and faint hint of dark fruit.
Taste is toasty barley, light chocolate, hint of dark toast, lightly bitter leafiness that is faintly earthy and peppery. It is dryish with a short, very gentle finish and a mild, lingering aftertaste of toasty grain and leaves.
It is pleasant and very drinkable, with some firm character that holds up well, but it lacks depth or range of character and is rather one-dimensional with almost no real finish.
767 characters
3.92
/5
rDev
+5.7%
look: 3.5 | smell: 4 | taste: 4 | feel: 3.5 | overall: 4
Poured into a pint glass. Pours a dark amber, red-brown in the light. Leaves a finger of head with little retention and some lacing. Smells malty, with sweet red and dark fruit and some smoky notes. "Apples" come to mind.
Smoky flavors, roasted malts, and red fruit, with a crisp mouthfeel. Some carbonation, malty but not sweet, with the peaty and earthy notes associated with the style. Watery, light-bodied.
Overall, I was hoping for something closer to Fuller's ESB. However, the malt profile is interesting and it does everything it ought to do in terms of the Scotch Ale style. A good brew, sessionable, and an easy style to screw up in my opinion, so Left Coast gets props for a solid offering.
703 characters
Left Coast's Scottish Ale from Left Coast Brewing Company
Beer rating:
3.71
out of
5
with
13
ratings