Dremmwel Dorée
| Brasserie Artisanale Du Trégor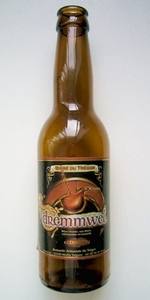 BEER INFO
Brewed by:
Brasserie Artisanale Du Trégor
France
Style:
Belgian Strong Pale Ale
Alcohol by volume (ABV):
7.00%
Availability:
Year-round
Notes / Commercial Description:
No notes at this time.
Added by stcules on 08-25-2004
Ratings: 6 | Reviews: 5
Reviews by nokes:
2.98
/5
rDev
-4.5%
look: 3.5 | smell: 3 | taste: 3 | feel: 2.5 | overall: 3
Poured into my Leffe chalice...apricot-orange with floating sediment and 1 inch of bubbly head that dies back very quickly leaving a very light lacy film. Very nice colour, but the head is a bit disappointing. Gone quickly and without a trace before too long.
Smell is okay...some flowery hops, and is that bubblegum? Sweet-smelling and maybe a bit boozy.
Taste has some surprisingly up-front bitterness, grapefruity in a way, but with an bitter nutmeg/clove touch to it that's not very well balanced with the other milder fruit and spice flavours, which seem to flee in the face of the too-bold bitter spice.
Mouthfeel is a bit hard to describe, but ultimately a bit bland. It just feels unbalanced...makes me think of watered-down maple syrup somehow, but with a touch of carbonation. Not real pleasant, and can't help thinking it's below the average for this style.
Drinkability...well, I guess it's okay. The boozy smell wasn't carried forward in any other way...it doesn't taste or feel terribly heavy, and it goes down without undue stickiness or cloying aftertaste. The bitterness helps with that I guess.
All in all, I guess this was an okay beer, but nothing I'd write home about. Glad my wife brought it for me from France to try, but I wouldn't seek it out if I went there.
1,291 characters
More User Reviews:
3.68
/5
rDev
+17.9%
look: 4 | smell: 3.5 | taste: 4 | feel: 3 | overall: 3.5
This beer is orange with a thick, stable, creamy head. Just the way a good beer should look.
Smell is hoppy and spicy with some slightly acidic smell. I can't figure out whether this is ment to be like this or if it is an infection.
Taste of hops and nicely bitter, again a slight acidity. This really suits the beer and is not disturbing whatsoever. The beer is sort of like a tripel, with a light maltiness, solvent yeastness and a thin body. For me the body is just a little too thin, but a good beer from France.
522 characters

3.03
/5
rDev
-2.9%
look: 3.5 | smell: 3 | taste: 3 | feel: 3 | overall: 3
Beer bottle (33cl), tasted in 2001.
Appearance : blond amber color, with abundant white foam head (not persistent).
Smell : well hoped.
Taste and mouthfeel : good bitterness and excellent persistency.
Drinkability : an average beer in the style Belgian Strong Pale ale.
270 characters

3.3
/5
rDev
+5.8%
look: 3.5 | smell: 3.5 | taste: 3.25 | feel: 3 | overall: 3.25
2.3
/5
rDev
-26.3%
look: 2 | smell: 2 | taste: 2.5 | feel: 2 | overall: 2.5
Full golden colour, too sparkling, and with a foam not too compact and persistent.
The smell is quite full and round, with grassy note; white flowers.
Spiced taste (maybe pepper), malt, camomile, and a touch of honey. Some citric, more evident in the aftertaste, where is perceptible a fruity pear too.
304 characters
3.38
/5
rDev
+8.3%
look: 4 | smell: 3.5 | taste: 3.5 | feel: 3 | overall: 3
Bottle-conditioned, coming in a slim 330ml brown bottle. BB 02/11/2007, served lightly chilled in a broad-rimmed goblet.
A: dark orangey honeyish hue, with lots of yeast chunks and bits floating in the beer due to my careless pouring and the fact that the yeast sediments are extremely unsettled in the bottle; a creamy white foam gradually settles to a thin carpet that sustains throughout the drink, leaving very tight sheets of lacing; lively carbonation.
S: fairly piney-yeasty, grassy and spicy, featuring profound and dryish nutmeg, laced by white pepper and dried grapefruit peel... The yeasty fruitiness is milder in aroma than most other Belgian pale ales I've tried, but it is made up for by the unusually assertive spiciness of nutmeg and the prevalent piney note. Quite different.
T: extremely piney-sweet yeastiness with a mildly sour touch of pineapples and sweetened dried citrus-peels upfront, of a rough texture like a farm-house brew; followed by a bitter-sweet maltiness, a slightly honeyish flavour, and plenty of spiciness to follow...mixed of licorice, nutmeg, white pepper, and a residual aromatic taste of crushed hazelnuts in the aftertaste; finished herbal dry, relatively clean and light.
M&D: the body is slightly thin but the fizzy body is quite soft as opposed to the appearance. A medium-minus bodied, spicy strong ale this is--it could've benefited from a stronger flavour, but the texture is well-crafted to taste much lighter than 7.0%abv. Worth a try, and I dare say one'd find it quite hard to categorise this ale in any established beer style.
1,586 characters
Dremmwel Dorée from Brasserie Artisanale Du Trégor
3.12
out of
5
based on
6
ratings.