Triad Homebrew Supply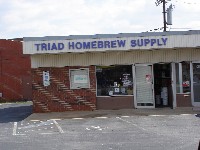 PLACE INFO
Type:
Homebrew
105 Guilford College Rd
Ste B
Greensboro
,
North Carolina
, 27409-2137
United States
(336) 549-9684 |
map
triadhomebrew.com
Notes:
No notes at this time.
Added by BeerAdvocate
Ratings: 13 | Reviews: 12
Reviews by ncbeermonger:
4.05
/5
rDev
-0.7%
I am so glad this place is here! other wise I would be driving down 85 to get stuff in Charlotte, or ordering it all off the web!
The quality of the things I have bought here has been outstanding! nothing has broken, and everything has worked as advertised!
The service here is great...when the owner is in (that has been all but one time, Ive been here well over double digits in visits) The owner is knowledgeable enough, and has at least the beginning of an answer to my questions. There once was a girl working and she tried to sell a guy a fermentation kit with out the top to the fermentor! YIKES
Lots of hops in the refrigerator, and lots of supply needs around the super tiny shop
The selection leaves a lot to be desired, but then with a place so small, and the lack of other patrons when i am there it sounds like good business sense in this case to keep the selection small. One kind of everything, sometimes two sounds about right for this area.
The value I have gotten here is very reasonable!
BEERMONGER LIKE
1,028 characters
More User Reviews:
4
/5
rDev
-2%
Since I've been homebrewing, I have purchased pretty much all of my supplies at Triad Homebrew Supply. In my first year of college, I actually interviewed Ken for a paper I was doing on homebrewing, he is an extremely knowledgeable dude and is always willing to assist in any way he can. The other employees of this shop are very helpful, but they are lacking when it comes to homebrewing/winemaking etc. Usually, if I have a specific hop I am needing to purchase, I will come prepared with a list of the appropriate subsitute because you never know who will be working there. As for recipes, if Ken is in the shop, he will offer ideas/assistance and point you in the right direction. They carry only pellet hops, and their wine yeast selection is very slim. If you are extract brewing, the DME and liquid malt extract selection is usually slim pickings, though they do carry a wide selection of kits to choose from. They will mill your grains for you if need be, and are usually fully stocked with white labs liquid yeast. Overall, Triad Homebrew Supply is a convenient stop for the homebrewing community in the Greensboro area. The prices are about average, sure you could purchase online to save a couple bucks, but I personally would rather support the local business.
One more thing, I've had the employees keep the shop open after hours in the past when I called ahead to let them know that I was in route and running late in need of supplies, they are willing to accommodate if necessary, which is pretty rad.
1,518 characters
4.05
/5
rDev
-0.7%
This is probably the most comprehensive store in the Piedmont Triad. City Beverage in Winston is better organized and has more pieces parts but Triad Homebrew stocks more grains and extracts. Prices are reasonable but if you can afford to buy bulk you are must better off shopping online. This is definitely a good place to go if you are looking for some specialty grains or extracts to get a brew started. They stock more kits than anyone else in the area. No kettles and no burners or specialty mashing tuns. Hop selection seemed seasonal and the prices are better than other stores in the area. All I saw was pellet hops. Yeast selection was very diverse and properly stored, I would definitely buy yeast here. The adjunct and chemical selection was good although there was no treacle available.
798 characters
3.2
/5
rDev
-21.6%
I have lived in Greensboro for 4 years and used this place both for soda making and beer brewing.
Selection: A wide variety of hops and liquid yeast stay in the freezer and fridge, where they should. Beer hardware is lacking. Last time I went in there they didn't have 2 common items that I was looking for. They stock a variety of malt extracts and specialty malts, but these are left on shelves and who knows how old it all is. They don't stock burners or kettles. Not everything has a price tag on it, which is inconvenient.
Pricing: The hops are so expensive that it is more cost-effective to buy a pound online from somewhere else and get it shipped. Usually $3-4 per ounce. Yeast is $8.25 a vial last time I was there. Extract is pretty expensive as well. The only way I can justify spending money here is on bulk malted barley and maybe their specialty malts.
Service: The owner possesses a good amount of knowledge. He is pretty approachable, and is a humble guy. The problem is that his employees are not fully trained in the craft and can't always help you. They are nice, but if I was looking for work I'd be pounding at the owner's door explaining why I (a brewer with 1 year of experience) could better run his shop than the employees there.
Hours: Pretty good, but being closed on Sunday and Monday sometimes gets me. I guess that's North Carolina for you!
All in all, I appreciate the existence of this store, but instead choose to order online due to a better selection and lower prices. I would love to support my local homebrew store but can't do that when some things are out of stock for weeks at a time. Triad Homebrew is more of an emergency go-to rather than a regular store that I shop at.
1,720 characters
4
/5
rDev
-2%
An easy stop in here for me as I am staying right down the road from here for the next few nights. I decided to stop in on my first day of epic beer journey. A rather small, rather hidden place, I would never have found it if not for the picture. Seemed fairly well stocked, though a bit cluttered and had really everything one might need. Reasonable pricing I thought given the area and the staff really was quite friendly. Not at all a bad stop, I mean better then the zero home brew places we have in greenville for sure.
524 characters
3.85
/5
rDev
-5.6%
I had been meaning to visit this place for some time now, so with a brew two days away I decided to stop by. I missed the principle owner who was walking out the door as I was walking in.
The organization is a little confusing at first, but once you get the layout, it becomes easy to find everything. Everything seemed fresh and well kept.
The service was friendly and as helpful as could be. I was primarily looking for peated malt, which they didn't have. They did have smoked malt, but it wasn't quite the same. They did have everything else I was looking for though.
My biggest issue was that the majority of the items did not have prices on them or near them. So I didn't really know how much everything was. Which caused me to be more than a little shocked by the fact that my total was just under $35 for 1lbs of Black patent, 1/2 of Roasted Barley, 4 oz of Kent Golding, 1 vial of White Labs Edinbourgh Ale Yeast, a small bag of Whirlfloc tablets, and a 4oz bag of Lightly Toasted Oak. There was also not an itemized receipt, so I still couldn't tell how much everything was.
Nice selection of yeasts and hops kept in the fridge. Again, good selection, no prices.
1,176 characters

4.15
/5
rDev
+1.7%
This is an awesome place. The workers there are very knowledgeable about homebrewing, both beer and wine. Their selection of equipment and ingredients is very nice and whatever they don't have they will order for you. There is also a class for beginners about once a month, which is very nice to people like myself who are just starting to get into homebrewing. The only downfall about Triad Homebrew Supply is that it is in a very awkward location. The store is rather small and cramped for all of the supplies. If you try going there around 5 you will probably be waiting a while because it is on a very busy street and right next to the light. Other than this, the store is awesome. Love the brew!
700 characters
3.95
/5
rDev
-3.2%
My LHBS. The recipe kits are as to be expected, the grain is great quality. I've bought pounds of hops here but did have one cheesy smelling bag of German hops show up. Lots of equipment and adjuncts available to play with.
Ken's an old-time brewer and has helped me since I found his store. He's told me what to buy to make brewing easier and to get the beer I want and sold me my first all-grain batch based on his recipe which turned out great. He's also told me not to buy things that he sells because he knew I didn't need them in my particular situation. That's pretty great because because I know if he recommends something; it's probably a good idea.
Good selection for such a small store and he will also order anything for you and match any homebrew catalog price if it comes to that. He also gives a discount to members of the local homebrew club which pays off if you buy in bulk.
894 characters
4.15
/5
rDev
+1.7%
Noticed this place by accident. It was near my work and I decided to have a look. I walked in and was greeted by a very nice man who introduced himself as Ken. I told him that I was interested in trying out home brewing so he made some recomendations. Ken was very helpful and knowledgable about the craft and was able to answer all my introductory questions; ones that I am sure he has heard a million times, but was still eager to answer . After purchasing supplies he informed me about the local home brewers club and invited me to attend.
All in all a great first time home brewing expereince and I hope for it to be one of many.
In a town the size of Greensboro, where there are some local breweries, its nice to have a specialty store that can cater to this subculture.
779 characters
4.15
/5
rDev
+1.7%
Went here for the first time today. The owner had two kegs of homebrew out for tasting and was brewing a batch out in front of the store! We are definitely off to a good start. Got some extract, and three different types of grain and they milled it for me. Got some yeast, moss and priming sugar. Man, malt extract and DME sure is pricey these days but oh well, they had a great selection. GREAT selection of grains, many types of wheat malt, dark, crystal, chocolate, dark, black patent. I got great service, free homebrew and an all-around good shopping experience.
567 characters
4.3
/5
rDev
+5.4%
Triad Homebrew Supply is a god send for those of us in Greensboro, NC that like to homebrew. It is really the first and only place to get homebrew supplies in the Greater Triad area.
Ken (the owner) has created a small, but very reasonable place to acquire homebrew supplies. He carries high quality equipment and ingredients. His brewing knowledge is tremendous, which translates into his great service and willingness to help in any way possible.
Ken aslo welcomes patrons to frequent brewing demonstrations at his store. Which is a great heklp for those that are just starting out or rekindling their lost love affair with brewing beer (or wine).
Overall, this is good place for homebrewers and I hope Ken succeeds and is able to expand in the future.
764 characters
4.65
/5
rDev
+14%
I really love this place. The owner Ken Pearce is very knowledgable about beer and beer making. I think he has a masters degree in Business and is earning his doctorate in Physics, or Chemistry. Anyway, he is smart and can talk technical circles around me if I am not careful.
They have a great selection of homebrew items. This is the only store I frequent for my homebrew needs. If something isnt there, Ken will order it for you.
I have been in there on several occasions and we ofter trade homebrews and share secrets and disasters of our zymology. The best place in the Triad for beermaking.
599 characters
Triad Homebrew Supply in Greensboro, NC
4.08
out of
5
based on
13
ratings.