Omaha Jack's Grillhouse & Brewery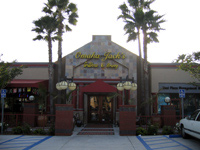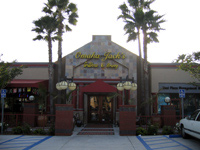 PLACE INFO
Type:
Brewery, Bar, Eatery
11837 Foothill Blvd
Rancho Cucamonga
,
California
, 91730
United States
(909) 477-4377
// CLOSED //
Notes:
No notes at this time.
Added by BeerAdvocate
HISTOGRAM
View: Beers | Place Reviews
Ratings: 9 | Reviews: 9
Reviews by MiScusi:

2.84
/5
rDev
-20.4%
vibe: 3 | quality: 2.5 | service: 4 | selection: 2
I was here for St. Patrick's day, the Atmosphere was ok, and I can imagine just from knowing places like this in the area that on a regular basis the atmosphere is probably nothing special.
I tried the Pale Ale which was not one of the best I've had (nowhere close) and then later in the night they started serving beers in plastic cups. I'm not sure if that was just because of a larger than usual crowd or if that is normal. The beer definitely isn't too good. The hefe was "eh" as well, and the only other things I saw people drinking were Guinness and Bud Light. They have a very well stocked bar full of liquor though, I honestly don't think they are into being a beer place that much.
The service was very good, even with a pretty packed bar area, although our particular waitress could have looked a little more interested in what she was doing, others seemed fine and looked to be enjoying the night.
We did order a couple Jager shots which came to us as 1/2 oz pours in a tiny plastic shot glass, for $6 !!! This was definitely the smallest shot I've ever seen poured, so we sent it back and our waitress bought us about 1 1/2 oz shots in a regular glass shot glass.
I'm not exactly sure how the prices were at this place as I never saw the bill but based on the Jager price alone I'm giving them a bit pricey for the amount they give you.
1,361 characters
More User Reviews:
3.49
/5
rDev
-2.2%
vibe: 3.25 | quality: 3.75 | service: 3 | selection: 3.75 | food: 3.5
Now known as Cucamonga Brewing Co. (a name which I prefer over the previous monikor), this brewpub is visible from streetview. Parking is easy to find around the shopping center that it's in. Walk inside...there are a few wmpty barrels to the left as you enter, and there si lots of room around the restaurant. High ceilings, large booths, an "L" shaped bar, an Old West theme to the place, several TV's in the bar, and additional seating off to the side.
Sixteen different taps pouring beer and cider, with six of those pouring house brewed beer while the rest are flowing with guest taps. Cucamonga Brewing features a blonde ale, an IPA, pale ale, wheat ale, brown ale, and Imperial Red. I tried the pale ale and imperial red, the former a solid middle of the road ale, the imperial red being a tasty and fruity treat. If you're shy to try the house beers, there are guest taps from Stone, Bear Republic, Avery, Port, Oskar Blues, and Green Flash. I only saw shaker pints of small mugs being used (more about the latter later). House pints run for $5.
The thought of beer made me hungry. There are sandwiches, BBQ'd meats, and steaks listed on the menu. If you arrive for lunch on a weekday, you will come across several great deals that you can't pass up. For example, at just $5.99 you can get a 1/4 lb cheeseburger and fries plus a "small pour" of house beer, coming from what looks like a 10 ounce mug. It was a basic cheeseburger with acceptable fresh beef and solid fries, and at that price with the beer is an excellent buy. It did however, take some time to get my order, even though there were fewer than 10 clients in at my time.
In this part of the Inland Empire, a brewpub is unheard of, so this is good to see. It's an acceptable choice to drink and eat, regardless of where it's located.
1,809 characters

3.88
/5
rDev
+8.7%
vibe: 3.5 | quality: 3.5 | service: 4.5 | selection: 4 | food: 3.5
I have been to Omaha Jack's more than a few times so I thought it was time I reviewed it.
The atmosphere is cool. They have a dining area which consumes about half the place and then the bar is in the middle with a good number of TV's to watch sports. They have NFL Sunday Ticket so that's a plus. They have an up stairs area that is kind of an extension of the bar.
Overall the beers are pretty good. I would say if I had to choose my favorite it would be the Six Shooter IPA and the Jacked Up Red was good as well. Some of their other offerings are just ok.
The service has always been real good there. Once time I was there and the beer was not too cold so the manager went and got the issue resolved in a timely matter.
They have a good selection of beers. They have around 7 or 8 house beers and then they have around 12 or more other beers on tap that they don't brew. I have seen stuff from Green Flash and Anderson Valley on tap there.
The food is pretty good overall and they have some interesting Burger selections like the Peanut Butter & Jelly Burger which oddly enough tasted good. The price of the food is pretty average and comparable to say a Red Robin.
Overall this is a nice Brewery/Restaurant. I think their beers have some room for improvement though and hopefully over time they will get better.
1,322 characters
3.88
/5
rDev
+8.7%
vibe: 3.5 | quality: 3.5 | service: 4.5 | selection: 4 | food: 3.5
UPDATE: visited on August 30, 2011, three and a half years after my first visit. The food was not quite as good as before (and they have changed the menu somewhat so that there were no lunch specials on this visit and some items have disappeared). Same physical space with a slight decor change. Service was the high point. Their beers were not especially good and the darkest available was a Newcastle-style brown ale. They have added more guest taps and have a small but reasonably interesting selection there.
Overall, I'd have to say they have slid down the hill a little.
___
Visited on 02/01/08, about 3:00pm. The menu is heavy on steaks and sandwiches, though there is an entire menu page dedicated to salads. The lunch menu is smaller and is for the most part different than the dinner. Lunch is mostly under $10.00. Dinner prices are reasonable, through the fliet mignon and lobster tail will set you back eighty bucks. The physical space is about two and a half stories high in the main room, with exposed ductwork hanging overhead painted black to match the ceiling. The overall decor is sort of faux American midwest: fake windows looking out onto barns and waves of grain, wagon wheels mounted on the walls and a big windmill in the middle of the area. The brewery is visible beyond a glass wall near the bar. The restaurant was almost empty when we got there, but the bar had a good dozen or so patrons. Monday afternoon. At 3:00pm. Anyway, the service was outstanding (the guy who seated us and served us struck me as the manager) and the food was better than expected: my friend had an open faced prime rib sandwich with very tasty seasoned fries and I had a Reuben sandwich with some of the best homemade potato chips ever. Their beers are a little better than average brewpub fare and they also have a few guest taps with things like Guinness and cider. I will definitely come back when I am nearby.
Atmos: 4
Qual: 4
Svc: 4.5
Select: 3.5
Food: 4.0
Val: $$
Overall : B+
1,989 characters
3.93
/5
rDev
+10.1%
vibe: 4 | quality: 4 | service: 3.5 | selection: 4 | food: 4.5
First time patrons. Tried their beer at the CA beer fest in Claremont and had wanted to go ever since. Finally decided to go because we looked for and found a $10 coupon online which was awesome. I had their imperial red and my lady had their brown. Both solid brewpub brews in the B+ range. Their seafood was excellent! Only knock on the whole night (and it was a pretty big let down) was the fact that they are out of growlers! WTF? Supposed to be a "Grillhouse & Brewery" but I couldn't buy a growler of brown to take home and review. That sucked, and kinda soured the whole experience after having just turned in a glowing comment card to them. Wish I could have taken that comment card back. Not having growlers defeated a major purpose of going there in the first place. Great food though at least.
804 characters
3.48
/5
rDev
-2.5%
vibe: 4 | quality: 3.5 | service: 4 | selection: 2.5 | food: 4
Another place right down the street from me, I go here instead of the Yardhouse when I'm looking to enjoy a meal with my beer. The restaurant is pretty large and it's easy to find a space where you don't have a television in your field of view - always a plus! - and while it's a bit dim, it's not so dark that you can hardly see the table as is the case in some restaurants that seem to equate "dark" with "mood". I like it. I couldn't really tell you about the decor because I've never noticed it, there's really not a whole heck of a lot to distract you from your table, your meal, and your company.
The seats are comfy, the meals are tasty and surprisingly well portioned (It drives me nuts when a restaurant puts enough food for you and your extended family on your plate), and their beers are solid, even if there aren't very many of them. To date I've tried their Red, Pale Ale, IPA, Winter Warmer, and Brown and while none of them stand out as exemplary, I didn't find anything objectionable about them, either. A C+/B- brewery.
I've never known service to be a problem. The plates, glasses and utensils have always been clean, the wait staff is attentive and fairly knowledgable, both about the menu and the beer, and they tend to be at least a reasonable facsimile of friendly. Food arrives in a decent amount of time and is hot.
As for selection, it's already been mentioned that there aren't many beers produced here, but they run the full spectrum from light to dark. The menu has sandwiches, salads, pastas and steaks. Soup of the day seems to usually be Potato Cheese.
The food is tasty, they know the difference between "Rare" and "Medium Rare", the portions are reasonable yet generous, and they don't waste your time by filling you up with bread. Prices run in the mid twenties for most meals consisting of a steak and a beer. Expect to add about $10 to that if you like lobster or filet mignon, $20 if you like both.
1,939 characters
3.24
/5
rDev
-9.2%
vibe: 4 | quality: 2.5 | service: 5 | selection: 2
Stopped here before going to the movies yesterday afternoon, just north of the Rancho Cucamonga Quakes stadium on Foothill Blvd. near Victoria Gardens, place was rather large inside and had an small outdoor patio section, walked in and sat down at the bar where I noticed brewing equipment in the background through some glass, immediately helped by the bartender, unfortunately the two beers I asked for were not available at that moment, the Apricot Wheat or Imperial Stout, they were just out of the wheat and the stout is only brewed in the winter, they had eight taps total with six of their beers, Guinness, and Fox Barrel Cider, I tried the Rancho Uptown Brown, pale ale, and the Six Shooter IPA, their other beers were a red, wheat, and a blonde which most people in there were drinking, the beer was okay and the India pale ale stuck out among the rest, the atmosphere was pretty good although i expected it to be more fancy since they advertise it as a steakhouse, the quality of beer was pretty weak and it is hard justifying a visit to this place with Yardhouse down the street which has fifteen times the selection, did not eat because we ate Pei Wei right before coming, employees were nice though, glad I checked it out but probably will not go back, only worth checking out if you live in this immediate area
1,324 characters

3.73
/5
rDev
+4.5%
vibe: 4 | quality: 3.5 | service: 4 | selection: 3.5 | food: 4
Omaha Jack's is located in Rancho Cucamonga on Foothill Blvd, not too far off the Ontario Freeway. They have a good-sized private lot.
The interior is open and spacious, with the restaurant area divided from the bar area by a wavy wall. The restaurant side looks kind of like a Cracker Barrel but with Venetian plaster. You can see a warehouse creeping in around the edges though. The bar side has a lot of TVs and is split level, with the brewing equipment in full view behind the bar.
The brewpub has 8 beers, 7 of which are available in a sampler. A couple of them are seasonals and they run from Blonde, Pale, IPA, Porter etc. They had a Barley Wine on the board but were out, and also an Imperial Stout that was NOT on the board. The beers are fairly average overall.
Service was good both in the restaurant and in the bar. The server knew what beers she was serving, and the bartender and manager were knowledeable as well.
The food is pretty good. I ordered a patty melt and fries and found them both tasty.
Overall I would stop by here again in the future. The beers are really nothing to write home about but overall the place does a pretty good job.
1,164 characters
3.75
/5
rDev
+5%
vibe: 4 | quality: 4 | service: 4 | selection: 3 | food: 4
So after reading these reviews I was almost sure I wasn't going to like this place. But then I went and was pleasantly surprised. The place is right in the middle of the still expanding Rancho Cucamonga right next to another steak house. After walking through the double doors you will see a dining area on the left side and a bar area on the right side. Behind a large set of windows there are a couple of fermenters.
I wasn't there to try the food so I sat at the bar and tried the beer sampler. The beer wasn't bad but it wasn't overly impressive either. The sampler was 6 2 oz glasses. It included their: blonde, hefe, red, brown, ipa, and anniversary. I then looked at the menu and though I was looking at the appetizer menu. I was blown away by the $9 and $10 appetizers but then I looked closer and realized that some of them were entire meals, I was just looking at the bar menu. In any case me and my friends split a $7 plate of nachos on the advice of the girl I was sitting next to at the bar. It was a pretty big serving and was good.
The service was prompt and both the hostess and the bartender were real nice. They even put up with all my questions about how their brewery worked. The atmosphere was nice too. Quiet enough to here each other talk but not super quiet like an upscale restaurant. In the end I payed $20 after tip for the plate of nachos, the sampler, and a pint. I'd go back again if I was in the area.
1,437 characters
Omaha Jack's Grillhouse & Brewery in Rancho Cucamonga, CA
Brewery rating:
3.18
out of
5
with
55
ratings