Blackberry Wheat Beer
| Redoak Boutique Beer Cafe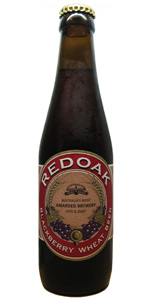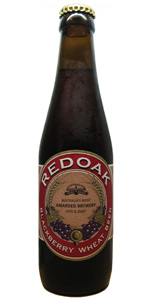 BEER INFO
Brewed by:
Redoak Boutique Beer Cafe
Australia
redoak.com.au
Style:
Hefeweizen
Alcohol by volume (ABV):
5.20%
Availability:
Rotating
Notes / Commercial Description:
No notes at this time.
Added by Todd on 03-01-2005
HISTOGRAM
Ratings: 9 | Reviews: 7
3.22
/5
rDev
-8%
look: 3 | smell: 3.5 | taste: 3 | feel: 3 | overall: 3.5
Beer review from BA Mag Aug 2007.
This "Hefeweizen" is matured on fresh blackberries that are handpicked on Redoak's family farm in Victoria's Yarra Valley Region.
There's plenty of sediment in the bottle, along with chunks of fruit, so we decanted slowly. Pours a rich amber, with copper and deep red hues in the center. Rushing carbonation created a massive, faintly red-tinged head with meringue-like fluff. Some musty metallic in the nose, along with a very subtle berry aroma. Tart up front, with a nice berry sting and suggestions of lime--an almost salty citric edge. No malt character or sweetness to speak of; it's all blackberry in the front and dry in the rear. Wheaty tannic edges emerge as the beer warms. Bone-dry finish.
There are better examples of fruit-infused wheat beers, but tart beer lovers will dig this--though no doubt they'll want more than a bottle this small has to offer.
903 characters
More User Reviews:
3.4
/5
rDev
-2.9%
look: 3.5 | smell: 3.5 | taste: 3.5 | feel: 3.5 | overall: 3
(Served in a short weizen glass)
A- This beer pours a hazy deep red with little bits of berry floating in the big head that forms during the pour. The white bubbly head soon fades away.
S- The dry tart berry aroma is pretty clean with a soft acidic finish.
T- There is a big tart blackberry flavor with a dry mead note and a vinous dry finish.
M- There is a light mouthfeel with a tight finish.
D- The tart berry flavor doesn't have any malt or wheat flavors to support them.
481 characters
3.16
/5
rDev
-9.7%
look: 4 | smell: 3 | taste: 3 | feel: 4 | overall: 3
Gusher.
Murky mauve pour with voluminous pink rocky head that leaves reasonable lacing.
First impression upon the nose is of white wine. Underneath is tart blackberries, bubblegum and plums.
Taste is mostly of tart white wine. Every few sips a faint malt note comes through that reminds you that you're actually drinking beer. Tangy blackberries, soap and white grapes also present.
Highly carbonated, but it works well.
More akin to a sparkling white wine than a wheat beer. Refreshing none the less.
501 characters

4
/5
rDev
+14.3%
look: 3.5 | smell: 3.5 | taste: 4.5 | feel: 3.5 | overall: 4
Appearance - Strawberry red colour; Medium clarity; No carbonation
Smell - Summer berries, white wine, citrus fruit , spicy pepper, sweet & floral
Taste - Summer berries, apple, pear, white wine, resin, tart, tangy/sour
Mouthfeel - Light body; Mild carbonation; No bitterness; Sour with dry finish
Drinkability - Drinkable, has the feel of a light cider; Sweet, good with dessert
Overall - Good beer, recommend it if you're after something sweet; Comparable to a cider in many respects
490 characters
3.41
/5
rDev
-2.6%
look: 4 | smell: 3 | taste: 3.5 | feel: 3.5 | overall: 3.5
330ml bottle received in trade with mulder1010. Thanks for the opportunity.
Poured into a Harpoon chalice, tons of foam, formed a 3" purply eggshell head over the cloudy reddish-tinged amber brew. Meringuey head falls at a moderate pace, with frothy soapy lacing. Aroma is pleasantly of blackberries, but exceedingly tart. Taste is again of blackberries, tart, but not as much as the nose would indicate, but more so than the style would hope. More like a slightly sweet lambic. Mouthfeel is prickly from the sour, but not overly so, and drinkability is okay. I reviewed this as presented, not against the hefe style. Still, wish it wasn't quite so tart.
655 characters

3.95
/5
rDev
+12.9%
look: 4 | smell: 4 | taste: 4 | feel: 3.5 | overall: 4
I have been wanting to review this beer ever since i first tasted it months ago,on pouring the beer pours a deep guava/purpilish colour with a massive head that quickly dissipates to leave a little lacing around the glass,on smelling this beer the blackberry i find is the standout smell with feint notes of wheat and on taste the blackberries just leap out at you with just the right amount of tartness you would expect from a blackberry wheat beer i have had many different fruit wheat beers and i must say this so far is definately my favourite,one beer i cant get enough of at the moment.
592 characters

3.15
/5
rDev
-10%
look: 3.5 | smell: 3.5 | taste: 3 | feel: 3 | overall: 3
A - Pours a dark golden colour with a huge head that slowly falls away to a centimetre or so.
S - The blackberry aroma is there but isn't too overpowering, a bit cidery.
T - Quite a sour taste initially, can taste the blackberry a bit more at the end
M - Medium carbonation with a crisp finish.
D - Drinkable but wouldn't rush to buy it again.
347 characters
Blackberry Wheat Beer from Redoak Boutique Beer Cafe
Beer rating:
3.5
out of
5
with
9
ratings