Christmas Cheer
| Redoak Boutique Beer Cafe
BA SCORE
82
good
18
Reviews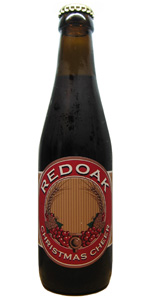 BEER INFO
Brewed by:
Redoak Boutique Beer Cafe
Australia
redoak.com.au
Style:
Winter Warmer
Alcohol by volume (ABV):
6.20%
Availability:
Winter
Notes / Commercial Description:
No notes at this time.
Added by sulldaddy on 12-09-2005
Reviews: 18 | Ratings: 22
3.54
/5
rDev
+0.6%
look: 3 | smell: 4 | taste: 3.5 | feel: 3 | overall: 3.5
This pours a dark brown. Not a lot of head despite a very vigorous pour. That doesn't seem to tally with other reviews though.
Love the aroma - cinnamon, dried fruit, maybe a bit of vanilla
A lot more ginger on the palate. A bit of alcoholic warmth.
A little thin in the mouth.
With a bit more body this could be a great beer rather than just a good one.
★
359 characters
3.38
/5
rDev
-4%
look: 4.5 | smell: 4 | taste: 3 | feel: 3.5 | overall: 3
Dark brown in colour, with a firm white head with good lacing.
Initially a very spicy nose - ginger, cardamom and citrus peel. This leads way to some more malt and dark fruit flavours.
Palate is of dark fruits like cherry and some more of the spice seen on the nose. Some sweeter light malt flavour. Not a very strongly flavoured drop.
A little thin on body but it does hide the 6.2% alc well. Has a strange spicy aftertaste that reduces the drinkability.
Not bad though not very complex or full bodied. Just missing a certain something.
★
543 characters
3.06
/5
rDev
-13.1%
look: 4 | smell: 3 | taste: 3 | feel: 3 | overall: 3
250mL brown bottle. Thanks to Todd for the sample.
A- Big off white foam that created a crest at the top of the glass, dark reddish brown color with good clarity.
S- Smells of fruit cake, not homemade but store brand fruit cake that no one eats except for the crazy great aunt.
T&M- Light bodied with a crisp and thin mouth feel. Thin biscuity malt flavor, hint of shortbread. Candied fruit and ginger in the back. Light on the hops. Dry carob flavor. Bone dry finish with nothing in the after taste.
D- I expected a bit more malt back bone on this one, not horrible but certainly missing the mark.
★
610 characters
3.62
/5
rDev
+2.8%
look: 3 | smell: 3.5 | taste: 3.5 | feel: 4 | overall: 4
a: dark brown color with little to no head materializing at any point during the pour - may be overdue
s: fruity & spicy aroma, cherries maybe (supposed to smell like christmas pudding)
t: fruits, caramel, sweet throughout with light alchohol tones at end
m: smooth, with decent carbonation (more than expected given appearance), medium body
d: gets more & more tasty as it warms up & i'd be happy to have another. another good product from redoak.
★
452 characters
3.97
/5
rDev
+12.8%
look: 4 | smell: 4.5 | taste: 4 | feel: 3.5 | overall: 3.5
A - Dark brown with a big cream coloured head.
S - Mmmmm, dark fruits, ginger spiceiness, everything I was expecting.
T - The fruits are certainly present here along with the ginger. Some smokey malt flavours in the background as well.
M - This is a bit of a let down, a bit thin and watery.
D - Very tasty beer. It's obviously not supposed to be a session beer. Would be very nice to sip by the fireplace on a cold winters night.
★
434 characters
3.62
/5
rDev
+2.8%
look: 4 | smell: 4.5 | taste: 3.5 | feel: 3 | overall: 3
Redoak Christmas Cheer
A = Poured a dark mahogany with a thin foam head that quickly dissapates.
S = Strong Ginger smell with a lingering plum like sweetness. Smells very inviting.
T = Initial ginger spiciness that gives way to a slight sweetness. There is a dry brandy like character that gives way to the strong initial ginger taste. Good but in some ways I feel that the ginger ruins this.
M = A bit watery for my liking. I wished it was a bit more fuller in body.
D = Drinkable. But not great. Had better christmas beer than this.
★
549 characters
3.95
/5
rDev
+12.2%
look: 4 | smell: 4 | taste: 4 | feel: 3.5 | overall: 4
Beautiful deep, mahogany, reddish brown. Beige froth, which thickens. No bubbles. Some residual yeast which clouds the glass on top-up....
Evocative spices, macerated fruits, candied ginger, cinnamon/clove, brandy/kirsch/maraschino... After some minutes in the glass, I get a smoked ham kind of smell. This is a nice note, I hasten to add.
Warming mouthfeel that is typical of the Redoak dark ales, hinting at the complex malts... some smoked perhaps ?
It's not as sweet as the nose makes out, although there is still a noticable spice & brandy aftertaste that lingers, with maybe some toast & musk in there.
Fairly dry finish, considering, with a very light bitterness.
I wouldn't necessarily partner this with the pudding.... I think the dry complexity would serve it better with some smoked cheddar.
★
808 characters
4.42
/5
rDev
+25.6%
look: 4 | smell: 4.5 | taste: 4.5 | feel: 4 | overall: 4.5
I am sampling a chilled bottle of this beer poured into a snifter.
The beer exhibits a dark brown color with some mahogany highlights when held to the light. There is a small beige head resting on the surface and remains throughout.
The aroma is dark fruit and cherries mixing with a bit of booze, some chocolate, toffee, and spices. I get some nutmeg for sure.
First sip reveals caramel and chocolate up front generally sweet. Then some red grape and cherries again with the spicy nutmeg showing up again as well.
The texture is very smooth and carbonation is mild. This is another very tasty beer from Red Oak. Even though it wont get very cold in Sydney this makes for a tasty treat.
★
692 characters
Christmas Cheer from Redoak Boutique Beer Cafe
3.52
out of
5
based on
22
ratings.