Honey Ale
| Redoak Boutique Beer Cafe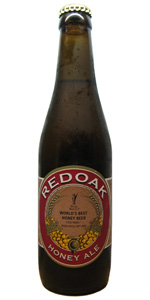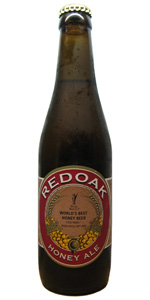 BEER INFO
Brewed by:
Redoak Boutique Beer Cafe
Australia
redoak.com.au
Style:
Herbed / Spiced Beer
Alcohol by volume (ABV):
4.90%
Availability:
Year-round
Notes / Commercial Description:
An English style bitter with a twist that has won many awards. Beautifully balanced beer from start to finish with loads of flavour. A rich amber colour, good balance of hops, citrusy hops and caramel on the nose with a pleasant 'crystal malt' flavour and very rich with bitterness coming through.
Added by vancurly on 08-07-2006
HISTOGRAM
Ratings: 15 | Reviews: 9

3.92
/5
rDev
+10.7%
look: 3.5 | smell: 4 | taste: 4 | feel: 3.5 | overall: 4
330ml bottle received in trade with mulder1010. Thanks for the opportunity.
Poured into a Harpoon chalice, formed a 3/4" eggshell head over the moderately cloudy dark gold brew. Head dwindles pretty quickly, with lots of legs and average lacing. Aroma is sweet and floral, as expected. Taste is sweet to start, tart in the middle, and closes with earthy floral notes. Mouthfeel is smooth yet prickly with carbonation, and drinkability is better than I would expect for a honey brew. Pretty good overall.
504 characters

3.3
/5
rDev
-6.8%
look: 3 | smell: 3 | taste: 3.5 | feel: 3 | overall: 3.5
Pours slightly hazy golden/amber (actually, it does look a bit like honey). Small head instantly fades to nothing...
Enticing aroma of woody honey and grainy malt. Not so pleasant is the corn/cooked vegies, reminds of cheap adjunct lagers.
Much more honey present on tasting, as well as sweet malt and a slight citrus tang, but again, cooked vegies come through.
Quite lively, but watery, on the palate.
Pretty good, as long as you don't pay too much attention to it.
467 characters
3
/5
rDev
-15.3%
look: 3 | smell: 3 | taste: 3 | feel: 3 | overall: 3
Beer review from BA Mag Sep 2007.
This is an Australian Pale Ale infused with Leatherwood Honey from the Franklin River in Tasmania.
Rich golden in color. Extremely active carbonation, which creates a bit of a gusher when poured, followed by a massive fluffy foam head. Distinct honey floral nose, musky perfume with interesting notes of musty lilac and lavender--presumably similar to Leatherwood? A bit gummy too. Fizzy, seltzer-like, light on the palate with a creamy base. Pale malt sweetness is moderate and backed by honey flavors that are well-balanced. Soft, delicate herbal and floral flavors run throughout with a tea-like quality. More gummy notes. No bitterness. Dry and powdery in the finish with some lingering florals.
Decent, but a bit lackluster. Redoak did a good job in keeping the honey and sweetness at the right levels, but that gummy character seems to be a bit too powerful for such a delicate offering--and the carbonation could use some dialing in.
977 characters


3.36
/5
rDev
-5.1%
look: 2.25 | smell: 2.5 | taste: 3.75 | feel: 4.25 | overall: 3.5
4
/5
rDev
+13%
look: 4 | smell: 4 | taste: 4 | feel: 4 | overall: 4
Poured into a tulip glass with a nice big frothy head. Darkish golden colour. Leaves a little lacing.
Nice sweetish spicy aroma. Hard to detect any major hop aroma which would go in line with the "delicate hop addition" statement on the label.
The sweetish spicy aroma flows on to the taste - very similar to a belgian golden ale. This is a nicely balanced and flavourful honey beer. Some are too bland & in some the honey is too cloying, this is just right.
This just flows over the tongue too well. Nicely carbonated without being too fizzy.
A nice refreshing ale for sure. I wouldn't have a problem spending an afternoon polishing these off.
This would probably be a good beer for your Corona drinking friends/associates who don't like the taste of "other beers".
771 characters
3.73
/5
rDev
+5.4%
look: 4.5 | smell: 4 | taste: 3.5 | feel: 3 | overall: 4
Not really my cup of tea, these honey beers... but the Redoak contribution is commendable, and far better than others going round.
Pours an attractive honey gold. Aromas of honey & malt, but also a subtle gluey note. Nice flavour, with some cloying finish which leaves the mouth feeling a bit sticky.
Probably would wash some Asian dishes down quite well.... chilli prawns or red chicken curry.
396 characters
3.91
/5
rDev
+10.5%
look: 2.5 | smell: 4 | taste: 4 | feel: 4 | overall: 4
Appearance - 2.5
Poured a thin layer of white head that quickly dissapated and disappeared. Pale straw in colour and slightly cloudy.
Smell - 4.0
A subtle but promising aroma of citrus and a musky honey sweetness along with a vague hoppiness.
Taste - 4.0
The flavour is just as light as the appearance would suggest. Very crisp and refreshing, flavours of honey, citrus and a little spice. Moderately sweet with a low level of hop bitterness in the finish.
Mouthfeel - 4.0
There is a moderate to high level of carbonation which feels sharp over the tongue. The overall feel is very light which means the beer goes down very easily.
Drinkability - 4.0
Perhaps a little too sweet for sessionability, but I could see myself polishing of two or three at a time. The 4.9%ABV helps too.
OVERALL - 3.7
Apart from the disappointing appearance, this is a very good beer. There is not a lot of honey character, and it is best drunk fridge cold as it becomes oversweet with warming. A very light and easy drinking ale that could be enjoyed by the masses while also pleasing the craft beer drinker.
1,091 characters
3.48
/5
rDev
-1.7%
look: 3.5 | smell: 3 | taste: 3.5 | feel: 4.5 | overall: 3.5
I tried this a s part of the Seafood Tasting Board. This was matched with "scallop and Sweet Potatoe Fritter with spied pickled Cucumber.
It was the best food/beer pairing that has ever gone down my gullet.
The Golden slightly hazy ale had a thickness and sharp sweetness that should be married to those damn pickled cucumbers.It is a style I dont get excited about and as a stand alone drink the redoak ale does nothing to change my view.
It was a smooth balanced drink with some honey flavours.
Just try it with the cucumber
530 characters

3.3
/5
rDev
-6.8%
look: 4 | smell: 4 | taste: 3 | feel: 3 | overall: 3
Honey Ale
A = Poured a dark golden colour with a thin foam head.
S = Smelt of sweet honey with a hint of wet rag.
T = This is were it let me down. There was a sweet malt flavour and a slight hint of honey. It was very watered down. Way too bland for my liking.
M = Moderately carbonated. Nothing special.
D = Not great. Not crap. Just bland.
356 characters
3
/5
rDev
-15.3%
look: 3 | smell: 3 | taste: 3 | feel: 3 | overall: 3
Clean light amber with impressive fizzy head. Sweetish notes on the nose early underpinned by some earthy honey notes. Honey is more apparent in the mouth but remains subtle. Probably appropriate. Finishes crisp and clean; just a tad 'safe' but otherwise well made.
269 characters

Honey Ale from Redoak Boutique Beer Cafe
Beer rating:
3.54
out of
5
with
15
ratings