Baden Baden Dark Ale Stout
| Cervejaria Baden Baden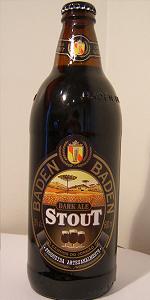 BEER INFO
Brewed by:
Cervejaria Baden Baden
Brazil
cervejariabadenbaden.com.br
Style:
Irish Dry Stout
Alcohol by volume (ABV):
7.50%
Availability:
Year-round
Notes / Commercial Description:
No notes at this time.
Added by soper2000 on 08-30-2004
Reviews: 11 | Ratings: 33
3.55
/5
rDev
-6.3%
look: 4.25 | smell: 3.5 | taste: 3.5 | feel: 3.5 | overall: 3.5
Deep black color with lots of thick caramel head with great retention and leaving a wall of laces.
Aroma of crude malt with predominant notes of milky chocolate.
Grainy flavor with notes of licorice, roasted malts, caramel and coffee and an initial spicy sensation. Piney hops, what a surprise, otherwise it would have been too sweet. Dry aftertaste with a peaceful finish.
Medium body, slightly oily with an appropriate carbonation. Alcohol of 7.5% ABV is well hidden.
This is one of the best Baden Baden, but still with the same grainy malt as used in others which I don't dig much. On the other hand, they got it right in its hopping. Decent beer.
652 characters

3.98
/5
rDev
+5%
look: 4 | smell: 3.5 | taste: 4.5 | feel: 4 | overall: 3.5
350ml served in a Weizen glass.
A: Pours a deep black color forming a big creamy beige head. Good retention and many lacings left
S: Roasted malts, coffee, dark chocolate. A bit too lactic dyacetil can be felt in the end, a bit annoying
T: Follows the nose. Mild sweet upfront. Roasted malts, coffee, vanilla and dark chocolate. Warming sensation. Intense bitterness
M: Creamy heavy body, medium carbonation. A bit molasses. Roasted malt aftertaste
O: Good drinkability. IMHO, it's closer to a Foreign Stout than to a Dry but anyways a great one. Baden Baden is definitely one of the best Brazilian breweries
613 characters
4
/5
rDev
+5.5%
look: 4 | smell: 4 | taste: 4 | feel: 4 | overall: 4
Ahh Brazil...I knew you had it in you. Set aside the Brahma and pick up some Baden Baden.
A - Dark dark brown body (looks black but holding it up to light reveals brown), almost no light penetrates. Slightly lighter brown head that sticks around
S - Roast hits very strong...Smells like mocca coffee
T - Roasty roasty roasty! This one appears all malt. Delicious!
M - Slight carbonation feeling, but overall completely smooth
O - Doesn't seem like a typical "Irish Dry Stout", but what I do know. I just know this is a blessing in an otherwise bland sea of Brahma and Bohemia Thank you, thank you, thank you Baden Baden for making my trip more pleasant!
4.0s all around. This is a 'good' beer.
699 characters

3.9
/5
rDev
+2.9%
look: 4 | smell: 4 | taste: 4 | feel: 4 | overall: 3.5
Thanks to John for sharing this one yesterday at the Bruery.
A: The pour is almost black in color with a small, finger's worth of tan head to go with it.
S: Interesting nose on this. There's a definite smokiness to it that I wasn't expecting, but it's not overpowering. Plenty of roast and strong coffee/espresso. Lightly sweet, maybe some molasses and burnt toffee.
T: Lots of roasted flavor to the beer, and the smoke is subtle but present throughout the sip. Dark chocolate and coffee provide more roast and some bitterness. Not too much sweetness, but there is a nice balance.
M: Medium in body with a somewhat soft carbonation.
O: I think this is my first Brazilian beer and it was pretty solid. Good roasty stout with a nice bit of smoke.
749 characters
3.95
/5
rDev
+4.2%
look: 4 | smell: 4 | taste: 4 | feel: 3.5 | overall: 4
Another Brazilian beer brought to the states by my collegue Ricardo. Muito obrigado pela opportunidade! One more Baden Baden beer to cross off my tried list. Shared with a select few, on to the beer:
The beer's color is jet black, which sits underneath a slighly tanned head. Good lace is kicked around the cup. The nose at first doesn't hesitate to show off smokey signals. Eventually, it settles more a milder sweet smokey aroma with an edge of coffee. That's fine, I've got no problem with that.
Taste is roasty, but in a good, mroe subtle way. It provides some soft coffee flavors, but the shot caller once again is that sweet and smokey flavor. And who said Brazilians can't hop their beers; I even detect some soft pine notes. The body is medium and "quick"; I would have expected something a little heavier from the listed 7.5% ABV. But that's a two-way street, the smaller body allows this beer to be consumed like a beer with 5.5% ABV.
No major dissapointments from the folks at Baden Baden, another quality beer here, and another missed opportunity for an importer to cash in on the Baden Baden brand.
1,115 characters
3.65
/5
rDev
-3.7%
look: 4 | smell: 4 | taste: 3.5 | feel: 3.5 | overall: 3.5
From a 60 cL bottle, thanks Jon,
A: Pours black with a soft tan head, light lace.
S: Campfire, raisins, with an interesting note of eucalyptus.
T: Roasted malt predominantly, with some mocha and brown sugar.
M: Medium-bodied, a bit chalky, frothy, light carbonation.
D: Another solid beer from Baden Baden. A brewery to be on the lookout for if you're in Brazil.
367 characters
3.58
/5
rDev
-5.5%
look: 4 | smell: 3.5 | taste: 3.5 | feel: 4 | overall: 3.5
Poured from bottle brought back from Brasil this Christmas. Poured a jet black with mocha color head that rose about three fingers deep. Smell is faint coffee and roasted malt scents. Taste is a little off, could be the bottle but the back of the label says it doesnt expire until next month. Pickup up bitter coffee, cardboard oxidation, and little dark fruit. Mouthfeel is great with a full body and a moderate carbonation level. If the cardboard flavor wasnt there of course this beer would rank better. Next December will try again and rereview.
549 characters
3.86
/5
rDev
+1.8%
look: 4.5 | smell: 3.5 | taste: 4 | feel: 3.5 | overall: 4
Another great beer from Baden Baden. Has a nice deep black color with a nice frothy head. Smells mainly of chocolate with hints of coffee.
Tastes same as it smells: Roasted malt with chocolate and a coffee aftertaste, that somwwhat fills your mouth.
Goes down pretty easy.
Mouthfull and taste is a little thin for me, especially when compared to other stouts and double stouts and I like more coffee inclined stouts, but thats just my taste, not meaning that this one is a bad stout.Far from it.
500 characters
3.97
/5
rDev
+4.7%
look: 3.5 | smell: 4 | taste: 4 | feel: 4 | overall: 4
Brought back by a friend who made a business trip to Brazil. Quite surprised when he handed me a stout as I pretty much figured they would mostly be brewing lagers and light ales down there. Poured a deep, dark brown into the glass with a tan frothy head. Strong aroma of roasted malts. The higher alcohol level is slightly detectable in the smell, probably because it wasn't very chilled when we drank it. Dry chocolate flavours with only a hint of coffee. Very smooth. Great mouthfeel. Would love more of this.
512 characters
3.85
/5
rDev
+1.6%
look: 3.5 | smell: 3.5 | taste: 4 | feel: 4 | overall: 4
A good beer made by Baden Baden, with the use of Roasted and chocolate malt, nice appearance and good drinkability. It´s not so dry as the irish style, i'd include it as a cream stout style, because of a hint of sweet, probably due to an interrupted fermentation before the max. attenuation is atteint.
Try also their "red ale", a very special beer.
351 characters
3.95
/5
rDev
+4.2%
look: 4 | smell: 4 | taste: 4 | feel: 4.5 | overall: 3.5
This has been the big surprise for me in terms of beer here in Brazil. Baden Baden is a new microbrewery in the state of São Paulo and their labels hint at the worldwide movement for better beers. A very pleasant pour yielded a pitch black body with a large frothing tan head. Aroma of roasted malt was plentiful. Taste was fantastic, very similar to Sam Adam's Cream Stout, but with a little stronger coffee flavor. Body was great, thick and creamy. I wish success upon Baden Baden, they brew a nice variety of beers (which i hope to sample while I'm here) and seem to care about their product.
596 characters
Baden Baden Dark Ale Stout from Cervejaria Baden Baden
3.79
out of
5
based on
33
ratings.