Baden Baden 1999 Bitter Ale
| Cervejaria Baden Baden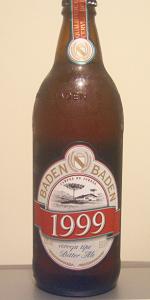 BEER INFO
Brewed by:
Cervejaria Baden Baden
Brazil
cervejariabadenbaden.com.br
Style:
Extra Special / Strong Bitter (ESB)
Alcohol by volume (ABV):
6.00%
Availability:
Year-round
Notes / Commercial Description:
No notes at this time.
Added by schiaveto on 05-04-2006
Reviews: 10 | Ratings: 19
3.25
/5
rDev
-16.5%
look: 3.5 | smell: 3.5 | taste: 3 | feel: 3 | overall: 3.5
Some resemblance to an English bitter, though sweetness appears much more than bitterness as one would expect. Cannot hide its alcohol, and it is only 6%.
Pleasant aroma. Persistent foam and nice appereance, golden cooper. Taste is a little astringent. Well carbonated.
Brazilian beer has evolved a lot in the last couple of years, nevertheless it is interesting to try previous beers that has helped or led to that higher standard.
★
432 characters
3.53
/5
rDev
-9.3%
look: 4 | smell: 3.5 | taste: 3.5 | feel: 3.5 | overall: 3.5
Appearance: bright deep orange colour. Off-white, moderately large head with good retention but not much lacing.
Aroma: sweet malts, light yeast and some biscuits.
Taste: sweet malts, biscuits, floral and earth hops.
Mouthfeel: smooth, average to high carbonation, average alcoholic presence and a medium body.
Finish: lingering bitter aftertaste.
Overall: interesting beer. Shows its bitter character after a while. Too sweet for an ESB. Anyway, worth a try.
★
460 characters

3.73
/5
rDev
-4.1%
look: 3.75 | smell: 3.75 | taste: 3.75 | feel: 3.5 | overall: 3.75
ESB of an opaque dark orange color and a somewhat consistent beige foam.
Smell is spicy and smooth at the same time, due to malty sweetness and hoppiness, quite interesting.
It's possible to feel pleasureable notes of all ingredients in the taste. Nice hoppiness, evident yeast and a malty character that provides sweet notes and a lot of grainy notes. I've could feel even som corn in the smell and taste, but in a pleasurable way.
Body is somewhat heavy, bitterness and ABV are hidden by the body and the sweet notes.
★
519 characters

3.9
/5
rDev
+0.3%
look: 4 | smell: 4 | taste: 4 | feel: 4 | overall: 3.5
600ml bottle served in a weizen.
A: Pours an amber clear color forming a medium yellow bubbled head. Medium retention and many lacings left
S: Sweet. Caramel. Caramel malts. Metallic. Some flowery hops. Notes of diacetyl (present in almost all Baden Baden beers)
T: Follows the nose. Caramel, caramel malts, flowery hops. Sweet upfront. Nice hoppy bitter end
M: Light to medium body. Medium carbonation. Nice hoppy bitter aftertaste
O: Nice ESB made in Brazil
★
465 characters
4.11
/5
rDev
+5.7%
look: 5 | smell: 4 | taste: 4 | feel: 4.5 | overall: 4
Super pretty. Rich, creamy head and just awesome, kickass lacing.
This was poured into a Baden Baden tulip back at my hotel room (thanks random servers at the downstairs bar!) after being procured from Asterix... which is an awesome, awesome place.
The alcohol is a bit much in this beer, but more in warming chest feel then in any substantive taste. Flavor is rich, nuanced, subtle, and smooth. Finishes a bit sweet on the tongue. Malty bread characters, a super smooth finish and feel.
If this were a degree or two lower drinkability would be off the charts... not that it's HIGH, but a beer like this should be flat sessionable, and this might turn your head upside down.
Alex, thanks for pushing this!
★
709 characters
4.13
/5
rDev
+6.2%
look: 4 | smell: 3.5 | taste: 4 | feel: 4.5 | overall: 5
This is a very good beer that pours to a thick creamy white head which is substantial and stable that produces decent Belgian Lace with each drink. The color is an attractive crisp and clear copper-red. Its aroma, though good, could be more pronounced, but as I understand this style, it is not as pertinent as other aspects. Its bitterness is not as pronounced as other ESB's I have tried, but I believe this is due more to the breweries acquiescence to the taste of Brazilian consumers more than it not wanting to adhere to style guidelines. Overall the taste is very good and well balanced; bitter but refreshing, malty and deep then fading to a hoppy bitterness. Its mouthfeel could be heavier for my taste, but this might once again be due to Brazilian tastes. The beer is very drinkable and upon finishing it I immediately wanted another. In my opinion it would accompany a wide variety of food very well. I think the high quality of the water from Campos do Jordao helps make this beer as good as it is. A good beer from a good brewery, a must try if available.
★
1,069 characters
4.24
/5
rDev
+9%
look: 5 | smell: 3.5 | taste: 4.5 | feel: 4 | overall: 4.5
600 ml bottle, from the recomendation of the head of Armazen Agua de Beber in Porto Alegre. On to the beer:
The amber/orange color in this beer is a pretty one, and the mass amounts of lacing it leaves around the glass. The everlasting rocky head it provides gives the beer a perfect appearance. A touch hoppier than traditional ESB´s at the start, it eventually fades away. An extremely well-balanced ESB. It has the fruity esters, a pinch of diacetyl, a little carmel, and a good malt base. It reminds me of my first encounter with Fuller´s ESB.
Wow. It´s hard to find a high quality ESB these days, but Baden Baden has one that´s well worth the look, and currently my favorite Baden Baden product. Unfortunately, as long as our importers ignore this Brazilian brewery, it will simply be another hidden treasure.
★
821 characters
4.25
/5
rDev
+9.3%
look: 4.5 | smell: 4.5 | taste: 4 | feel: 4 | overall: 4.5
This bitter ale is now brewed round-year (originally a special edition) by Baden Baden, a brewerie located at Campos do Jordão, SP.
Colour is copper to red, with a stable head.
Caramel malt notes, with a pleasant hop aroma.
Well balanced between malt, hop and fermentation flavors.
Another beer that worths the try.
★
320 characters
4.29
/5
rDev
+10.3%
look: 5 | smell: 3.5 | taste: 4.5 | feel: 4.5 | overall: 4.5
600 mL bottle,
A: Pours red with a creamy 2 finger head rocky head, great retention and sticky lace all through the glass.
S: Crystal malt, light fruity bitter esters.
T: Biscuity and caramel malt flavours, a tad sweeter than most ESBs, but I like it a lot. Rich, full flavour. Good minerality with a smooth earthy hop bitterness, English ale yeast character here as well, it's got it all.
M: Smooth, refreshing, light carbonation, easy on the palate.
D: Could be my new favourite bitter if I could find it again. A classic.
★
530 characters
4.31
/5
rDev
+10.8%
look: 3 | smell: 4.5 | taste: 4.5 | feel: 4.5 | overall: 4
A good beer amber color with smell of malt with a clear and well balanced with English hops, slightly bitter aftertaste, very balanced. Beer is a strong English character, nice and great drinkability. For me, the only flaw in that it should have more cream than necessary for the style. I consider the best Baden Baden.
★
319 characters
Baden Baden 1999 Bitter Ale from Cervejaria Baden Baden
3.89
out of
5
based on
19
ratings.