Eisenbahn Strong Golden Ale
| Cervejaria Sudbrack Ltda
BA SCORE
83
good
13
Reviews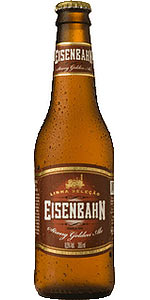 BEER INFO
Brewed by:
Cervejaria Sudbrack Ltda
Brazil
eisenbahn.com.br
Style:
Belgian Strong Pale Ale
Alcohol by volume (ABV):
8.50%
Availability:
Year-round
Notes / Commercial Description:
No notes at this time.
Added by decom on 09-21-2006
Reviews: 13 | Ratings: 40
2.33
/5
rDev
-34.9%
look: 3.5 | smell: 3 | taste: 2 | feel: 2 | overall: 2
This beer pours a pale copper hue with average carbonation that leaves a fast vanishing half finger head,it has a strong alcohol honey malt smell about it,on the palette malty alcohol is the dominant taste almost up there with a wee heavy just not well hidden at all and the mouthfeel is quite syrupy not that appealing really definately not a beer that i could drink more than one of in a session and prob struggle to finish this one so definately wont be buying it again and its a shame as i know this brewery can do better.
526 characters
2.53
/5
rDev
-29.3%
look: 3.5 | smell: 3 | taste: 2 | feel: 2 | overall: 3
Appearance: slightly hazy, deep orange-bronze colour. The head is off-white, low and foamy. Poor retention and almost no lacing.
Aroma: sweet malts, citrus fruits, yeast and spices.
Taste: lightly toasted flavour, spices, little bit of molasses and a butterscotch presence. Very light on the hop side.
Mouthfeel: smooth, very high carbonation and a medium body. Well-disguised alcoholic strength.
Finish: slightly sweet and lingering diacetyl aftertaste.
Overall: drinkable but not very enjoyable. Could use more balance and the butterscotch flavour is too strong. I had much betters Eisenbahns.
596 characters
2.72
/5
rDev
-24%
look: 2.5 | smell: 3 | taste: 3 | feel: 2.5 | overall: 2
An oddly sediment-suspended dark golden colour, with a very filmy head of slightly white foam. The head is only really a collar of large-bubbled foam around the edges. No lacing. I can't say it's a particularly inspiring brew all up.
Bread and slight banana characters on the nose. Bit of cellar mustiness and a wet cardboard oxidised character. All up, let's face it, it's not a great nose. Lots of slightly off characters, but all together it's not unpleasant.
Very light palate, with some sweetness and a bit of yeasty bread character on the back. A little acerbic with some medicinal bite mid-palate. The sweetness gets a bit cloying after a while, and it has a peppery bite on the back which makes this even more difficult. Mouthfeel a bit cloying.
I find it difficult to drink. I'm not a big fan all up. The sweetness is too much, and there's certainly not enough good characteristics to pull it through.
913 characters

3.17
/5
rDev
-11.5%
look: 3.75 | smell: 3 | taste: 3.25 | feel: 3.25 | overall: 3
pours a nice golden color with a bright whitefinger of head. nice looking for sure. aroma is fruity yeast and big bread notes. sweet and nutty with light grassy musk. taste is sweet and fruity. bready with some eathy motess. yeast and some light fusel alcohol notes. body is creamy, somewhat syrupy, with a full texture.
somewhat average, doesnt really stand out in a crowd,in no way bad though.
397 characters

3.27
/5
rDev
-8.7%
look: 3 | smell: 3.5 | taste: 3.5 | feel: 2.5 | overall: 3
Pours a murky orange colour, yellow spectrum at the top when held up to the light with slow carbonation. Produced a thin white head at first pour that dissipates, leaving a film of decent lace revealing a moderate body. Looks flat but holds its end up.
Nose is very sweet. A lot of banana ester and a slight hint of bubblegum on there, strong caramel notes underlying with a touch of butterscotch. Candied orange peel as well provides a slight tartness and a whisper of nutmeg provides the only bite. Not overly strong in its sweet which bodes quite well, and a decent complexity.
Taste is bold and sweet. A lot of caramel malt on the front blends with a strong fruitiness which then takes over for the finish. Lots of apricot, banana and grapefruit vie for attention with the final cheer going to banana. Some more bubblegum suggests itself throughout and a good dose of sherry brings together the slight alcohol warmth and the fruity sweetness.
Alcohol most prominent on the feel, with naked booziness giving a harsher texture than necessary. Body is full enough but not assertive enough to overcome the boozey brashness.
Not an unpleasant drop but at best a whimper of what it could have been. Has potentially great flavour but never fully lives up to it.
1,263 characters
3.65
/5
rDev
+2%
look: 3.5 | smell: 3.5 | taste: 3.5 | feel: 4 | overall: 4
Served at the Bierkeller in Porto Alegre, on to the beer:
This is golden and bright in color, but the head is lackluster in this case and falls flat on itself. The highlights to be found in this beer are notes of bubblegum, sugar, and pinneapple, both of which can be tastes and smelled. Carbonation is fairly strong, but less than a Duvel. It doesn't even feel like its listed alcohol, where is it?
A solid strong golden ale by Brazil's most famous craft brewery.
467 characters
3.8
/5
rDev
+6.1%
look: 3.5 | smell: 3.5 | taste: 4 | feel: 3.5 | overall: 4
Poured from a 33cl bottle into a tulip.
A - Cloudy golden amber colour. Minimal head.
S - Sweet malts. Bread and fruit at the same time.
T - Again as with the aroma - it's sweet malts most dominant here. Touch of mild fruit as well.
M - Smooth and creamy. Not much of an aftertaste but if there is it comes straight from sweet berries.
D - Simple belgian recipe executed with Brazilian flair!
399 characters

3.9
/5
rDev
+8.9%
look: 4 | smell: 4 | taste: 4 | feel: 4 | overall: 3.5
350ml bottle served in a Tulip glass.
A: Pours a hazy orange color with a small bubbled white head. Minimal retention and few lacings left
S: Traditional Belgian yeasts with notes of honey and dark fruity esters (mainly plums). Notes of citrus orange. Sweet and bready. Candy sugar and caramel malts. A bit of alcohol in the very end
T: As the nose, sweet candy sugar upfront. Fruity esters. Belgian yeasts. Light hop bitterness by the style
M: Full molasses body. Medium to low carbonation. Smooth. Sweet malty aftertaste
O: Good drinkability. Very Belgian beer made in Brazil :)
587 characters
3.93
/5
rDev
+9.8%
look: 2.75 | smell: 3.5 | taste: 4.25 | feel: 4.25 | overall: 4
Slightly hazy golden amber color with a thin head with short retention
Pleasant aroma of red fruits, bread malt and later then banana. Hints of Belgian yeast and pine.
Incredible flavor of matured strawberries with notes of nutty malt, pears, oranges, oxidized apples and brown sugar. Hints of Belgian yeast and herbal and earthy hops. Dry aftertaste with a fruity lingering taste.
Medium body but almost liquorish with appropriate carbonation. Alcohol of 8.5% abv is a master of disguise here.
I don't recall it to be so nice. It may be the first time I try this with just 5 months to expiration date; it looks like this is the magic number. Smooth like a Belgian Blond ale, flavorful without being overly sweet and with a muzzled powerful alcoholic punch. Recommended.
772 characters
4
/5
rDev
+11.7%
look: 4.5 | smell: 3.25 | taste: 4.25 | feel: 4 | overall: 4.25
A: Pours a Cloudy orange with a good head, but no much rentention, living a lace after sometime.
S:some malts and a little alcoholic smell, very faint.
T: A very tasty beer, with predominant malts in the flavour and low bitterness. A very thin sweetness can be feeled. the tasty is refreshing and resemble a lot the belgian strong ale style.
M: The aftertaste is very sweet with a little bitterness, the beer is very drinkable despite it's 8.5% ABV.
O: A good option of the belgian strong ale in Brazil, low price and good quality, I recommend this beer!
558 characters
4.14
/5
rDev
+15.6%
look: 3.75 | smell: 4 | taste: 4.25 | feel: 4.5 | overall: 4
355 ml bottle, exp. 12/2017, poured in a Duvel tulip. Amber and cloudy very, with low quantities of a beautiful white foam. Smell of sugar and some hidden spices, which show a bit more on mouth. Full body and nice to drink slowly, letting it warm so that its spiciness may match the high sweetness, showing then some fruitiness too.
332 characters
4.19
/5
rDev
+17%
look: 3 | smell: 4 | taste: 4.5 | feel: 4.5 | overall: 4
355 mL bottle, thanks Jon,
A: Pours burnt orange with a mild white head, average head retention, no lace.
S: Estery, pear and mandarin oranges, marmalade.
T: Tad boozy early on, but gives way to a spicy sweet orange flavour with apple and pear esters. Notes of pineapple abound, intermingling with the other flavours.
M: Medium-bodied, but heavy on the palate, crisp, a clean beer. Bit of a peppery sweet aftertaste, but mild.
D: Very solid and well made BSPA, better flavours than a lot of what comes out of Belgium. Good show.
533 characters
4.47
/5
rDev
+24.9%
look: 4.5 | smell: 5 | taste: 4.5 | feel: 4 | overall: 4
It smells as good as it looks, and it looks as good as it tastes.
It's a very fruity beer, I can sense very good hints of apple, and the alcohol content is very well hidden.
This is one of Sudbrack's best beers, IMHO, and I'd drink more of it, if it wasn't for the high alcohol content.
293 characters
Eisenbahn Strong Golden Ale from Cervejaria Sudbrack Ltda
3.58
out of
5
based on
40
ratings.