Eisenbahn S.A.P.A. (South American Pale Ale)
| Cervejaria Sudbrack Ltda
BA SCORE
78
okay
53
Reviews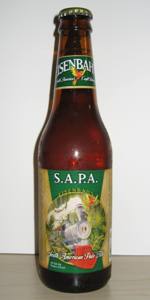 BEER INFO
Brewed by:
Cervejaria Sudbrack Ltda
Brazil
eisenbahn.com.br
Style:
Belgian Pale Ale
Alcohol by volume (ABV):
5.10%
Availability:
Year-round
Notes / Commercial Description:
Exported only to USA. Eisenbahn's South American Pale Ale is well-balanced, with sweet wholesome malt, and earthy complexity, and a uniquely spicy aroma that results from a special, and secret, blend of Old and New World hops.
Added by Todd on 11-24-2006
Reviews: 53 | Ratings: 63
4
/5
rDev
+19.4%
look: 4 | smell: 4 | taste: 4 | feel: 4 | overall: 4
Originally tasted at an Eisenbahn beer tasting, and this one made enough of an impression that I brought a few home.
Pours a high-clarity amber yellow, with slow ascending carbonation. Not much lacing, but an even finger of sudsy foam remains for the entire glass.
Smell is bubblegum, pale malt, fairly light and airy.
Tastes dry with a residual mild hop bitterness on the palate. Upfront it's malty, "wet" mouthfeel, with mild bubblegum/spice, but that element seems very toned down. Carbonation is sort of lively but doesn't overpower.
It's a session ale to be sure, pair it with grilled meats in the summertime...
633 characters
3.77
/5
rDev
+12.5%
look: 3 | smell: 3.5 | taste: 4 | feel: 3.5 | overall: 4
Interesting. This beer looks like a pretty typical Pale Ale (though maybe a bit more carbonated than usual), but it tastes more like a Belgian Wit to me. Has a crystal clear golden color with several never-ending streams of bubbles jetting to the top. There is a decent sized white head that falls to a film within a few minutes, surprisingly enough, after witnessing this carbonation. A very washy lacing attempts to stick, but barely manages to leave anything.
The smell is of pale malt, maybe wheat and other lighter specialty grains. A hint of different spices, namely coriander, fresh cracked pepper, and allspice. Just a small bit of floral and grapefruity hops accompanying.
The taste is good, but once again, it reminds me more of a witbier than anything else. It makes an alright pale, and I can see how they're trying to do something different to define their "South American Pale Ale," but it tastes so much like a run-of-the-mill, generic American attempt at yet another witbier, only managing to set itself apart by its crystal clear appearance. The flavors are on par with everything listed in the nose and a tiny caramel malt sweetness lingering in the finish along with a fading bubblegum and orange (coriander). Okay, I take back what I said earlier. It's better than a generic wit, but not by much.
The body is thin and the carbonation doesn't seem as tingly as I would expect given the sight of it.Very crisp, pleasant aftertaste, but it lingers like the dinner guest who forgot to leave. Definitely wouldn't be too hard to put a few of these down, but not worth the hefty price. It's great to see that the American craft brewing revolution is spreading its oats to other countries, of innovation and lending their own signature on the traditional styles. I will definitely try the rest of the beers from these guys, new to the Iowa.
1,862 characters

4.12
/5
rDev
+23%
look: 4 | smell: 4.5 | taste: 4 | feel: 4 | overall: 4
Cool, the first time I've gotten to see "Unreviewed - Be the First!"
Label depicts a locomotive barreling through the jungle, displacing parrots and palm fronds, while listing water, malt, and hops as ingredients. Batch number (38) is etched into the side of the label. Acquired at Beertopia in Omaha, along with a few other Eisenbahn brews.
Dark side of golden, some chill haze but high clarity overall. Bubbles scamper from top to bottom a majority of the drinking period. It's an attractive beer with quick to fall head but a cap of good thickness, which also sticks to the glass while in the act of drinking.
The aroma is similarly inviting; I've been reviewing a fair amount of English and American pale ales of late and this has as powerful a nose as any. Dried apple or pear yeast aroma is very potent, good amount of herbal and floral hops. Light malt is in the back.
Flavor is similarly bold and tasty. Very enjoyable, creamy mouthfeel, excellent yeast presence that doesn't fade or get cloying, hops are a lovely very light dab of pepper at the top of the floral flavor. Malt is not very pronounced, some sweet light grain in the mouthfeel. Not great balance but full of flavor, especially the light fruit acidity that brings apple and ripe pear, a little grapefruit even. Slight phenolic character develops as it cools, not a big problem as the sweet malt also gets fuller.
Great call for a day at the beach or a wide range of cuisine. The taste is not all upfront as in many light beers, reducing the development of off flavors as it warms. Good complexity and good ingredients leads to a very drinkable brew.
Could I be far off with 6% abv? It would be interesting to note; it reminds me of pale Belgians ales that sometimes sneak up on you by being so flavorful. Another nice bit of knowledge would be the hop blend, commence debate.
1,869 characters
Eisenbahn S.A.P.A. (South American Pale Ale) from Cervejaria Sudbrack Ltda
3.35
out of
5
based on
63
ratings.