Melbourn Bros. Apricot
| Melbourn Bros.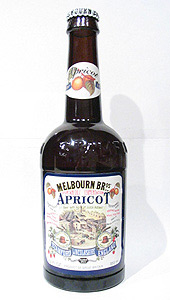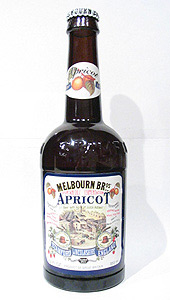 BEER INFO
Brewed by:
Melbourn Bros.
England
,
United Kingdom
Style:
Fruit / Vegetable Beer
Alcohol by volume (ABV):
3.40%
Availability:
Year-round
Notes / Commercial Description:
No notes at this time.
Added by BeerAdvocate on 09-20-2001
HISTOGRAM
Ratings: 88 | Reviews: 79
3.5
/5
rDev
-6.9%
look: 4 | smell: 4 | taste: 3 | feel: 4 | overall: 3.5
bottle into hen glass
the colour is a fine clear, apple juice golden colour, with a touch more brown than gold. the head forms and then dies quickly. the apricot smell is dominant and it smells like a syrup, not very real and fresh. this tastes like a slightly bitter sparkling juice. it is quite quenching, but the fruit is obviously either a puree of some kind or a syrup. it really doesnt taste like a beer, quite juice like. body and feel are fine, feel is a bit slick and could use more carbonation if they are going for a juice feeling.
543 characters

2.83
/5
rDev
-24.7%
look: 4 | smell: 3.5 | taste: 2.5 | feel: 3.5 | overall: 2
Poured a gold apple juice color with a lively fine carbonation and a white head that left some lace in my belgian tulip glass.
The aroma is a bit of a fruity apricot smell and some funky brett character to it as well with a touch of an iron like mineralyness.
The taste is fruity and sweet in the beginning which quickly segues into a more acidic and slightly funky flavor that then finishes with a dry acidity on the tongue.
It reminds me of drinking wine coolers that i would get from my mom when i was in junior high. Really fruity with a good balance of acidity and a little funk to keep things interesting, but where is the beer? I taste no hops, barley or any kind of fruity english ale esters. This is a far cry from a good fruit beer though it isn't bad to drink if you want a $4.50 bottle of apricot beer cooler. The mouthfeel is very watery and there is nothing that i can say to really boost this up as I love beer and it is thin.
Drinkabilty is low for me as I would never buy this again, though it is good for an interesting review.
1,063 characters
4.69
/5
rDev
+24.7%
look: 4 | smell: 5 | taste: 5 | feel: 4.5 | overall: 4
Poured out a nice honeyed golden with just a bit of thick, creamy white head that stayed as a nice thick layer with a few large bubbles. For $5.50 for this 12ozer that I had never had before I really don't know what I have in store for me, but hey, I am always up for an adventure, and that was what my freakin shopping cart at Stateline was all about!
Wow, wonderfully scented... thick, fresh bread dough... slightly sour... malty.... and then a bit of of apricot punching through....
Almost champagnelike in the mouthfeel, but maybe one step down from being too fizzy... Almost creamy, almost thickish. Very vineous in the taste though, more chardonnay, white grapes. Maltyness is fairly pronounced but also very nice. Man, this is very good. When I want to have a fruit beer, a lambic, this is what it should be tasting like. This is bordering on a sour, makes me think of Monk's flemish sour a bit- and that is a complement! But the sourness is not too overpowering at all, just wonderful.... the apricot flavors are perfect. This is something that is just done so well, I mean, it is not one where you search for the flavor, or where it is too overbearing. It leaves just enough flavor in your mouth, but not too much. I could easily sit back with a few of these and sip away!
1,284 characters
3.47
/5
rDev
-7.7%
look: 3.5 | smell: 4 | taste: 3.5 | feel: 3 | overall: 3
Sweet stuff, and you read into that as you will. For me and my sweet tooth, even this was a little too much. Tasty enough, but a bit too much like candy.
A - Remarkably clear golden body with a bright white head that dissolves into a thin foam quickly.
S - Apricots.
T - Strong apricot flavor overrides nearly all beeriness. With the low ABV, you could mistake this for apricot juice. It's very sweet, more crisp than syrupy though which helps make it more drinkable.
M - The sweet zone of the tongue is paralyzed.
D - Average drinkability due to the very high sweetness level, otherwise it's quite tasty.
612 characters
4.1
/5
rDev
+9%
look: 4 | smell: 4 | taste: 4.5 | feel: 4 | overall: 3.5
Appearance: Poured into a flute glass since I don't get too many chances to utilize that type of glassware. Surprising amount of head appears for this type of glass, but dissipates rather quickly. The color is a pale orangish/salmon color akin to apricot flesh.
Smell: Apricot juice dominates. Smells like this sucker is going to be sour.
Taste: Loads of sweet apricot juice. You can tell that it's real juice and not simply a flavoring, but it is also apparent that the juice was added after fermentation. Not as sour as I was expecting, but still tart. Just a hint of lambic-type funk. One dimensional, but I love apricots, so I don't mind at all!
Mouthfeel: Champagne-like carbonation, but wetter and smoother than champagne.
Drinkability: The alcohol level is ridiculously low, which always helps with drinkability. However, by the end of the bottle I found myself wishing I had shared this with someone. Any more than those 12 ounces would have become cloying.
Notes: This beer did not end up being what I was expecting, but it was a pleasant fruit beer nonetheless. Being from the same country as Samuel Smith (England) and imported by the same company (Merchant Du Vin), I thought it would be more along the lines of Samuel Smith's excellent fruit beers. However, it really is more like a less sweet and more tart version of Lindeman's peche lambic.
1,363 characters
2.98
/5
rDev
-20.7%
look: 3.5 | smell: 3 | taste: 3 | feel: 2.5 | overall: 3
This beer pours an extremely clear golden color with a moderately active carbonation level. Head settles to a fine lace after a while.
Smell is of apricots of course with a slightly buttery undertone.
Taste is quite tart and sweet. Very mild mannered except for the twangy tartness. Initially carbonation rolls around the palate giving this brew some sense of dimensionality, but this brew finishes completely flat and somber. The actual beer constituent of this brew barely makes itself known. All in all not too bad, but given the price of admission I'll go elsewhere for an actual lambic. Worth a try if it's on sale, otherwise passable.
646 characters
3.12
/5
rDev
-17%
look: 3 | smell: 3.5 | taste: 3 | feel: 3 | overall: 3
12 oz bottle. Poured a pale yellow/gold, with a wine cooler like head that quickly fades. Aroma is apricot as is the taste. With some sugary sweetness thrown in to cut the tartness. Not a bad beer, but more like drinking a wine cooler. Not something that I will go out of my way and try again.
293 characters

3.3
/5
rDev
-12.2%
look: 3 | smell: 3 | taste: 3.5 | feel: 3 | overall: 3.5
I had this at the Winking Lizard Tavern in Fairlawn, Ohio.
This is a very good desert beer. but it is just too one noted to be considered anything special.
Apricot and apples dominate the nose and the palate. A friend of mine tried to drink this with chicken wings and couldn't finish it. Be careful what you pair it with.
329 characters
4.24
/5
rDev
+12.8%
look: 4 | smell: 5 | taste: 4 | feel: 4 | overall: 4
I enjoyed the fruitiness of this beer. The malt was in the background but stood up to the apricots to balance the flavors.
122 characters

4.7
/5
rDev
+25%
look: 4.5 | smell: 4.5 | taste: 5 | feel: 4.5 | overall: 4.5
Part of me is sad to fawn over such a sweet brew. But I must say, I'm a sucker for the cloyingly sweet Melbourn Bros. beers. Dead on apricot flavors, never over the top, but right to the edge. Pricey at $5 a bottle but I have to admit they are worth it. Have a friend who loves cider but dismisses beer, give them this beer.
328 characters
4.72
/5
rDev
+25.5%
look: 4.5 | smell: 5 | taste: 4.5 | feel: 4.5 | overall: 5
The first experience of this beer was the overwelming smell of apricot when pouring the beer. The color of the foam was light wheat with a small hint of orange. During the pouring into my mouth, there was a distinct and potent smell of dried apricots - beauty! There was more taste of apricots than hops. It felt like I was drinking pure apricots. Mouthfeel - light, smooth and excellent.
388 characters
4.47
/5
rDev
+18.9%
look: 4 | smell: 4.5 | taste: 4.5 | feel: 4.5 | overall: 4.5
After pouring Melbourn Bros. Apricot I immediately started out to determine if this was beer with apricot or apricot beer. Even after finishing off the bottle I'm not sure, but it was so good that I no longer care.
The beer's golden color, great smell, and great taste were all a welcome surprise (after having a few so-so fruity beers of late). The amount of apricot was the perfect balance between a hint of apricot and a lot of apricot.
This is now my favorite fruity beer just slightly behind Lindemans Framboise.
523 characters
Melbourn Bros. Apricot from Melbourn Bros.
Beer rating:
3.76
out of
5
with
88
ratings