Angel City Pilz

Angel City Brewery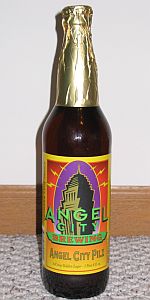 Write a Review
Beer Geek Stats:
Style:

ABV:

not listed

Score:

Avg:

3.31

| pDev:

14.5%

Reviews:

7

Ratings:

From:

Avail:

Retired (no longer brewed)

Wants

Gots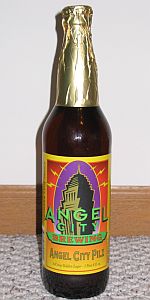 Notes:
Reviews by TheLongBeachBum:
TheLongBeachBum from California
2.96
/5
rDev
-10.6%
look: 4 | smell: 3 | taste: 3 | feel: 3 | overall: 2.5
Presentation: 22 ounce Bomber with a standard brass colored crown cap and a colorful 1930's art-deco style label with the words Angel City Brewing. Gold lettering has the beer listed as "Angel City Pilz – is a crisp golden lager, decoction brewed like the great Czech and German Pilsners and late hopped with Czech Saaz". No freshness date or strength listed.
Appearance: Exceptionally clear golden orange body with a nice looking off-white head that rises to a nice 2" deep and creamy covering that leaves a slick lacing. Conditioning seems a little above average and enough to impart a milky hue when gently swirled and reinstate the head to a deeper thickness. Solid appearance.
Nose: Softy grain with light wheat and a fine fruity odor that seems to remind me of orange. Didn't get much of the Saaz hops from this one, but it does seem to have some pink grapefruit in there for good measure.
Taste: The start has sweet malt with a fruit entrance. Gentle sprinkling of herbs in the middle with a finish that is grainy with some biscuit. Mild bitterness, but lacks that super fresh crispness that I typically expect, this is rather fruity for a Pils.
Mouthfeel: Soft on the palate with a crisp freshness and a medium body.
Drinkability: Doesn't put up much of a fight, reasonably clean drinking with an unobtrusive profile. Looks and feels good but the flavor somehow lets this one down a little for a long term partner.
Overall: Cost $2.99 during a recent raid at Hi-Times in Costa Mesa. Has more sweet malt and grain than most, and the hops seem to impart a fruit character rather than the customary clean bitterness to be expected. A difficult style to crack and in a nutshell I think that Angel City hasn't done that here. A little weird for a Pils, the flavor profile needs tidying up a little for my money.
May 14, 2006
More User Reviews:
BeerAdvocate from Massachusetts
3.5
/5
rDev
+5.7%
look: 3.5 | smell: 3.5 | taste: 3.5 | feel: 3.5 | overall: 3.5
Beer review from BA Mag Sep 2007.
To keep it authentic, this Pilsner employs a decoction mash, where part of the mash is boiled and mixed back in to reach several target temperatures, resulting in a more complex malt character.
A good amount of foaming action collapses to a thin but quite sticky white lace. The clarity is spot-on for a lager. There's a feathering of spicy hop and biscuity grain that goes faintly metallic, with a hint of cooked veggies aka DMS (dimethyl sulfide) in the aroma. The crispness up front is sufficient and carries the moderate slick-bodied brew. Hops are noticeable, but not dominant, with a mildly sharp bitterness, and a spicy and deep herbal flavor. The malt character goes from sweet to grassy real quick, a little bit of horse-feed and fresh cut grass in there. Clean more or less, with a slight kiss of cooked veggies, husky malt and mineral on the palate but none of them too prominent. Clean grain in the quick-drying finish.
This beer bets it all on drinkablity, and just from that it breaks even. While this is not the cleanest Pilsner we have ever tried, it is a bit edgy without being obviously flawed--yet another surprise lager from the West Coast. This went well with a plate of jalapeño poppers.
Jul 07, 2010
brentk56 from North Carolina
3.4
/5
rDev
+2.7%
look: 3.5 | smell: 3.5 | taste: 3 | feel: 3.5 | overall: 4
Appearance: Pours a clear pale golden color with a modest head that drops rather quickly and leaves a few dots of lace
Smell: Toasty, grainy aroma, not picking up any noble hops
Taste: Opens with a toasty, Munich malt flavor that betrays a hint of herbal Saaz hops by mid-palate; still the flavor profile remains quite sweet and the hop presence is minimal after the swallow
Mouthfeel: Light to medium body with moderate and slightly prickly carbonation
Drinkability: Easy to drink but more of a crossover from a macro lager than a pils
Apr 18, 2008
orbitalr0x from Illinois
2.39
/5
rDev
-27.8%
look: 4 | smell: 2.5 | taste: 2 | feel: 3.5 | overall: 2
22oz gold foil wrapped bomber. Style classification is a bit confusing as the bottle states "brewed like the great Czech and German pilseners." I chose Czech as it's hopped with Czech Saaz. Pours from the bomber a bright clear golden, slighty orange hue with a nice two finger head of creamy foam. Lots of active carbonation. Looks good in my glass. Aromas of light, sweet pale grains alongside an oddly prevelent slighty sour apple aroma. Some citrus fruit with a touch of herbal, spicy hop. Not exactly what I'm looking for in a pilsener aroma.
First sip brings some sweet, light grainy maltiness upfront that's bombarded by a bunch of fruity tones, including that green apple again. A bit sour and astringent, with only a trace of herbal hops on the way down. Unfortunately this is nowhere near a good pilsener and is dissapointing. No freshness dating doesn't help...maybe this didn't fare well on the trip to IL?? Either way...pretty much undrinkable.
Mouthfeel is smooth and light with lots of active carbonation...fairly crisp...too bad it can't make up for the flavor. Drinkability is slim. I don't think I can finish the bottle, nor do I really want to. I'm gonna keep my fingers crossed for the bottle of Dunkel I have in my fridge.
Mar 28, 2006
DogFood11 from California
3.41
/5
rDev
+3%
look: 4 | smell: 3 | taste: 3.5 | feel: 3.5 | overall: 3.5
Bomber poured into a tall skinny pils glass it forms a whispy white head that has decent staying power. Yellow body w/ high level of carbonation. Lacing is sliding with some ring lace as well.
Grain bill takes center stage in this offering from the award winning homebrewer. Hops are missing for the most part although they show up more in the mouthfeel than taste. This is a very soft pilz and has more similarities in my opinion to an american attempt at this than a true Czech pilz. Hay and wheat come into the picture and some grassy produce department type aroma and taste. Once again the word "soft" comes to mind as I pick up some light fruitiness.
Notes: Nothing offensive here as it finishes pretty clean. I enjoyed this offering and when all is said and done thats what really matters. A decent addition to this weekends Sunday Football routine but nothing I'll seek out.
Oct 22, 2006
cwok1980 from California
3.77
/5
rDev
+13.9%
look: 3.5 | smell: 4 | taste: 3.5 | feel: 4 | overall: 4
very good american pilz, moderate carbonation, good clean crsip taste. I had this on tap at a good bbq place, great local beer, gives angelenos a nice taste of civic pride. Nice hoppy aroma, will drink again. Don't know the alcohol by volume but I would guess its around 5.5%, got a nice little buzz going in the afternoon.
Oct 19, 2007

KevinBrewer from California
4.03
/5
rDev
+21.8%
look: 4.5 | smell: 4 | taste: 4 | feel: 4 | overall: 4
Got a bomber of this fresh from the brewery on the day it was brewed. mmm
Pours a brilliant, clear gold with a big frothy white head. Moderate retention and moderate lacing.
Has the aroma of sweet grainy malt accented by floral hops. There is a resinous hop aroma underneath.
Flavor is similar to the smell. Sweet clean malt with floral and resinous hop flavors. Moderate hop bitterness toward the end. Aftertaste of grainy malt.
Light mouthfeel, moderate carbonation, and a semi-dry finish.
Pretty straight-forward pilsner. Refreshing and easy to drink.
Mar 07, 2009

Angel City Pilz from Angel City Brewery
Beer rating:
3.31
out of
5
with
8
ratings