Belgian Night Train
| Angel City Brewery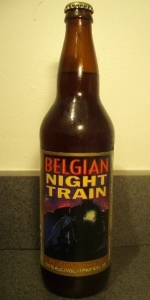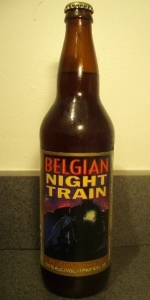 BEER INFO
Brewed by:
Angel City Brewery
California
,
United States
angelcitybrewery.com
Style:
Belgian IPA
Alcohol by volume (ABV):
8.00%
Availability:
Year-round
Notes / Commercial Description:
No notes at this time.
Added by Jason on 12-06-2008
This beer is retired; no longer brewed.
HISTOGRAM
Ratings: 6 | Reviews: 5
3.5
/5
rDev
+12.9%
look: 3.5 | smell: 3.5 | taste: 3.5 | feel: 3.5 | overall: 3.5
Review from BeerAdvocate magazine Vol. III Issue I:
Pours a hazy light brownish amber color. Snap, crackle & pop brings the head down to a small, tiny-bubbled tan lace where the modest carbonation can't keep up with the dissipation. Smells of salt water taffy--a little medicinal with some vague ripe fruit in back. Good smoothness has a firm hold on the slick medium body. Big bready malt character, slightly toasted with a hint of sweetness, but mainly a lot of fresh grain on the palate. Slight ripe fruitiness of plantains and pears, nutty yeast and mild herbal hoppiness are the complex yet subtle footprints this beer leaves on the taste buds. A sweeter finish here as the malt still holds on.
A not half bad Belgian rendition; with each sip, it grew on us. Sure, we'll take a trip on this train again. It might not be a smooth ride, but it was a fun ride all around.
875 characters
More User Reviews:
2.8
/5
rDev
-9.7%
look: 2.5 | smell: 2.5 | taste: 3 | feel: 2.5 | overall: 3
Pours a clear amber with a light off white head that quickly fades. Sweet candi sugar/shellac nose - not bad, simply smells a bit "sweet industrial." A bit of a nail polish nose character.
Mouthfeel is thin with very light carbonation and relatively simple.
Flavor profile follows nose. A bit simple with light sweet burnt toast and nail polish that goes to a very light malt/carmel finish.
Nothing really "bad" about this beer and it has some nice characters; just simple and nothing special either.
506 characters
2.94
/5
rDev
-5.2%
look: 4 | smell: 2.5 | taste: 3 | feel: 4 | overall: 2.5
On tap at Good in Silverlake.
First of all... this is a Belgian IPA, not a BSDA. (I'll edit this not when the entry is changed)
Pours an attractive rich golden orange hue with a finger of head and decent lacing with moderate/light retention into a nonic.
Aroma is musty, muddled Belgian typical fruit esters, primarily banana, with a bit of skunky funk. Seriously. Skunky aroma... out of a kegged beer. I know this is literally impossible (or should be), but whatever it is giving it that note isn't terribly pleasant. Fortunately it dies down towards the end of the beer as it warms.
On the palate this is actually pretty well balanced, medium bodied and smooth with a balancing bitterness, unfortunately, the flavors are a muddle. No distinct Belgian yeast flavors here on the palate, a mix of some fruit and spice, but it blends uncomfortably with vegetal hop notes and a bit of citrus.
It's not awful or undrinkable, but it's not terribly pleasing, either. Belgian IPAs are something that I hope is a passing fad... only a few breweries have managed to pull off the highly hopped Belgian beer with any degree of success. Angel City (not shockingly) is not one of them. Pass.
1,183 characters
2.63
/5
rDev
-15.2%
look: 3 | smell: 2.5 | taste: 2.5 | feel: 2.5 | overall: 3
Appearance: Pours a cloudy apricot with a minimal and quickly fading head that still manages to leave many dots of lace on the side of the chalice
Smell: Toffee malt and way too much fusel alcohol; picking up some acetone
Taste: Toffee and bready malt, up front, with a dry pear element; by mid-palate there is a developing graininess with a hint of acetone; after the swallow, a hint of candi sugar arrives but fails to add enough character to balance out the other flavors
Mouthfeel: Medium body with low carbonation
Drinkability: Not sure quite how to characterize this beer - certainly not a Belgian IPA, but too light to be a Belgian Strong Dark; maybe it belongs in a category of its own - Belgian Strong Dark Amber; in any event, it needs more carbonation, more sweetness and a more complex fruit profile
815 characters

2.7
/5
rDev
-12.9%
look: 2.5 | smell: 2.5 | taste: 2.5 | feel: 3.5 | overall: 3
It's an amber hue that leans toward orange, somewhere between what I'd expect for a dubbel and a red/amber. Hazy, cloudy, I can see into it but not through the glass. The head is white and does not retain.
A light fig smell, hardly potent, with a nice mix of spices. I'm enticed for another whiff each time but I can't discern anything else.
Night Train is not as well hopped as I expected, it's got the Belgian sweet dark fruit, a tang if you will, that I've come accustomed to, but the brew is so subdued. I'm not off put as I thought I might be with no taste for IPAs, but I need a more assertive flavor.
Carbonation seems to be right, momentarily stains the mouth without coating it. I wouldn't call it complimentary. Not tough to put down, not unpleasant, just... not interesting.
788 characters
Belgian Night Train from Angel City Brewery
Beer rating:
3.1
out of
5
with
6
ratings