Steelback Red
| Steelback Brewery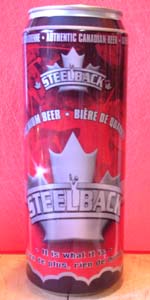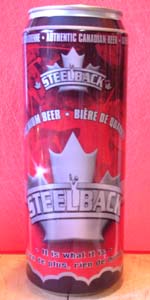 BEER INFO
Brewed by:
Steelback Brewery
Ontario
,
Canada
Style:
American Amber / Red Lager
Alcohol by volume (ABV):
5.50%
Availability:
Year-round
Notes / Commercial Description:
No notes at this time.
Added by pootz on 09-24-2004
This beer is retired; no longer brewed.
HISTOGRAM
Ratings: 7 | Reviews: 7
Reviews by Shadman:

2.03
/5
rDev
+27.7%
look: 2 | smell: 1.5 | taste: 2 | feel: 2.5 | overall: 2.5
These guys must be marketing their asses off here in Western Canada because the only place I could find their product a year ago was in a beers of the world case.
Big frothy head over a ,well, macro lager colored brew. Head rapidly turned into a white cap. Some fine lacing, certain not web-like as I've seen in other lagers and ale.
AHHH...the smell of sweet, sweet corn..and not much else.
There's an attempt of malt and hop at the initial swig..but then the corn sweetness totally overwelms it. Finish is slightly bitter and tinny,
Mouthfeel is similar to other poorly crafted macros...too sweet for my palate.
More proof that a dude that could sell ice to the Inuit can also sell crappy beer to uneducated masses I guess.
741 characters
More User Reviews:
1.77
/5
rDev
+11.3%
look: 1.5 | smell: 2 | taste: 1.5 | feel: 2 | overall: 2
This stuff is just plain bad and barely drinkable, but drink it I will.
Lets begin with its good point...the colour is very pleasing to the eye, a nice deep amber.
OK, now to its faults...there is no crown at all, it did have a very light island lace for about 12 seconds then it left.
Carbonation is very poor, one single line of tiny bubbles is the only movement noted.
The nose is a little musty.
The taste is fairly well balanced but incredibly flat ending to a dull hoppiness.
Mouthfeel is lifeless thanks to the limited carbonation.
Taste more like a South American brew than one from the North.
Waste of money.
626 characters
1.48
/5
rDev
-6.9%
look: 2 | smell: 1.5 | taste: 1.5 | feel: 1 | overall: 1.5
Bottle- same plastic bottle as all of their other beers. appearance is dark golden in colour, with from what I can see, absolutely no red in it at all. head is medium sized, frothy, and is gone in the blink of an eye. Aroma is corn, slight alcohol, and actually some hops. Taste is alcohol, corn, watery blandness. Watery mouthfeel, with a sort of weird chemical finish. Steelback does it again!
395 characters
1.11
/5
rDev
-30.2%
look: 2 | smell: 1 | taste: 1 | feel: 1.5 | overall: 1
Preface this with the fact that this is a plastic bottle. I picked up the 6 pack and thought it was 4 or something because of the weight. Funny story, on the last bottle of the this, the shitty twist cap thing wouldn't come off, so I jammed a hole in it with a knife. Amazingly enough it squirted out with an amazing reverse cascade head. Who woulda thunk it!
Pours a pissy fizzy yellow/gold, don't know why the call it red, unless its because the label is red! Small white head, goes fast, weird lace. Smell is sweet, corny, citrus, alcohol, generally unpleasant. Taste is the same, really not fun at all, its sad that I have to resort to Steelback just to try something new at the LCBO. Mouthfeel is medium bodied with low carbonation, lots of residual sugar. Unfortunately because of the cap fuckup I had to pour this into a glass, no idea how I plan to finish it.
870 characters
2.16
/5
rDev
+35.8%
look: 2.5 | smell: 1.5 | taste: 2 | feel: 2.5 | overall: 3
~!~EDIT: Now boycotting this brewer due to their unethical treatment of beer.~!~
Saw this for the first time at the NSLC. Bought a 6 pack. The bottles are actually plastic, which I thought was odd.
Appearance: Looks like a typical blonde lager. Poors a decent head which dissolves into a nice layer of lace.
Aroma: Smell of some hops, also some corn.
Taste: Nothing remarkable to note, taste very weak.
Moutfeel: Goes down decent, better than typical macros, but this also isn't a good micro that's for sure. It's pretty cheap.
Overall Statement: If it came in glass bottles I'd be more likely to buy this again. It may be good for mowing the lawn but not suitable for a good beer on a nice evening. But the plastic bottles make it even more cheap (if that's possible), and it's also more expensive than the macros.
834 characters

1.25
/5
rDev
-21.4%
look: 1.5 | smell: 1.5 | taste: 1 | feel: 1 | overall: 1.5
My second tasting of this dirty red beer to see if there was any improvements. Fresh can from the Brewer's outlet.
I must say that some of the "off tastes" are gone (infected yeast?) but the rest of the beer tasted much like the other welfare lagers from this adjunct brewer...some DMS, watery, raw (unaged), stale hops and cloying dextrose…same nasty finish with an alcohol bite...but hey...at least the label's red.
SB silver comes in a blue can but has the same phony yellow color, same screaming adjunct smell, same fizzy carbonation, same nasty "heavy water" bite in the finish and the same "Douglas Point" watery body. Red is identical...except the can is red and the brew a darker color. Steelback is still giving you choices...you can still calcify your liver with a very bad red labeled yellow fizzy corn beer instead of a very bad blue labeled one...that's what Canada's newest premium beer brewer is all about...choices.
943 characters
1.3
/5
rDev
-18.2%
look: 1.5 | smell: 1.5 | taste: 1 | feel: 1.5 | overall: 1.5
Super light yellow with a thin white head. Minimal malt and no hops in the nose, but there's a hint of green apple and corn in there. There's minimal bitterness and basically no hop character - not really necessary for balance since there's just a thin, corn sweetness. Can't forget about the metallic cardboard character either. Definitely watery and kind of flat. I can't believe this is advertised as a red anything. Anyways, thanks Len!
440 characters
Steelback Red from Steelback Brewery
Beer rating:
1.59
out of
5
with
7
ratings